I've been making space in my studio for 2012.  What does that mean?  Facing the reality that if I haven't gotten to something in a very long while I probably won't and that space needs to be freed up for other creative endeavors.  I have had the slick stix by crayola for a very long time (got them at a great price in kids clearance at a craft store) and haven't used them much.  They are creamy and vibrant.  So, I had a choice – use it or lose it!  That is my perfect recipe for experimentation!!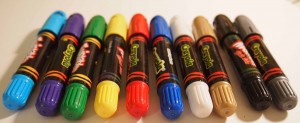 Slick Stix by Crayola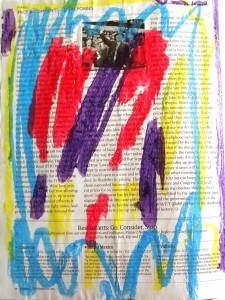 Scribble on a magazine page.  A slick surface lets more of the color mix with the gesso in the next step.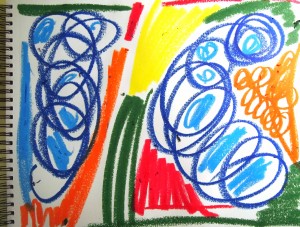 I also scribbled on art paper.  It is not a slick surface but it too worked for this experiment.
Use gesso and cover the scribble pages.  The look you will get will depend on your  scribbling (hard, soft, lots of color, only 2 colors, etc.) , how much gesso you add, and how much you work the gesso around the page. Below are several pages I scribbled then gesso'd over.  It is a very serendipitous way to spread color – just relax and play!