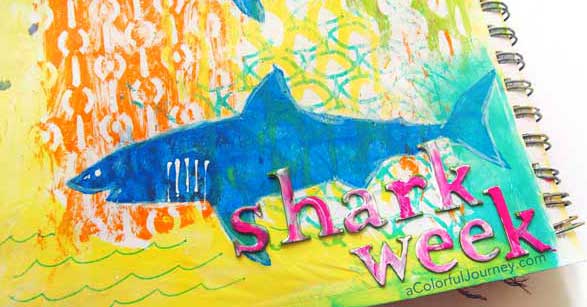 What's swimming around in my head?  Sharks thanks to Discovery Channel's recent Shark Week.  Brought back all sorts of nostalgia for me since I remember when it all began.  Yes, I'm that old. I am amazed by these creatures…but it's not like I want to swim with them in the open seas.  I am a big chicken after all.
Whatever is in my head often ends up in my art journal and this was no exception!  Of course, I'm opting for the not-perfectly-scientific-representation of the ocean and sharks…I need my rainbow after all!
Come and join me for a dose of play in this video where I'm sharing about using a fluid paint such as Dylusions with a stencil and how long it takes for some art journal pages to come together…and more!
Watch Art Journaling Inspired by Discovery Channel's Shark Week on YouTube.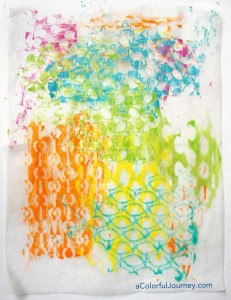 The deli paper from cleaning off my stencils.  Instead of running my stencils under water or scrubbing, all I do is immediately blot off any wet paint onto scrap paper or in this case, deli paper.
The stencils I used are from my Layer Me Collection: Pebbles, Iron Grate, and Connected Eyes.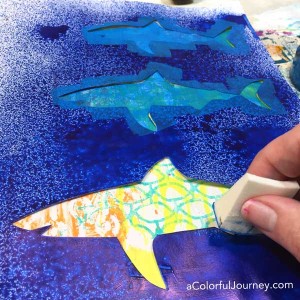 I made my own stencil on card stock by tracing some sharks then cutting it out with an Exacto knife.
You can see how much fun I've had with this stencil based on all the spray ink on it.  Paper stencils don't last forever, even if I coat them with gesso or gel medium, so I tend to only cut simple and quick shapes by hand.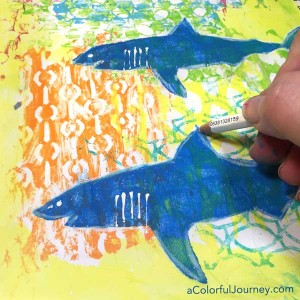 Touches of white create the details on the sharks, and tracing around the edges of them evens out any runny paint.
I used a fineline applicator with white ink in it to create the gills and eyes, and a Stabilo pencil to outline.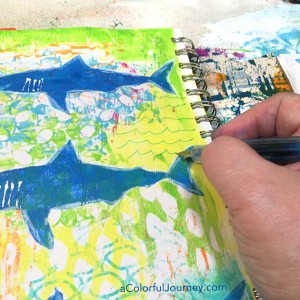 Sharks need water, so I added the waves with a fountain pen.  I'm finding fountain pens can take a bit more abuse than felt tipped markers and give me fine details.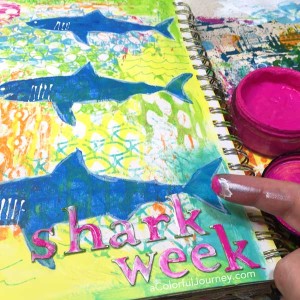 For the title, I had green letters.  They were fine, but I wanted pink.  No problem!  I just painted them…with my fingers of course!
With all this color and the silly grins they have, I'm seeing more Jabber Jaw than scary shark in this!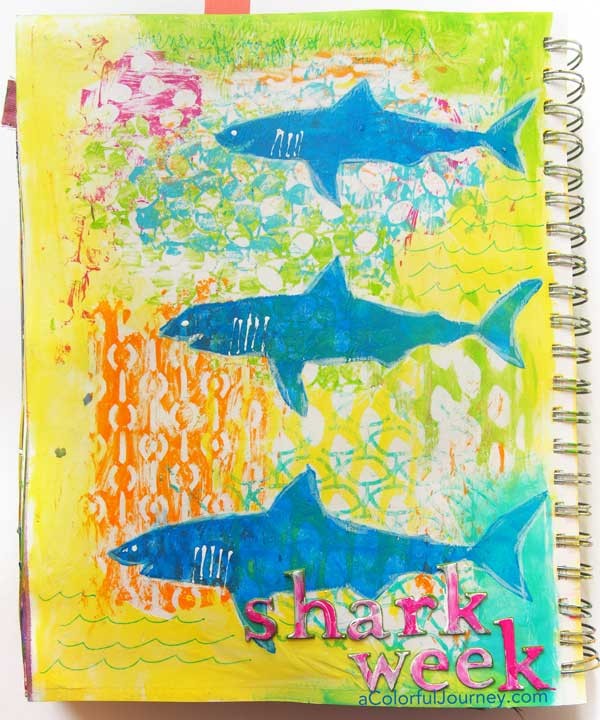 Here are the supplies I used. Some of these links are affiliate links which means I get a small percentage. It doesn't cost you anything extra and you are helping me keep this blog and my videos ad free! Thank you- I don't like ads any more than you do!