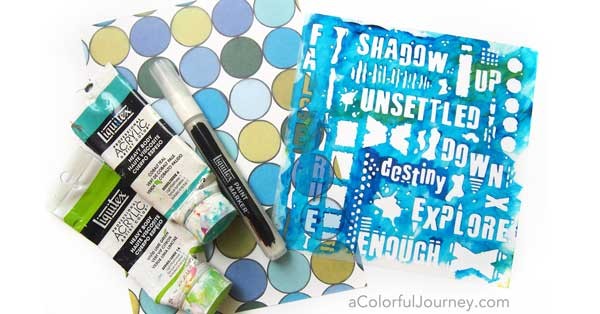 Words inspire me so you bet I was excited to play with Seth Apter's new stencil, Explore. It's loaded with words and lots of texture too.  For today's play, I'm using fancy fancy things…like cardboard from a box, a cosmetic sponge, and old scrapbooking paper.
This is just one of many stops in a blog hop celebrating Seth's latest stencil release.  You can find all of his new stencils at StencilGirl and there's a giveaway too! All the details at the end of this post!
An then an OOPS…
Yes, there is an Oops thanks to my impatience in the video.  Every Oops is an opportunity and this is no exception.  Since an Oops is a good thing to me that means impatience is a good thing too, right?  I've become very good at rationalizing…
Watch Text and Texture Play on YouTube.
Here are the stages this cardboard scrap went through as I added scrapbooking paper, stenciled on it, stenciled some more, and then scribble journaled.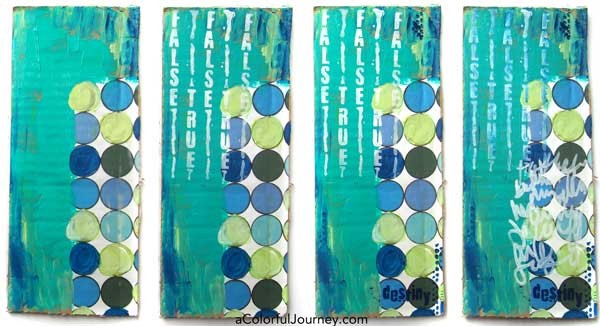 In honor of Seth's newest release of Text and Texture and Techno Insider stencils, StencilGirl is giving away a $25 gift certificate to one lucky commenter!  Leave a comment here to be entered and if you want more chances to win, leave a comment on each blog in the hop.  Of course, only 1 comment per blog.  But hurry, the giveaway closes at 11:59pm  CST on July 24th!  You can see more inspiration using his fun new stencils at each stop on the hop!  Check 'em all out!
Carolyn Dube- you're here 

Maria McGuire
Here are the supplies I used. Some of these links are affiliate links which means I get a small percentage. It doesn't cost you anything extra and you are helping me keep this blog and my videos ad free! Thank you- I don't like ads any more than you do!