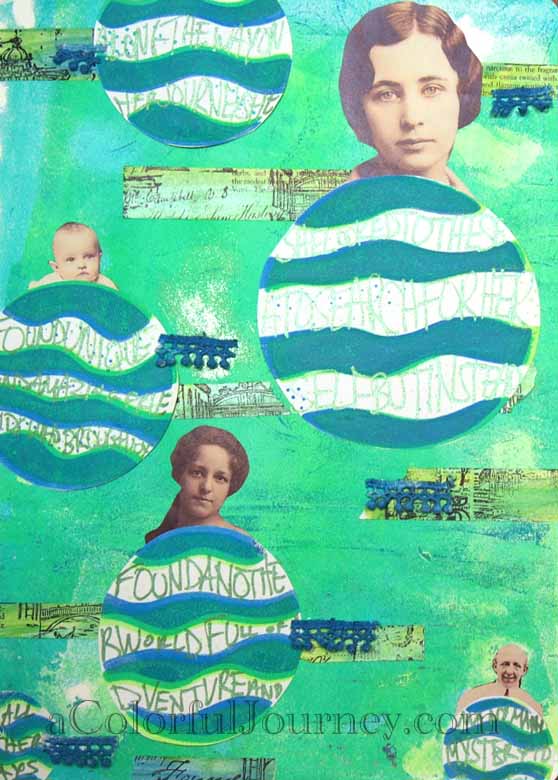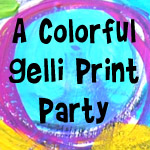 September is shaping up to be a month full of fun!  So many of my projects are coming together this month and there are milestones to celebrate!  Stay tuned- there is lots coming this month! First up- it's a bonus month for the Colorful Gelli Party!  Not 1 video but 2!  I had so much fun playing I just couldn't help myself!
I know I am sounding like a broken record but I was blown away by all the great prints that linked up last month!  I have been so sparked by what people are sharing!  Thank you so much for playing along and being a part of the party!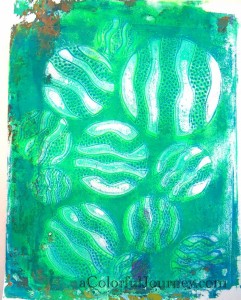 On to the videos!
The first video shows how I used one stencil over and over again to build up the colors in this print. I lined up the stencil imperfectly to create the layers. Don't worry, there isn't any measuring!
The stencil I am playing with is called Stitch a Circle by Maria McGuire for StencilGirl Products.  You might recognize Maria from our Artsy Fartsy adventures!
You can watch the video on YouTube at A Colorful Gelli Print Party for September.
The 2nd video shows how I used one of the prints to make the art journal page above.  I even colored the background of the page with the Gelli Plate!  I was so eager to play, I actually forgot to get a photo of the paper before I started cutting!
Keep your eyes open for the Oops- once again I am grateful for my Oops!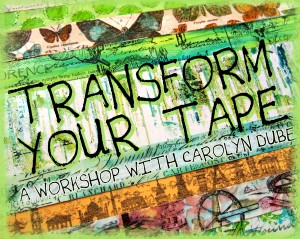 And I just had to use my tape from newest workshop in the video- it matched too perfectly for me to keep it a secret any longer! So now you know my next workshop will be all about tape!  Thanks to some fast work by the great people at iCreateFlix- my workshop button is up in time for this month's part- so it doesn't have to be a secret!  You can check it out here!  It's on sale for $30 until Sept. 15th (when the workshop starts)!
You can watch the video on YouTube at Using Gelli Prints in an Art Journal
In case you're wondering, the pens I used were  Posca Metallic
– just what I needed for my journaling!  The Dylusions journal goes flat so nicely for use with the Gelli Plate too!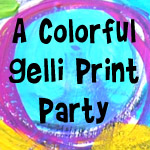 Thank you to everyone who linked up for August's party!  Lots of amazing prints and ways to use the prints!   If you haven't seen them yet- take a look at the August's Colorful Gelli Print Party!   Now on to this month's party.  It is open all month!
Link up your Gelli Plate blog posts, flickr photos, YouTube videos , any online media you're using to share your work– it is all welcome!  New posts or recent posts are welcome!
Link to a specific blog post or flickr page or YouTube video or other source that way people can easily find your Gelli goodness.
Add a link back to the party so others can join us too!
Leave a comment on at least 2 other links from the party.  You know how  comments encourage us creative types!
Participate as many times as you want- just be sure it relates to the Gelli Plate.