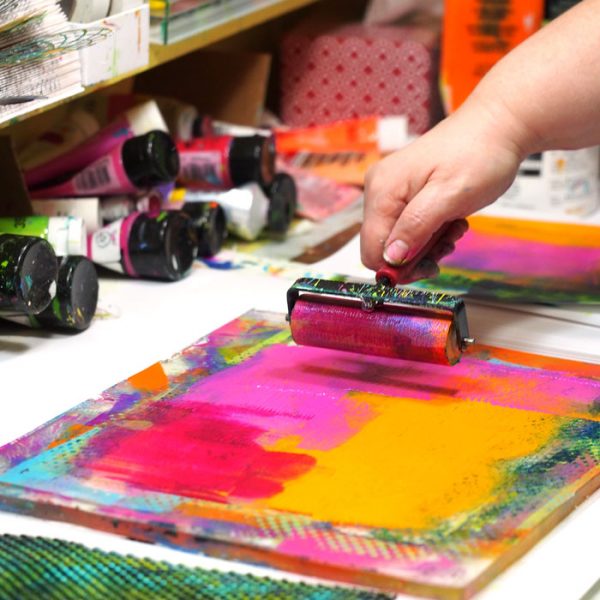 Imagine an artful weekend of gel printing loaded with techniques and projects all while being pampered…a private room,scrumptious homemade meals and freedom to work at your own pace! Cozing up by the fire laughing and playing, pouring a glass of wine and having a quiet conversation, or enjoy the walking trails and labyrinth. That is Print it! Make it! Love it!
2 and 1/2 days of gel printing play in the most wonderful retreat setting-St. Mary's at Transfiguration Spirituality Center in Cincinnati, OH. We'll be gel printing then making 4 different projects with your prints. With this retreat being in November it is a great opportunity to get a head start making gifts for the holidays.
I'm there to help you by sharing techniques I've learned through years of printing, by answering your questions as they pop up, and guiding you through the building up of layers. I'm delighted to be co-teaching with the talented Kari McKnight Holbrook, frequently seen in Cloth Paper Scissors.
This is limited to only 20 students (at the time of writing this post it is over half sold  there is only one spot left)  so we'll have a chance to get to know each other. Since we have the entire building to ourselves, you can create in your pajamas all weekend if you want! Saturday night, the evening kicks off with ridiculously awesome artsy gifts, all provided, with a side of silly at the White Elephant Event. Plus FREE goodies from Gel Press + StencilGirl + Deco Art!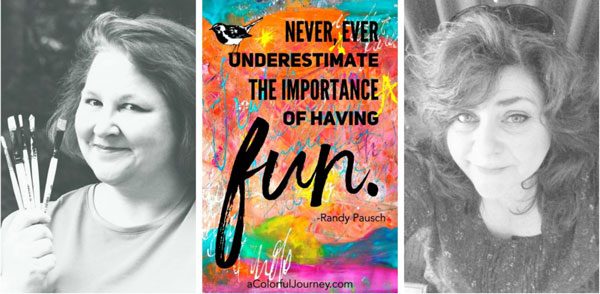 Join me and Kari McKnight Holbrook for a weekend of gel printing hosted by the heartful Glenda Miles this November. The all inclusive fee of $545 includes (early bird price and bonus $25 StencilGirl gift certificate) all your meals, light snacks, private room and ensuite bathroom, a goodie bag and so much more! But the early bird price flies away on Saturday, May 27th.  You can find all the details and registration info here.
Hope to see you this November for a weekend of play!