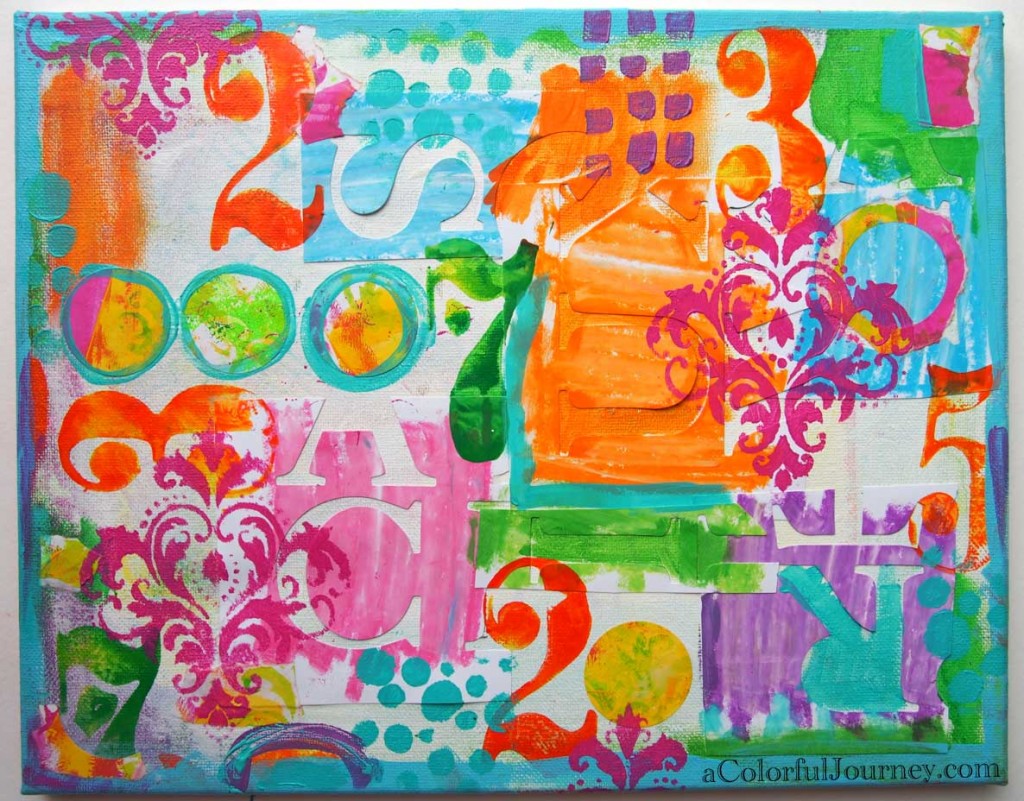 When Kiala Givehand invited me to join her hop announcing the Mixed Media Inspiration Deck I was honored.   This is such a fun and creative deck to play with and it even helped me get unstuck in a jiffy!  I only had a few minutes to play and guess what – that is all I needed to get another layer or two on this canvas.  It's not finished yet but at long last it is moving forward! Thanks Kiala!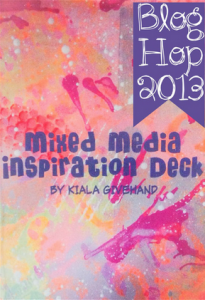 What is the Mixed Media Inspiration Deck?
It's 52 inspirational guide cards designed to inspire 
your mixed media and art journaling practice. 
The cards feature a variety of directives to guide you through your art practice as you play, explore, discover, and create. There are many ways to use the deck. 
PLAY — deal yourself a few cards then let your muse take over!

EXPLORE — shuffle the entire deck, then pull one card at a time and see what you're inspired to create

DISCOVER — keep the deck near your art table and pull a card as needed

CREATE & COLLABORATE — create with a friend (or a group of friends). Round robin style journaling infused with a dash of serendipity. What could be more fun???
Want to win your own deck?  All the giveaway details are that end of the post.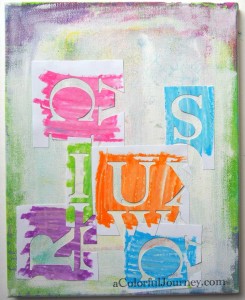 Onto the stuck part…I had this canvas that has been at this stage for about a year.  Yes, a year.  At first I liked it so much I couldn't bring myself to trust any idea as good enough.   Then I decided I didn't like it but I couldn't decide what to do to change it.  So it sat.  And sat until I used the Mixed Media Inspiration Deck.  Check out the video to see how just a few cards could get my mojo back for this canvas!
You can watch  Using the Mixed Media Inspiration Deck on a Canvas on YouTube here.
Want to win a deck?  Leave me a comment on this post letting me know what is the hardest part about playing mixed media style for you. No hard parts?  Tell me the best part then!
I'm picking one winner randomly from the comments on December 11th.  But that is not all! Kiala has a ton of amazing prizes too! You can find all the prizes listed here.  You can order the Mixed Media Inspiration Deck here.  And there are lots of great artists to visit in the hop too!
THE GIVEAWAY IS NOW CLOSED!  Congratulations to the winner chosen by random.org Kathy Gledsdale!
Products used in this video: High flow paints, Damask Stencil from StencilGirl, StencilClub Stencil, Stampers Anonymous Stamps, and of course, the Mixed Media Inspiration Deck!