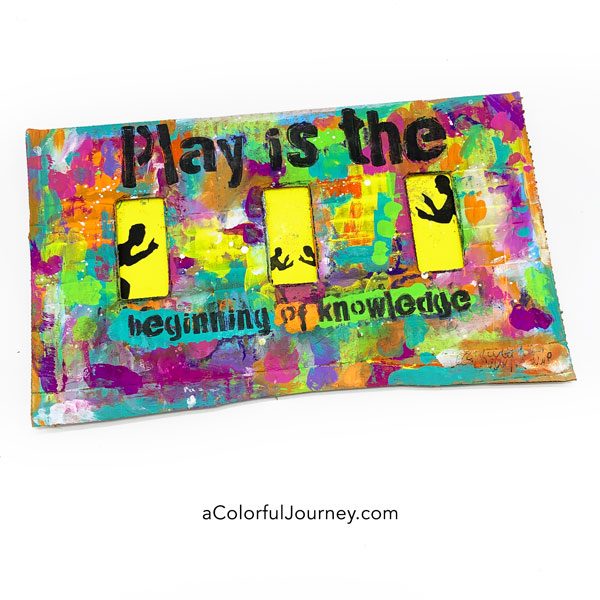 Does everything go as planned? No & that is the fun, this is play after all! You'll probably laugh at how many times I redid the stenciling on this piece of recycled cardboard and why I chose to do the very last thing to it.
You can art on anything- including cardboard packing material. And you don't have to do everything in one session, after all painted cardboard doesn't have an expiration date.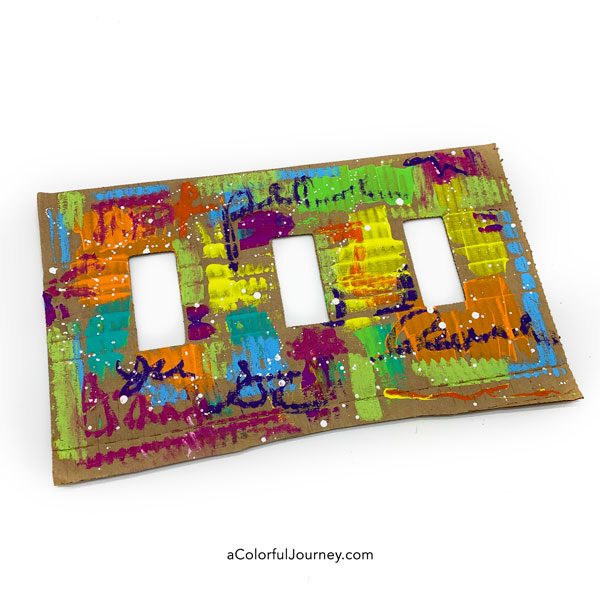 Is there only one type of paint to use for this? Absolutely not! Use whatever paint you have- after all the best art supplies are the ones within arm's reach!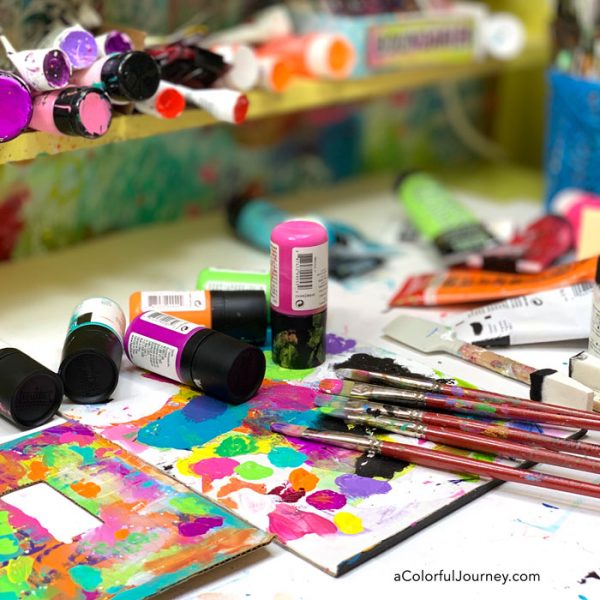 Those 3 openings felt like windows but they needed something silly in them. They needed Silas and Sigmund.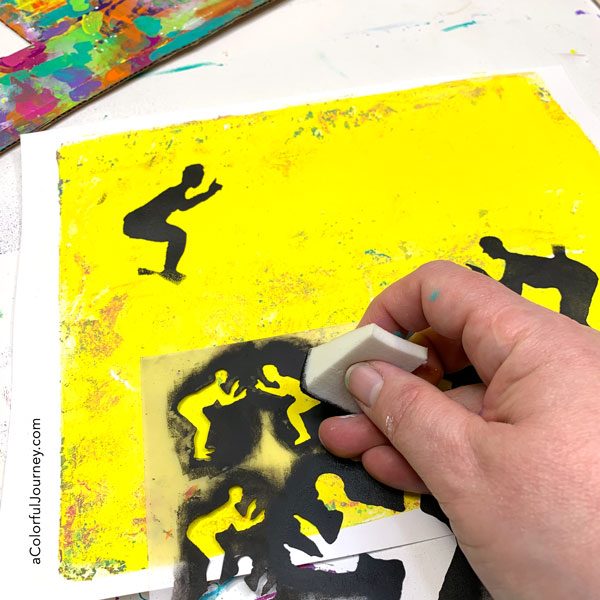 Who are Silas and Sigmund? They're like vaudeville stage managers of our lives who just can't seem to take things too seriously.
Silas, on the bottom of the stencil, is trying to coral all the everyday happenings, the feelings, the thoughts, while Sigmund is perched up top to get the best view of the show we call our lives.
This is one of my new stencils at StencilGirl and Silly Silas and Sigmund comes with not only the stencil but 3 masks as well.
The yellow gel print created the feeling of warm lights glowing in the window so it's like we're peering in watching a not so serious conversation.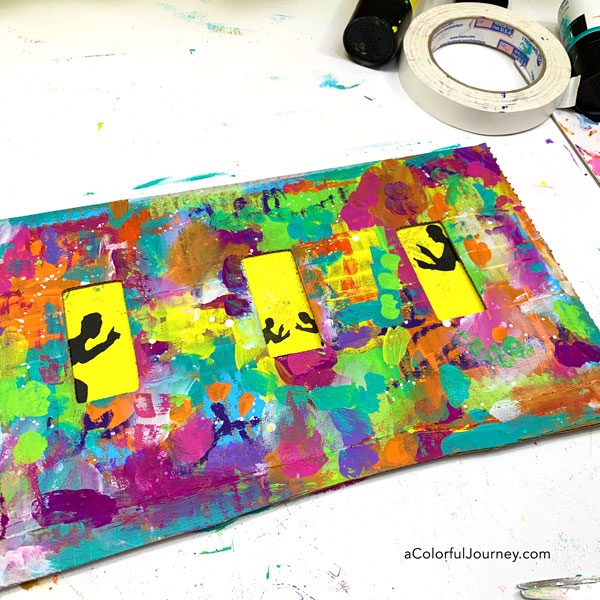 Once Silas and Sigmund were positioned in the windows, tape was used to hold them in place. Use any tape you have or any glue you like, since nobody will see the backside.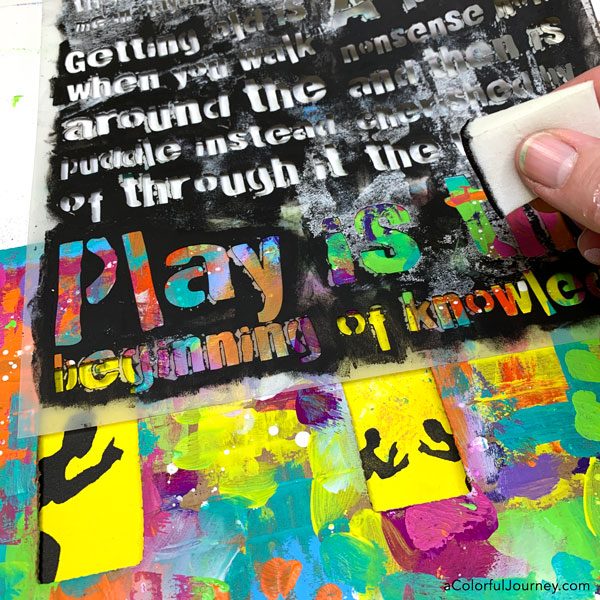 To get the words on here, I used a quote by George Dorsey from my It's Time to Play stencil. "Play is the beginning of knowledge."
To stencil crisp images or text, use a small amount of paint and pounce in an up and down motion. But did I? Nope.
Even though I know this, and can do it, I don't always. The first part was stenciled crisply, but the second part was a mess. O.O.P.S.!
This wasn't a horrifying mistake to beat myself up over, it was just an O.O.P.S., an Outstanding Opportunity Presenting Suddenly.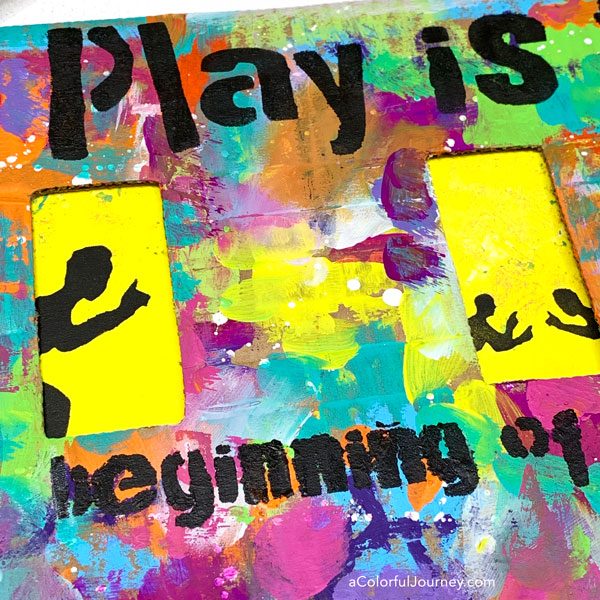 In the video, you see how many times I messed with it from wiping it off, to stenciling in another color, but in the end it was finger painting that won out.
Before I understood the power of play, I would have beaten myself up senseless from having made so many mistakes, screwing so much of this stuff up as if I'd committed some kind of crime.
But once I understood the power of play there was no more beating myself up. There was no more of this crazy pressure to get everything right the first time. It became about the freedom to play, about the process, about the joy.
If you want to feel the freedom of play, I've got a free workshop called Permission to Play It's got very specific strategies for how you can let go and let yourself play. Join in on the fun of play here.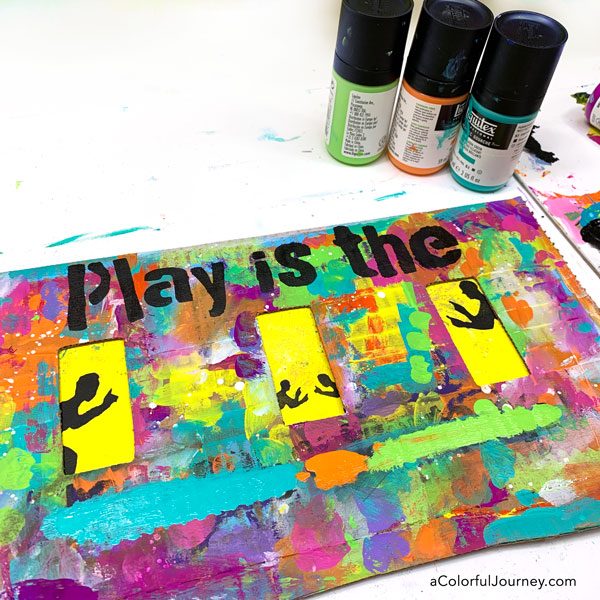 I had to laugh at myself. The stenciling was finally all neat and tidy and I didn't like it one bit. So I went and messed it up a bit with a nib pen.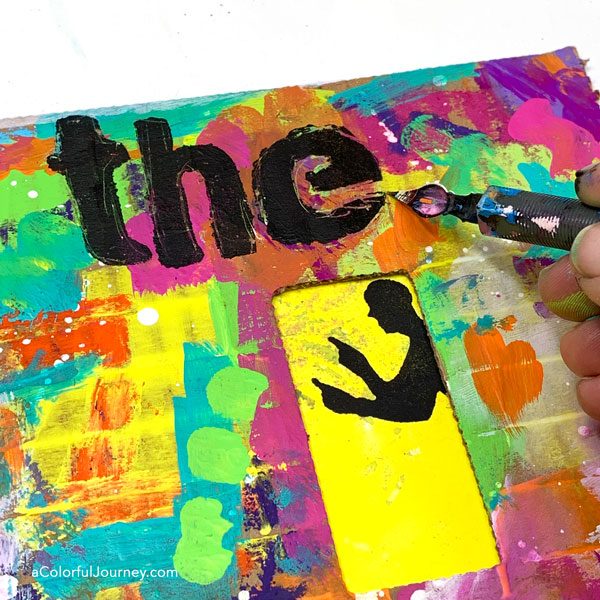 When I chose the quote for this, I had no idea how fitting it would be. After all, every "mistake" I made was just the beginning of something better and I bet if you ever happen to make a "mistake" in your play.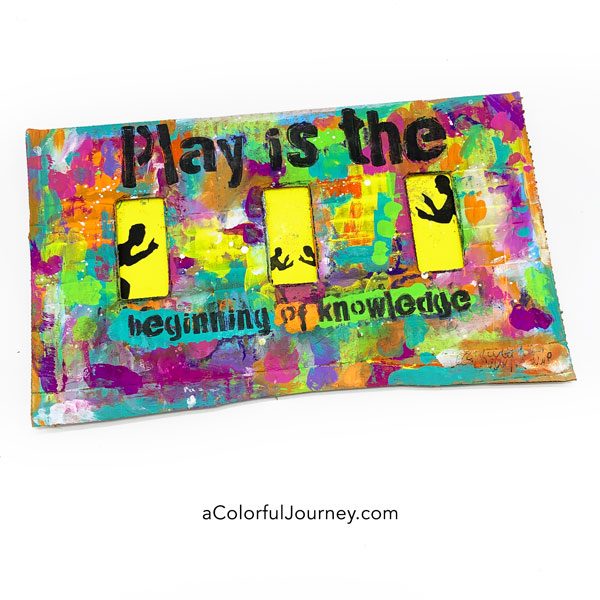 Here are the supplies used. Some of these links are affiliate links which means I get a small percentage. It doesn't cost you anything extra and it helps keep the free tutorials coming!