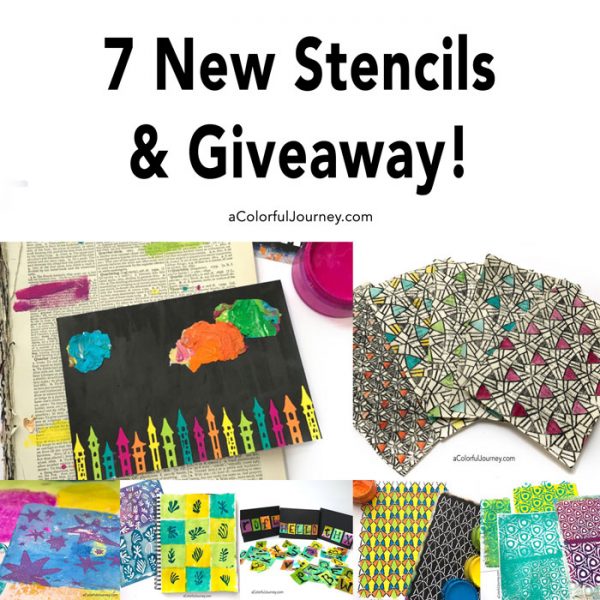 I want to be a detective, live in a castle, have a conversation with Matisse, get out of a thorny situation, spend the afternoon at the fountains of Versailles, and travel an unpredictable path.   How do I know I want to do all of this?  Whatever floats around in my head comes out in my art and this time it came out as 7 new stencils!
Below you'll find the inspiration for each stencil…but first the GIVEAWAY after all that is the important right?
Prize: A complete set of all 7 new releases! Of course, if you win and you've already ordered any of the new stencils, you can pick any of my other 50+ stencils at StencilGirl.
Get Entered: Leave a comment on this post. Want more chances to win?  Bonus entries for sharing this post on Facebook, or Pinterest, or Instagram! How will I know you did it? Just leave a comment telling me where you shared it.
Blog Posts all Week:I'll have new videos on Thursday, Saturday, and Monday and I figured you'd like more chances to win- so all of those blog post comments and shares will be included in the giveaway too so be sure to check back for the new videos.
Who Can Win? I want everyone to have a chance to win, so international folks are eligible too!
Deadline: Random.org will be picking a winner from the 4 blog posts on Jan. 31st at 11:59 pm. EST. Winner will be announced on the blog the next day.  ***UPDATE*** Giveaway is now closed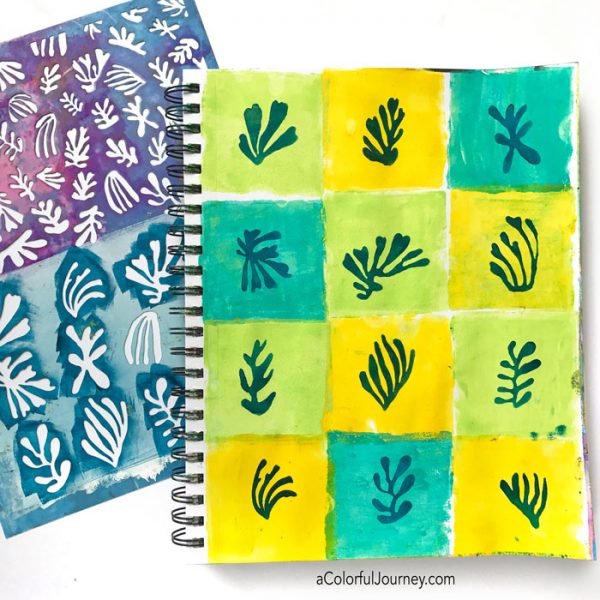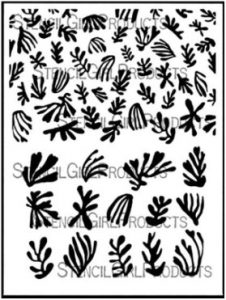 If I had a time machine, the one person I would love to spend an afternoon with is Henri Matisse.   My fascination with both his work and the man intensified after reading, Matisse the Master: A Life of Henri Matisse: The Conquest of Colour: 1909-1954  Every page I read mades me have more and more respect for the master of color and his not so easy journey.
The Cut Outs Inspired by Matisse stencil was inspired by how he handled a huge challenge.   Later in his life, Matisse could no longer paint or sculpt due to declining health but he found a new way to create – his paper  cut outs.  These cut outs of organic shapes of coral and seaweed are symbols of determination and a powerful creative spirit.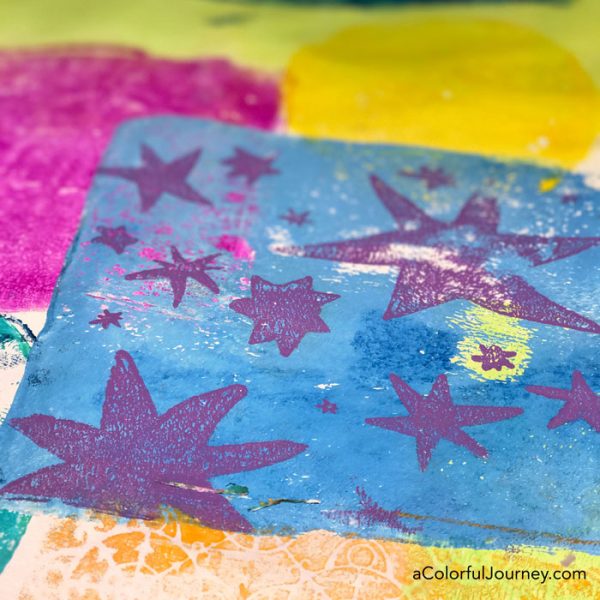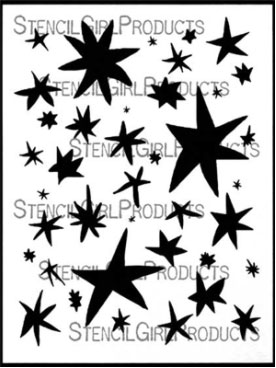 These stars, like Henri Matisse, follow no one's rules but their own! Each star has anywhere from five to nine points and a distinctly jaunty personality. Let their joyful, offbeat light shine in your play!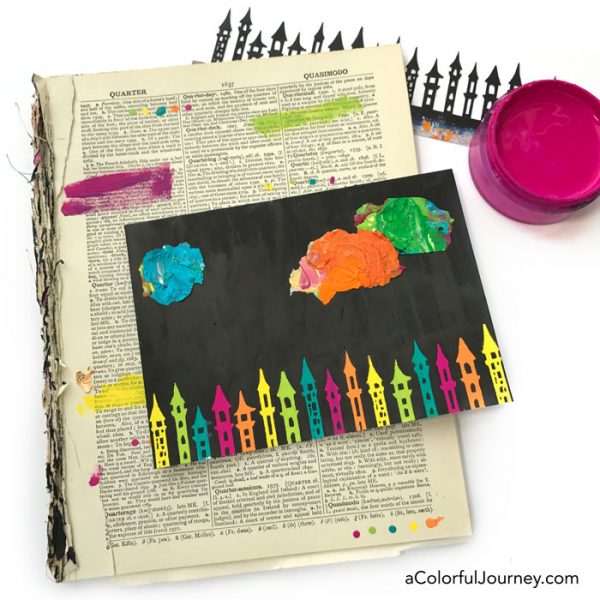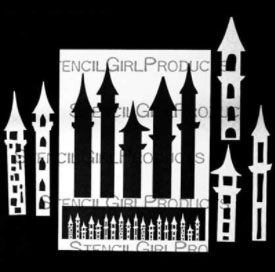 It's no secret in my family that I want to live in a castle.  I've told my kids that the little one King Ludwig built in Germany, Neuschwanstein Castle, was maybe a bit too much for me.  Perhaps something smaller, but with ample towers.  Needless to say that hasn't appeared under the Christmas tree yet, but I can now stencil all the fairy tale towers I want with the Once Upon a Time stencil.  It includes the 5 tower masks, the row of diminutive towers, and the tower stencil.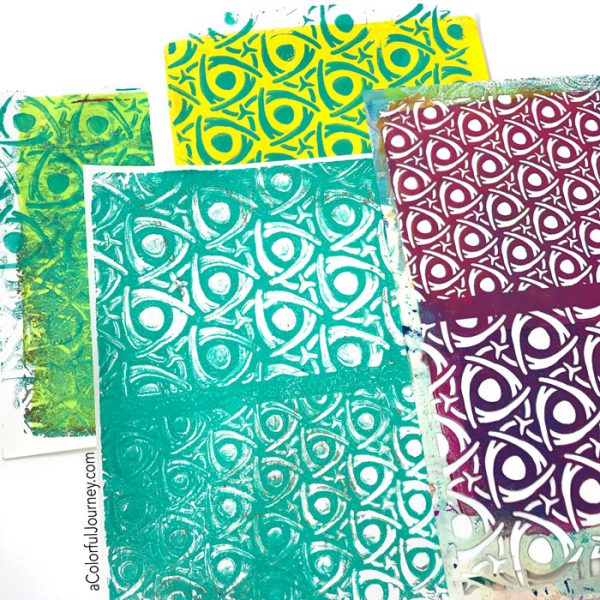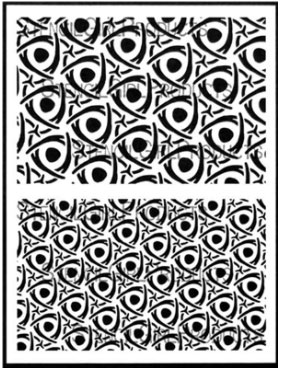 Fairy tales seem to have thorns and those tough situations that princesses and queens have to navigate.  This briar patch of interlocking thorns and branches is the perfect pattern for any project—it can be used to evoke images of enchanted forests, fences, tumbleweeds, and more.  The Trio of Thorns stencil includes a large and small version of the same pattern to give you lots of flexibility in your play.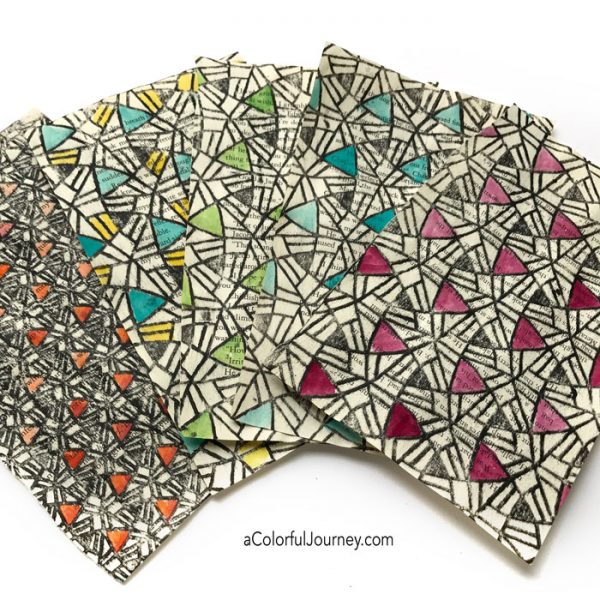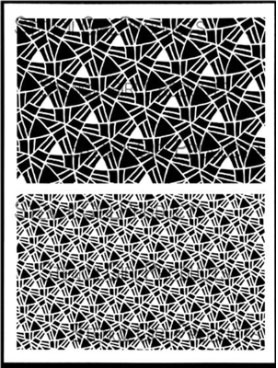 If you look closely at this pattern, you can see large, rounded triangles connecting the smaller triangles. This shape is called the Reuleaux triangle, and it is the only shape other than a circle to have a constant width, and it can even be used as a drill bit to drill square holes! This strange, wonderful combination of circle, triangle, and square can be the perfect metaphor for the unpredictable paths we all find ourselves traveling.  The twists of life's journey where you may be heading steadily down one path and then suddenly make a sharp turn into a new direction inspired the
Triangular Pathways stencil
.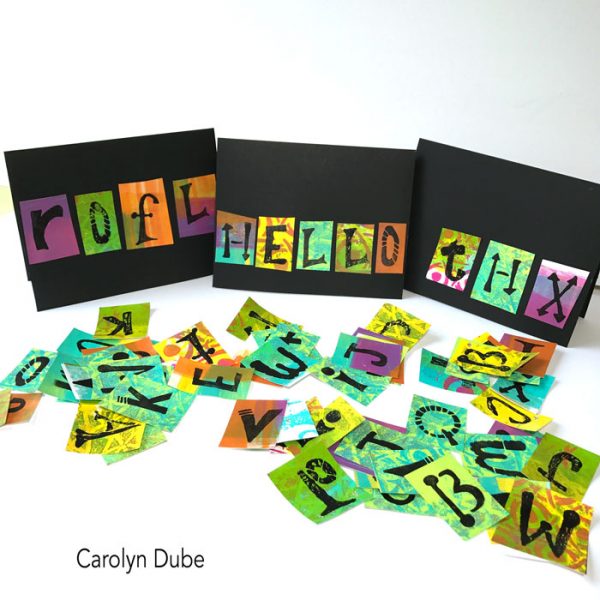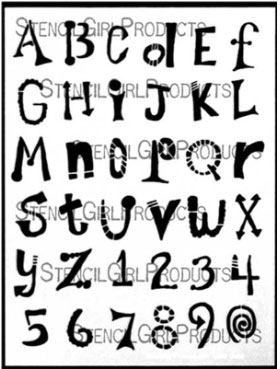 An episode of The Streets of San Fransisco staring Michael Douglas and Karl Malden had a kidnapping and a ransom note made with letters cut out of the newspaper.  Apparently, that left a big impression on me, because ever since watching that rerun as a kid, I wanted to be a detective and solve the case of the cliched ransom note.
The hand drawn letters on the Ransom Alphabet stencil are wonderfully wonky to create playful words.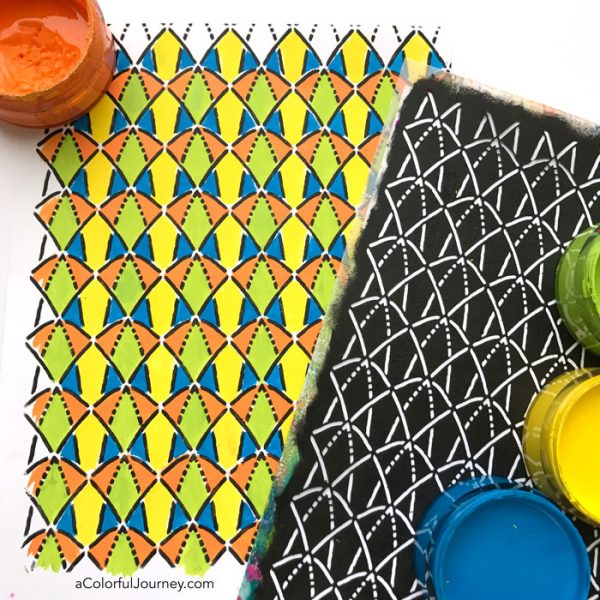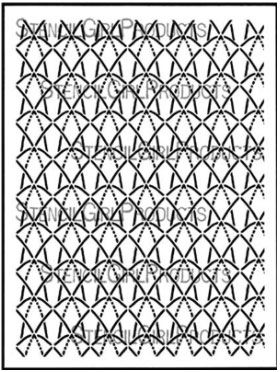 Arched Fountains was inspired by the glorious fountains of Versailles.  While doing the typical whirlwind tourist type things at Louis' little cottage, I fantasized about spending an afternoon just enjoying the fountains  and soaking up the opulence of his time at Versailles.
You bet I have videos of the play with these stencils that I'll be sharing starting tomorrow, so leave a comment, get entered to win, and stop back for the videos!
***UPDATE*** Giveaway is now closed
Giveaway details:
Prize: A complete set of all 7 new releases! Of course, if you win and you've already ordered any of the new stencils, you can pick any of my other 50+ stencils at StencilGirl.
Get Entered: Leave a comment on this post. Want more chances to win?  Bonus entries for sharing this post on Facebook, or Pinterest, or Instagram! How will I know you did it? Just leave a comment telling me where you shared it.
Blog Posts all Week:I'll have new videos on Thursday, Saturday, and Monday and I figured you'd like more chances to win- so all of those blog post comments and shares will be included in the giveaway too so be sure to check back for the new videos.
Who Can Win? I want everyone to have a chance to win, so international folks are eligible too!
Deadline: Random.org will be picking a winner from the 4 blog posts on Jan. 31st at 11:59 pm. EST. Winner will be announced on the blog the next day. ***UPDATE*** Giveaway is now closed