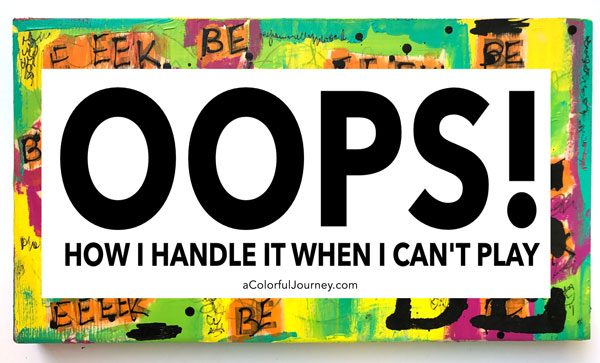 I was completely in my head when I tried to play.  Any idea I had was shot down instantly.  That first step of getting started felt paralyzing.  My muse had left the building.  Play was not going to be happening with this mindset.  But this has happened many times to me and in the video, I am sharing how to get the muse to come back.
How fitting that I was paralyzed by all my expectations when I needed to make a video about no expectations for this week's Let's Play video. I am sure the muse enjoyed a good laugh over that one!
New to Let's Play?  It's all about rediscovering the ability to play. Each month I share a specific strategy that helped me recapture the freedom and fun of play.  This month's theme is no expectations. You can see more of the Let's Play series here. Be sure to get entered in the $50 Dick Blick giveaway by leaving a comment.
Watch How I Handle it When I Can't Play- Mixed Media Style on YouTube.
Fineliner Tutorial mentioned in the video
So how do I get out of my head and start playing? By grabbing whatever is around me and starting to use it…even if I have no idea where it is going.  This was a very unimpressive start.  Just gel pen scribbling on a piece of scrap wood from a home repair project.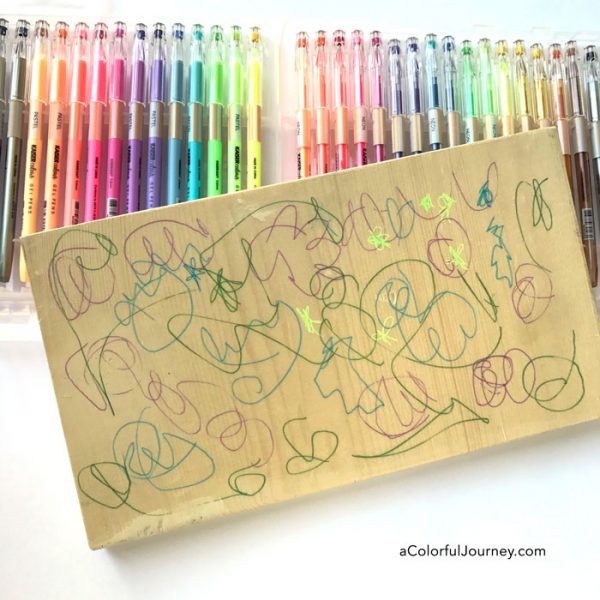 Then I stamped some letters.  I couldn't even decide on which word to stamp, so I just did random letters until a word came to mind.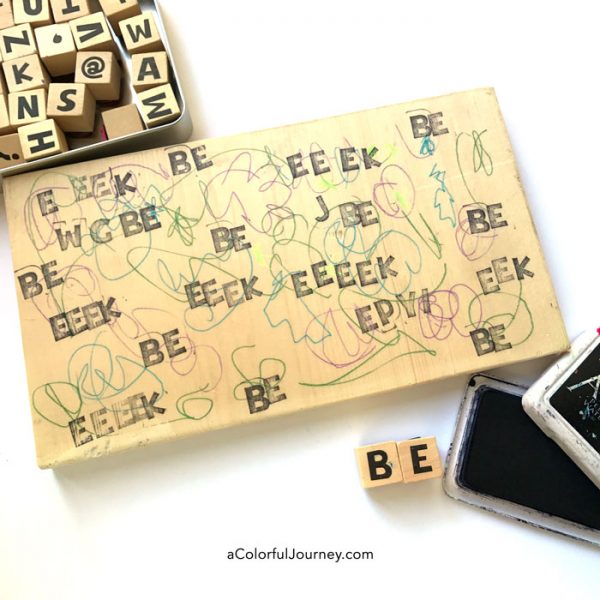 In the video, you'll see how to get every last drop of color out of a tube of paint…and it involves scissors.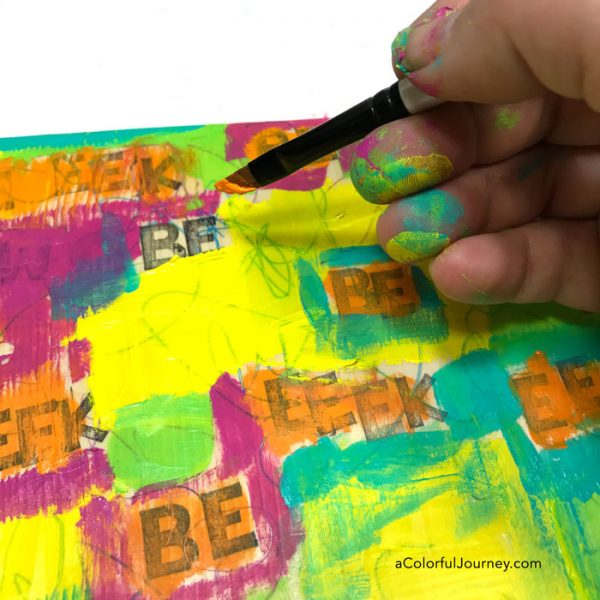 O.O.P.S. after O.O.P.S. happened using the black fineliner. Some would call them mistakes but really they are Outstanding Opportunities Presenting Suddenly.
For all the feelings of EEEK involved in starting and playing when feeling paralyzed, the word BE was the one the muse told me to stencil.  After all, she came back so I listened to her.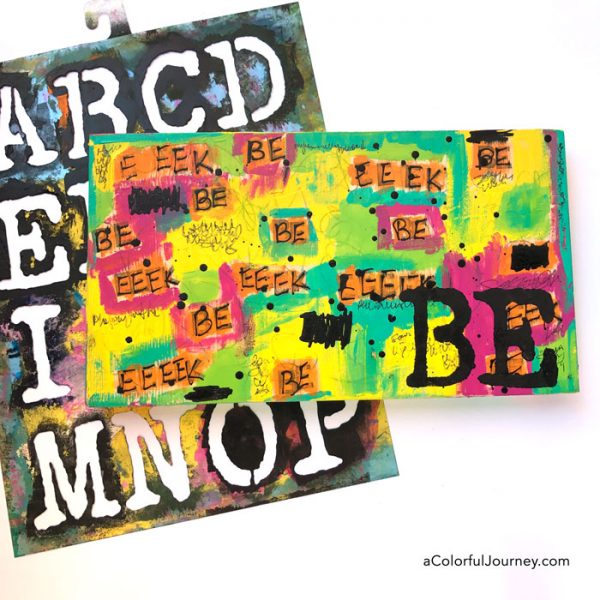 Now you've seen my play, let's see yours!  Share what you're creating with us all in the Facebook group and be inspired by what others are creating! And be sure to leave a comment here to get entered in the monthly $50 gift certificate giveaway!
Here are the supplies I used. Some of these links are affiliate links which means I get a small percentage. It doesn't cost you anything extra and you are helping me keep this blog and my videos ad free! Thank you- I don't like ads any more than you do!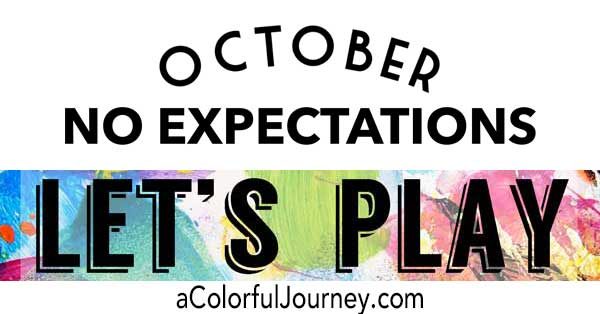 Want to see more Let's Play videos? You can find all the weekly posts here.
Sharing your play:   I, and a whole bunch of others, would love to see what you're creating!  We're sharing it in the Facebook group called A Colorful Place to Play. Why Facebook?  I've listened to your feedback about how and where you'd like to share your play instead of the link parties.
Monthly giveaways:  Leave comment on any (and all for more chances) of the weekly Let's Play blog posts to be entered and one winner each month will be chosen by random.org.  Want more chances to win a $50 gift certificate to DickBlick.com?  Pin any of the images from the page or share about it on Facebook- then come back and leave a comment telling me what you did and you can have more chances to win! Giveaway closes the Sunday, October 30th at 11 pm EST and the winner will announced on the blog the following Monday.
Congrats to Misty, last month's winner!