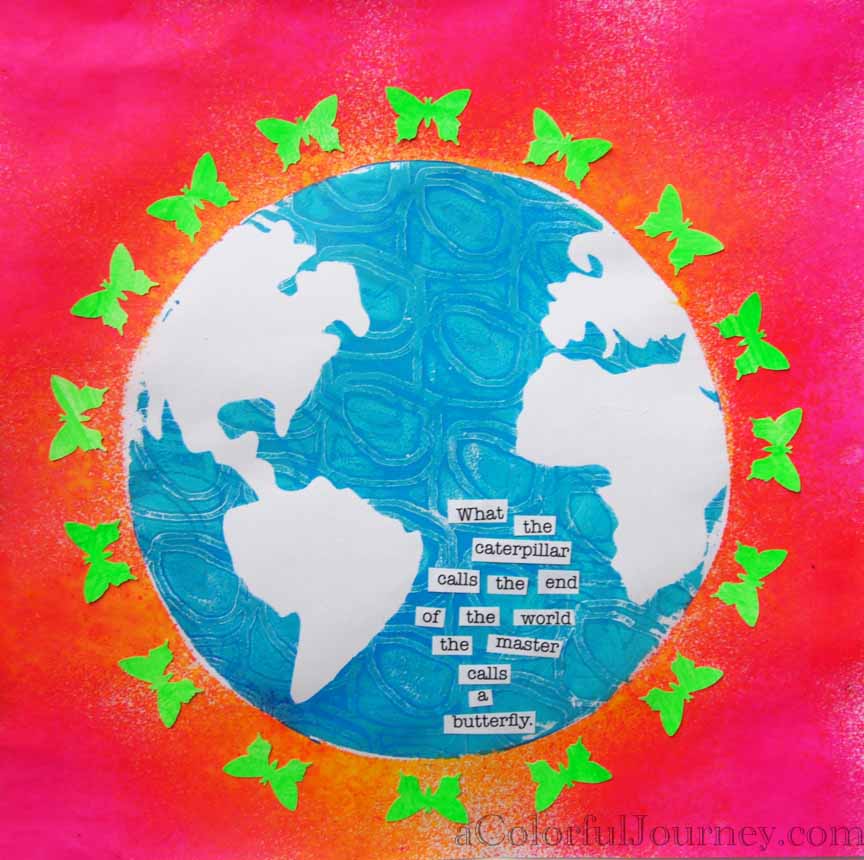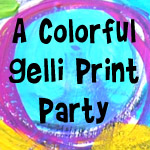 November's Colorful Gelli Print Party has a very special guest -the round Gelli Plate!   Let's just say I was a bit excited when the post man arrived with this box with not 1 but 2 round Gelli Plates!
You guessed it –  I am giving away a round Gelli Plate!    And I will ship internationally!  A huge round of applause to Gelli Arts for making this happen!
Want to win?  Leave a comment on this post.  Want more chances? I've got all the details  at the end of this post!
You can watch Round Gelli Plate with 2 colors of paint tutorial on YouTube here.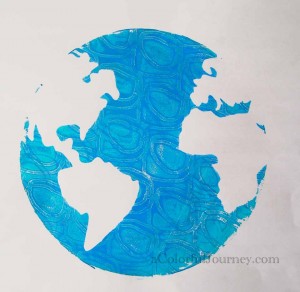 I love globes so the moment I saw the round Gelli Plate I knew I had to give it a go! The pattern on the "water" is from my stencil, Wonky Eyeballs.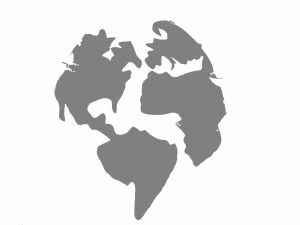 If you would like to use my "geographically not quite correct but look good continents" for personal use just right click and then save link as.
A touch of color…he he he… with Dylusions spray inks.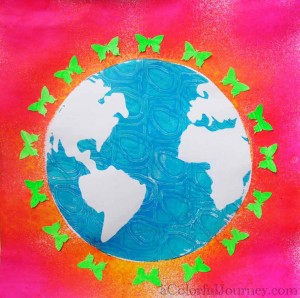 Bright neon green butterflies using fluorescent paint and an old paper punch from back when I started scrapbooking.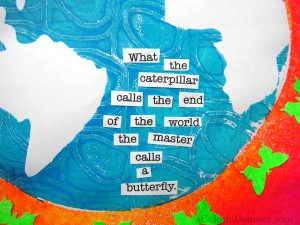 The quote printed out on my ink jet printer the cut apart and glued down.
Sharing with Paint Party Friday, Craft Room Challenge, Creative Every Day, and Art Journal Every Day.
I've had fun playing with the round Gelli Plate and can't wait to randomly pick someone to win a round Gelli Plate!
Want to win?  Leave a comment on this post.  Want more chances?
Share this and leave another comment telling that you shared it and yes you can have one comment for Facebook, one for Twitter, one for Pinterest and so on :).
Join up in the link party.  Every time you join the link party with a different post you get another chance to win!  (And you know you can link up more than once as long as it is a recent post  that has not been in the party before!)
The catch? You just have to be entered before I use random.org to pick a winner right before I post sometime on Sunday, Nov. 17th.
Link up your Gelli Plate blog posts, Flickr photos, YouTube videos , any online media you're using to share your work– it is all welcome!  New posts or recent posts that have not linked up to the party before are welcome!
Link to a specific blog post or flickr page or YouTube video or other source that way people can easily find your Gelli goodness.
Add a link back to the party so others can join us too!  
Leave a comment on at least 2 other links from the party.  You know how  comments encourage  creative types!
Participate as many times as you want- just be sure it relates to the Gelli Plate.