I used to fight making mistakes.  Pointing out all my imperfections to myself with a strong dose of harsh judgement.  No shocker that being creative often ended in frustration for me back then.  But it doesn't any more.  Why?  I just say Oops.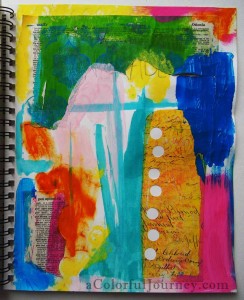 This is a random mess of a page. I was using up torn bits off the counter, pieces of Gelli prints, tried out the Croco Crackling Color  I just bought (huge wonderful cracks by the way), grabbed paint colors and smeared it on with no plan.  Do the colors match the way I intended? Nope. Mistake?  Nope.  It's just an Oops.
An Oops is something unintended.  It's not good or bad.  It is just an Oops.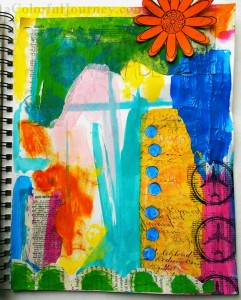 The scalloped border with the green blobs at the bottom of the page is too short to cover the entire width of the page.  A mistake? Nope.  An Oops.
There are opportunities in every Oops.  I love that there is some of the stamp and the pink peeking out from the edge of that scallop.  That never would have happened if I had a longer piece of paper.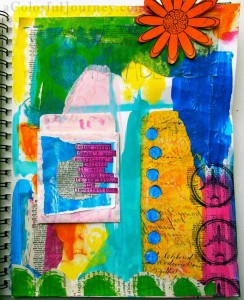 There is one huge Oops on this page. The pink and blue library pocket.  It has 6 different layers of paint under the collage bits.  I had only expected to put 1 layer on it.  Didn't look right.  A mistake?  A failure? 6 mistakes? 6 Failures?  Nope, all 6 were Oops.
The Oops were opportunities to build up layers of color and then to reach for the collage.  I love that I collaged it the end but I just wasn't ready to go that direction until I had tried 6 other things.  The Oops led me somewhere even better than I had planned.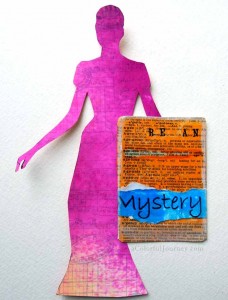 Why the blue on the ATC here?  Because there was an Oops.  I had cut this woman out of a Gelli print using Dina Wakley's stencil and added some subtle gray stamping. I loved the ageless definition on the dictionary page with her- the attitudes fit perfectly. But the definition just didn't stand out the way I expected it stand out. A mistake? Nope.  An Oops.
The opportunity in this Oops?  The blue pops on the orange and I never would have collaged that word if it hadn't been for the Oops!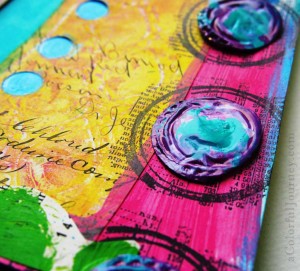 These are smashed bottle caps covered in Vintaj Patina.  These are so much fun to make because they are one big Oops.
It's hard to control what you get when you pound bottle caps with a hammer then smear blobs of paint on top.  Oops can be fun when you embrace that you can't really control exactly what happens.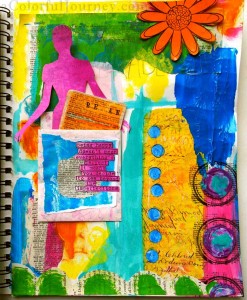 She's right at home in her library pocket with her ATC and the smashed bottle caps (on the right).  As fun as this page is, it is still missing a critical element for me- the journaling. I forgot to put it under the quote on the library pocket as planned.  Failure? Nope. An Oops.
If I had remembered the journaling on the library card I never would have looked for another way to journal.  I used Dylusion's inks to spray a blank product tag yellow and the scribble journaled all over it.
This art journal page is filled with Oops after Oops and that is a good thing!  Every  Oops  will  led me somewhere even better than what I envisioned.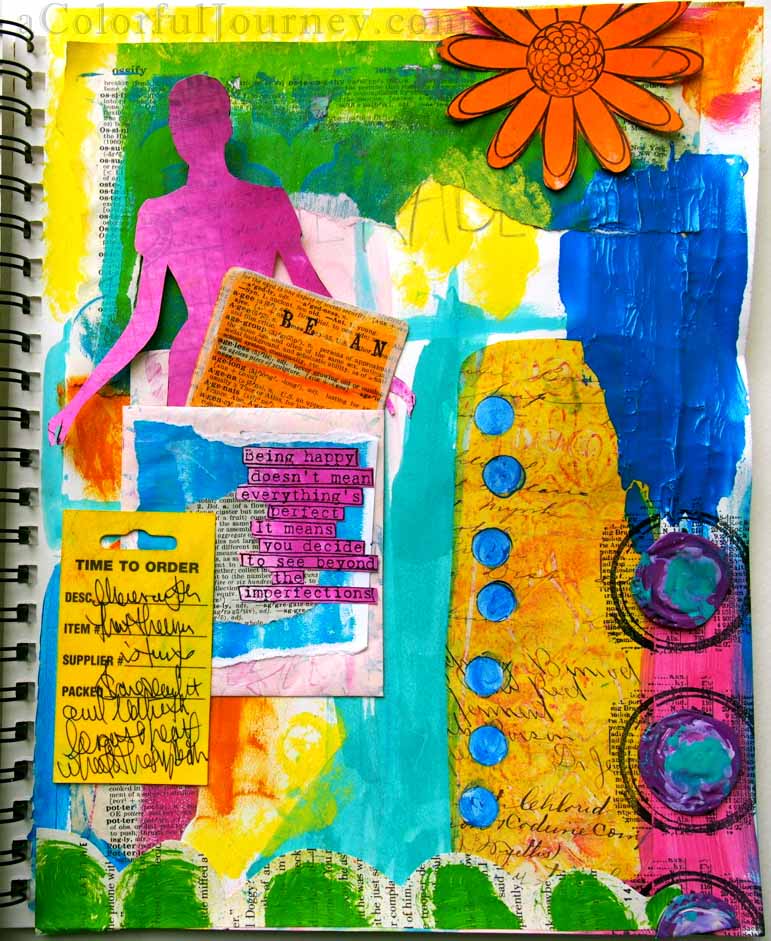 Looking for more creativity? Check out Paint Party Friday, Art Journal Every Day,  Fashionable Stamping (anything goes), The Dictionary Challenge (the letter A)and  Anything But a Card (ATC's).