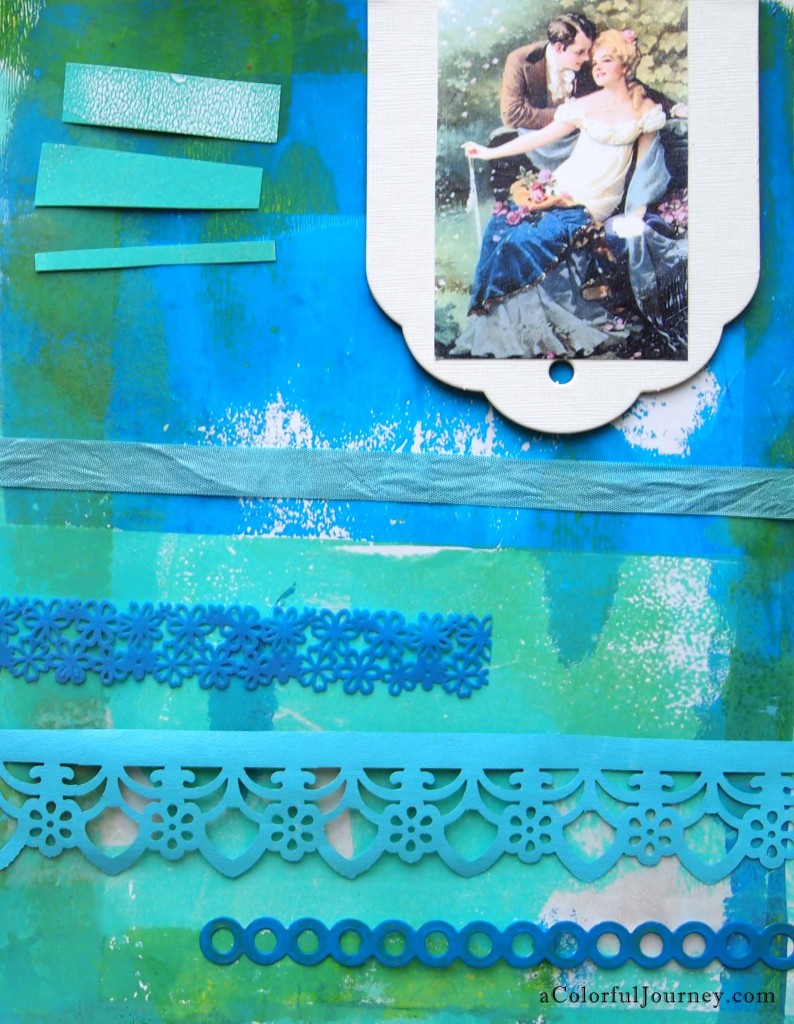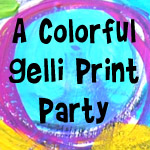 Romance was in the air as I made this journal page! You weren't expecting romance at A Colorful Gelli Print Party were you…well neither was I!  I just kept staring and staring at these blues – I do love blues.   This is just experimenting around with lines of colors in misc. ribbons and papers around the studio.  I never know where a Gelli print will take me!
The great part about mixing right on the Gelli Plate
is that you get wonderfully subtle variations.   This video shows you 2 ways that I mix colors.  First by brayering on 1 color completely and adding another color.  Second by just squirting the 2 colors out at the same time.  How much I brayer them has a big impact on how the prints turn out.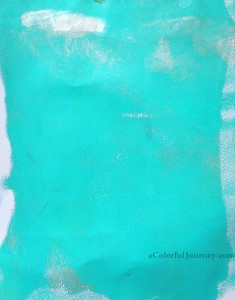 The first print after adding paint to the Gelli Plate
is very solid and relatively plain looking.  These types of papers have been coming in very handy when I needed a piece of colored card stock for an art journal spread.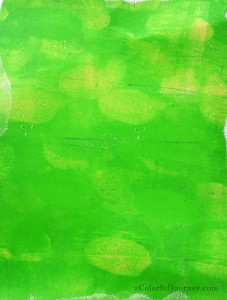 They are relatively plain but have just a hint of painterly-ness to them.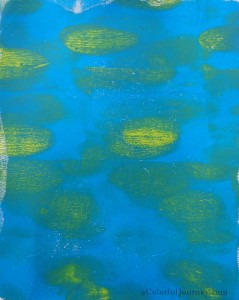 When I mixed the paint on this one I only did a little blending so the green pops a bit more.  Every time I look at this all I can see are lily pads!  I think I need a frog here…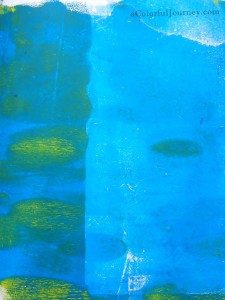 The more paint that gets removed from the Gelli Plate the more interesting the prints become.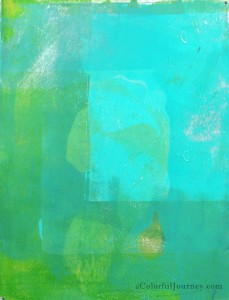 The layering of colors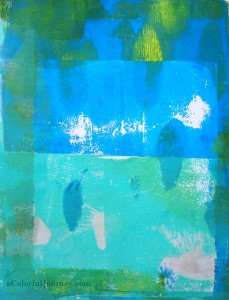 I love the size of the 12×14 Gelli Plate because it is bigger than my paper.  Why is that a big deal to me?  As I pull prints off I am creating variation because only part of the paint is removed from the plate.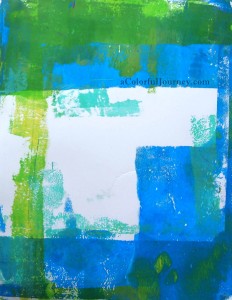 I wish I could tell you I planned this all out before I started printing but the truth is there is very little planning…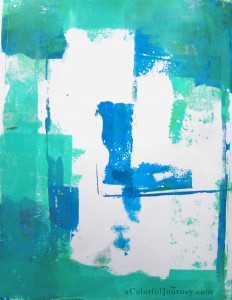 It is mostly about playing!
So now it is your turn to share any of your Gelli creations from prints to finished projects!
Link up your Gelli Plate blog posts, flickr page, YouTube videos – it is all welcome!  New posts or recent posts are welcome!
Add a link back to the party so others can join us too!
Leave a comment on at least 2 other links from the party.  You know how wonderful kind comments encourage us creative types!
Participate as many times as you want- just be sure it relates to the Gelli Plate.  If you notice your link deleted it is because it didn't have a thing to do with the Gelli plate and that is what we're celebrating here!