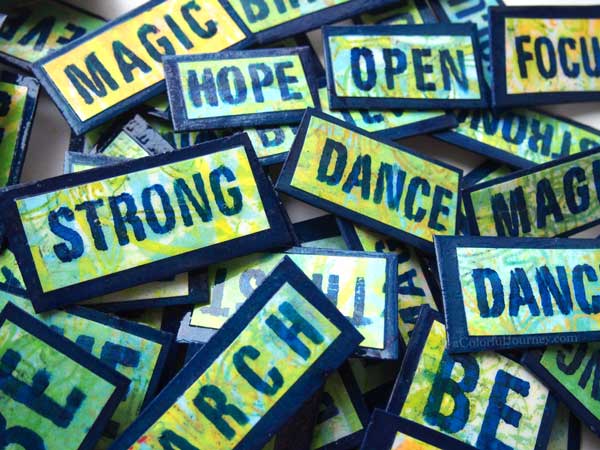 I was running behind schedule. There wasn't much time.  But there was no way I was going to miss out on the fun of trades at Art Is You.  Trades are a a little something you trade with other people at the retreat.
There are no rules for this which allows each and every person to do it the way they want.  Here' a video of the trades I made for Dixie…and I am already planning my trades for October when I am teaching in Stamford.
Watch  Making pins with a stencil on YouTube.
Here's my name badge from Art Is You Dixie, all covered in trades.  Hidden under all these great pins and charms is an amazing stitched treasure that every attendee at every Art Is You retreat receives.  Thanks Sallianne and Ellen for such a great way to remember the wonderful people at the retreat!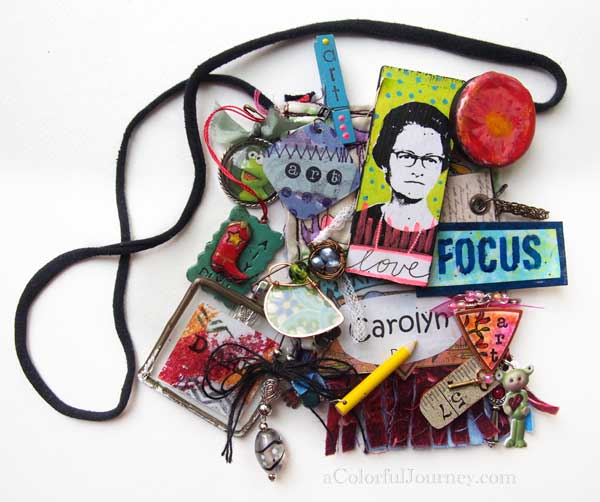 I'll be at Art Is You in Stamford this October teaching Meet the Crazies with a new trade and a fresh name tag ready to load up with trades!  Hope to see you there!
Meet The Crazies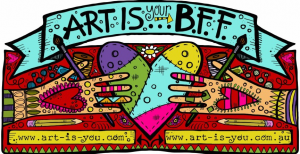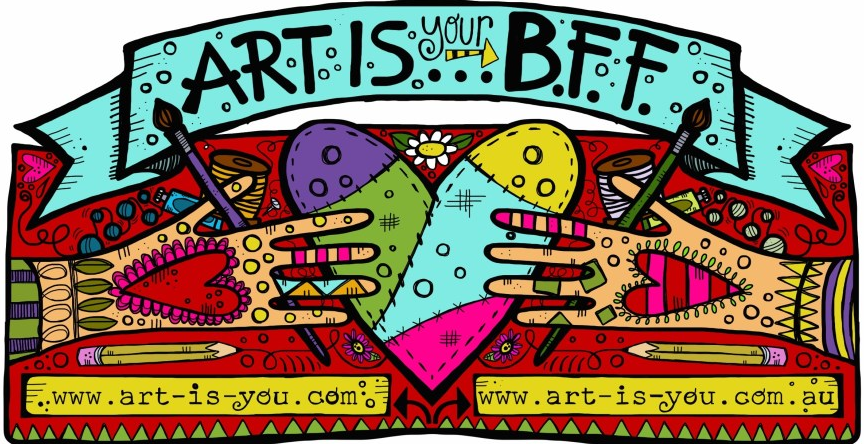 The Crazies are characters that pop up in my stenciled and painted papers!  These people live inside every paint tube.  In this workshop, I'll show you how to unleash them as we play with paints and stencils.  Don't feel comfortable drawing people? No problem! Drawing these Crazies isn't drawing at all.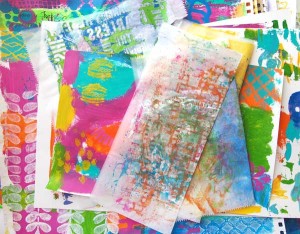 Building Patterned Papers
 We'll start by making pages and pages of patterned papers by combining color, mark making, and stencils on mixed media paper, book text, and deli paper.  I'm bringing a jumbo stash of paper and stencils for everyone to play with during this fast paced workshop.  New to stencils? Not a problem!  I guide you through a variety of techniques so everyone will be stenciling with confidence!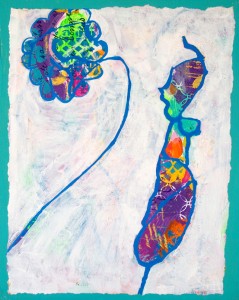 Bringing the Crazies Front and Center
 Every drop of paint and color will be used as you get comfortable understanding color and getting it to work for you creating bold and subtle effects. I'll share with you the whys and hows of working with busy, detailed patterns full of color as the final touches are dripped on to the page to bring The Crazies to the front and center.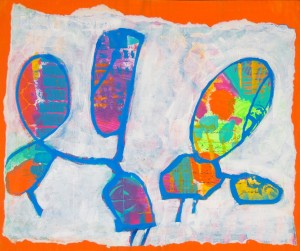 Telling Stories
I'll share with you my 3 simple steps to telling the story behind your characters. It is amazing to watch their personalities emerge.  Although no experience with paint or story telling is needed for this workshop even experienced painters will start seeing all the crazy characters popping up in their paint!
The jumbo stack of papers you create and your finished piece (a wooden mounting board no larger than 12×12) will easily fit into a suitcase.
Find all the details and registration info here.
A big thank you to Jo-Ann Foss for letting me know about a way to prevent the polymer gloss from sticking…others may find this useful too!
"If you coat polymer mediums or acrylic with Dorland's Wax Medium ….Finished pieces or even journal pages will not stick together. Just apply a thin coat, I usually just rub it on with paper towel …give it a bit of time to set up and then buff ! On a double spread journal page ..( I had applied to only one side) it made no noticeable difference to colour or sheen… I now use it regularly ! The only draw back is that it's not toxic free…so I just make sure when using it that I protect my skin… No finger painting lol"