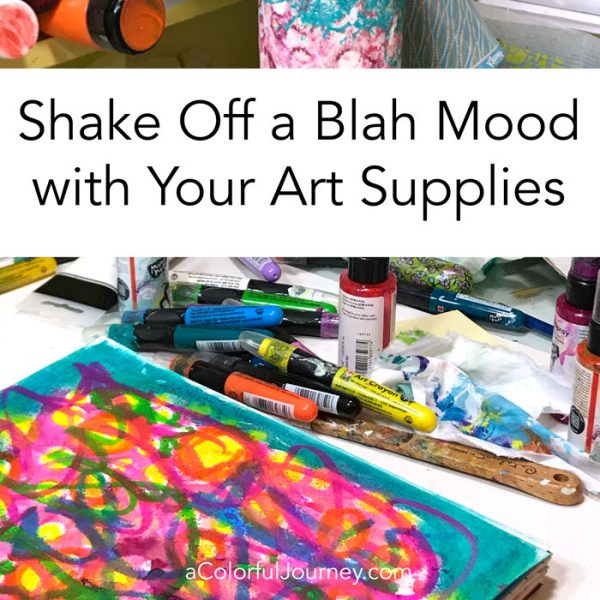 What can you do when you have the blahs and just feel, well, blah?  Make a mess.  Just get the art supplies out and do anything.  Even making something ugly can help shake off a blah mood.
In this video, you'll see how I made a hot mess of ugly and that it doesn't matter if it's ugly.   What matters is the play.   You'll see a flash flood of Art Spray, how a baby wipe couldn't save an art journal page, and lots and lots of OOPSies.
Watch Shake Off a Blah Mood with Your Art Supplies on YouTube.
I knew going in to this, that it was going to be ugly because I was feeling so blah. Not bad, just blah. So I grabbed a piece that I didn't love and covered it over with an overly generous amount of gesso.
If you're in the free Facebook Group, Rediscovering Your Creativity, you know from our Thursday prompts that feelings end up embedded in the play.
What I did next was so ugly, I didn't even bother to take a photo.  Yes, it's really that ugly and very freeing at the same time.  You'll have to watch the video to see the flood of Art Spray on wet gesso with a stencil. That could be called an O.O.P.S.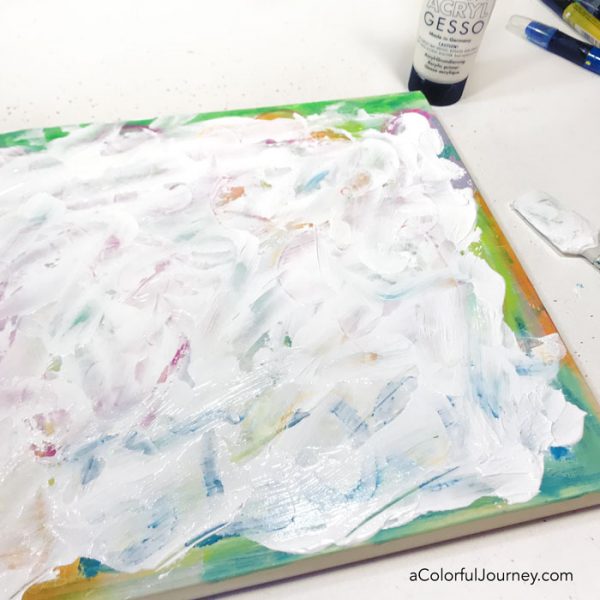 But all that avert-your-eyes mess I made led to the clean up art journal page. I loved how the Speckles and Spots stencil looked here.  Yes, there really was an Outstanding Opportunity Presenting Suddenly in the fun-to-make ugly from the step before.
Hind sight is 20/20 and this is where I would not have regretted stepping away.  Of course, I can always do this again. After all, there is plenty of Art Spray left in the bottles.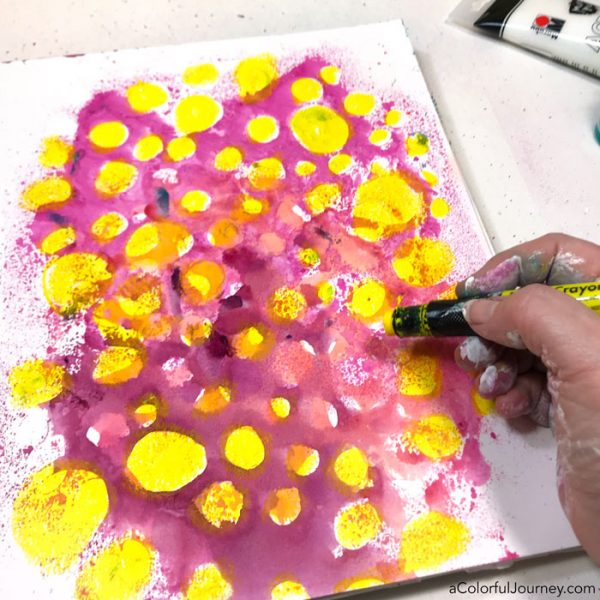 The moment I added this color, I knew it was not a good choice. O.O.P.S. again. What did I do then? Added more of it. In for a penny, in for a pound.  The very versatile baby wipe, couldn't even save this. O.O.P.S. But there was an opportunity in it.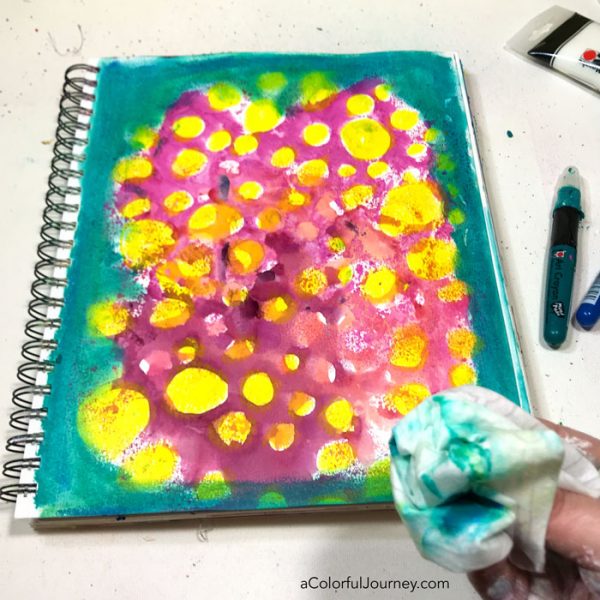 There was no hope for this page, there was no way it was going to "get back" to the good place from before, so I let loose on it.  Totally scribbling.  To those who have seen my scribble journaling where I loosely write words, this isn't it.  This was full on kindergarten scribbling.  Full throttle joy at this point.
And then I loved it again.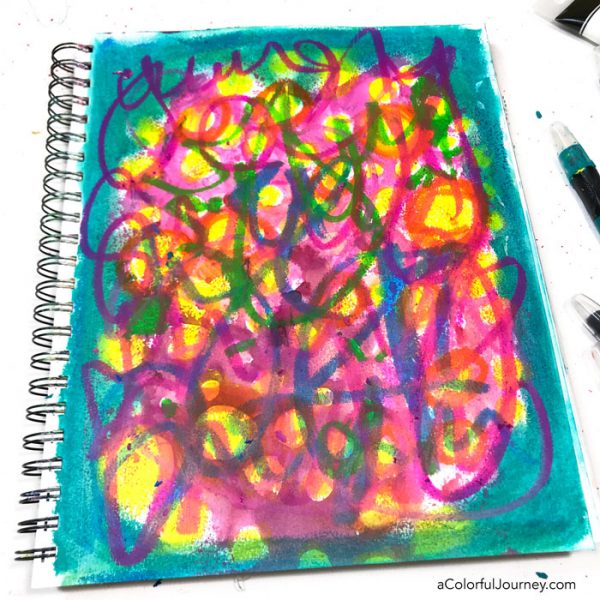 What about the sopping wet gesso'd piece?  It was still a hot mess but Art Crayons react to water, so they actually worked well on all that wet.  More scribbling.  Lots more scribbling. And lots more joy.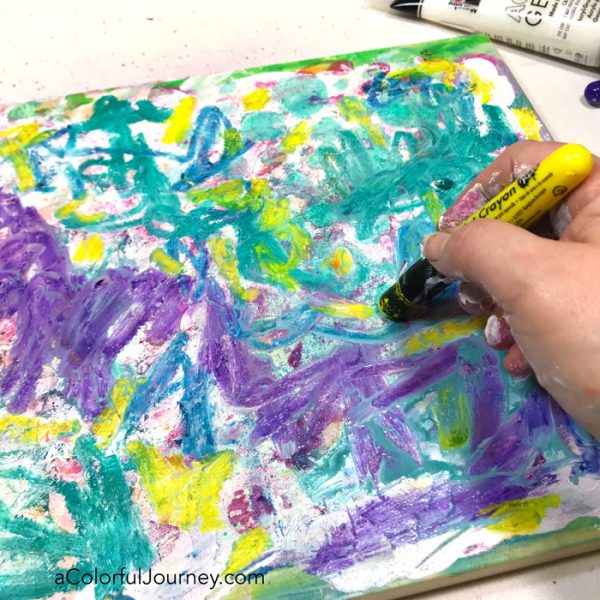 Bet you're waiting for me to tell you how it was ugly and then I loved it, like the last one. Not going to happen here.  This one is still ugly to me. But the blah mood is gone, all thanks to playing with art supplies.
If you ever happen to be feeling blah, grab whatever supplies you have and let yourself make a hot mess.  You just might shake off that mood along the way.
If you'd like more creative encouragement sent to you inbox each week, get signed up for my newsletter.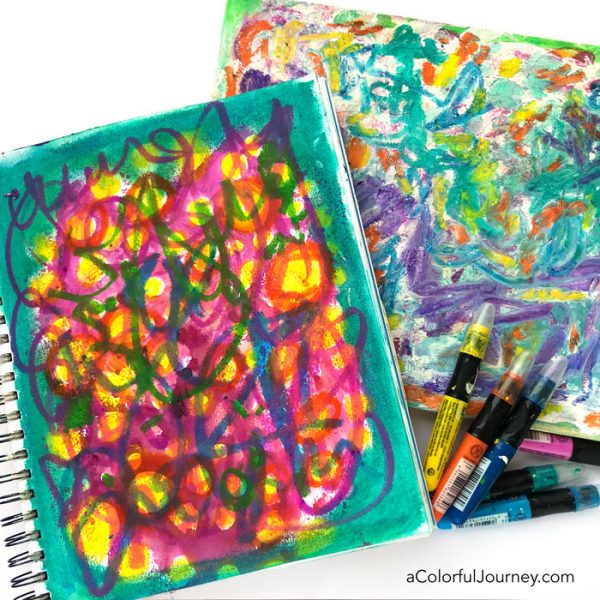 Here are the supplies used. Some of these links are affiliate links which means I get a small percentage. It doesn't cost you anything extra and it helps keep the free tutorials coming!