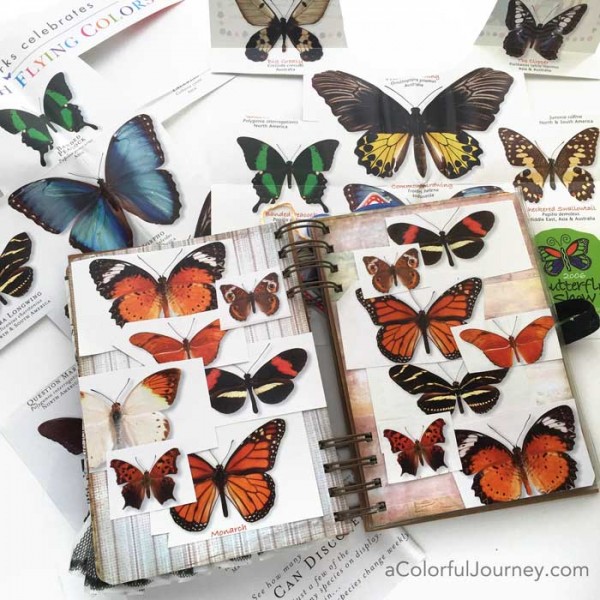 Negotiating with my muse is not a wise thing to do.  My muse is not affected by whining, whimpering, or wishing.  She was a total task master as I filmed this week's Let's Play video. I am so grateful she stood her ground!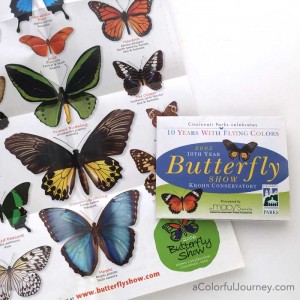 Use it or lose it is this month's theme and this week was the absolutely challenging for me.  I saved these fantastic glossy full color brochures from the Cincinnati Butterfly Show at Krohn Conservatory.
Can you tell I treasure them? They're from 2005 and 2006 and more precious than gold to me because of the memories of going with all of my kids (2nd grade field trips and my own 2 kids).  So it has been sitting in a drawer for 10 years waiting for the "right" time to use it.  Until now.
I fussy cut out 2 butterflies…and then I looked at all the others with despair.  I was never going to be willing to cut all those out but I didn't want to waste them either.
That is a lot of cutting.  My hands will hurt.  I'll have to focus for how long to cut them all out? The internal whining had begun.
I begged my muse to let me off the hook and not have to throw them out.  But she stood her ground.  Use it or lose it.  Like a 5 year old, I got tired of whimpering about it so I began to look for another way.  And I found it.
The answer? Don't fussy cut. Do big quick messy cuts and layer layer layer!  In no time at all I had used all the butterflies.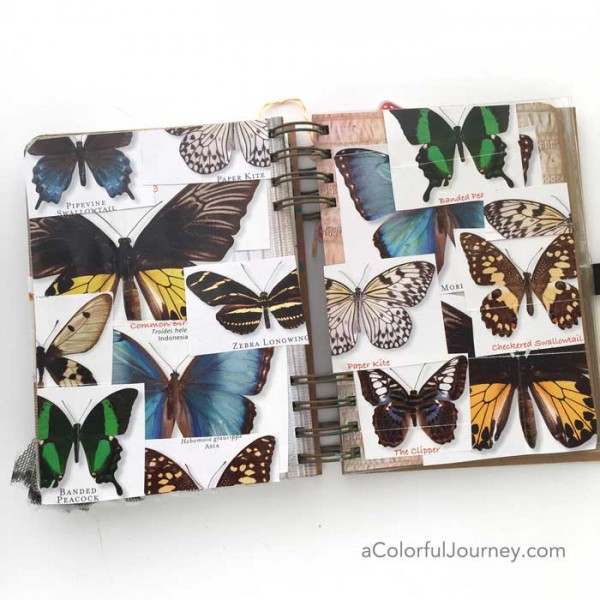 In the video, you'll also see the thing I almost missed in the brochure. I was focused on the butterflies that I didn't see something very rainbow which actually became ended up right on the cover.
Watch Confessions of a supply hoarder  on YouTube.
Want to see more Let's Play videos? You can find all the weekly posts here.
Now you've seen my play, let's see yours in the link party below!  For this party, it can be any play on the theme or not (since play really doesn't have a lot of rules)!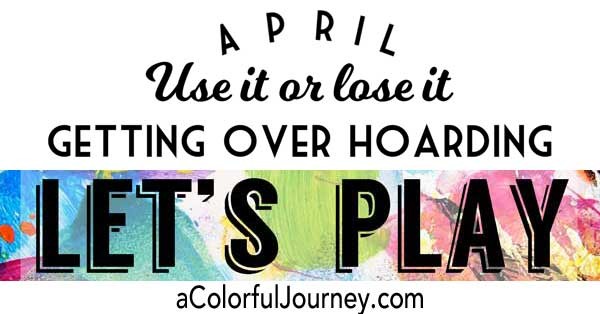 This month's giveaway is a $50 gift certificate to Bluemoon Scrapbooking!  Link up what you're creating (and you get a bonus entry into the giveaway for sharing your play) or leave a comment telling something that you liked about one of the photos shared. One comment per person but you can link up to 3 images of your play each week!  Giveaway closes Sunday, May 1st at 8am EST.
New to Let's Play?  You can find out all about it, what and how you can share (and it is almost anything- it doesn't have to follow the monthly theme and you do not need a blog!), how to grab the blog button, plus other info here in the Let's Play FAQs.
[inlinkz_linkup id=617133 mode=1]
Want to put the button your blog? Just copy all of the the code from under the button.