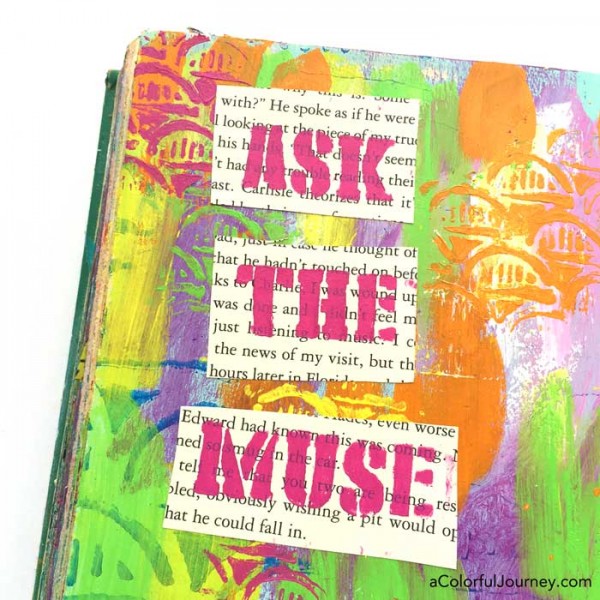 It was just going to take a moment because all I was doing was using up the last bits of color on the brushes.  Don't want to waste the any part of the rainbow after all.  No reason to turn on the video camera.  This is just cleaning off a few brushes.
And then I got sucked into playing.  Yes, forced by the muse to paint and play.
It started when I grabbed a place to wipe off the paint left on my brushes.  I grabbed an altered book journal where I had started this page eons ago with my large Union stencil.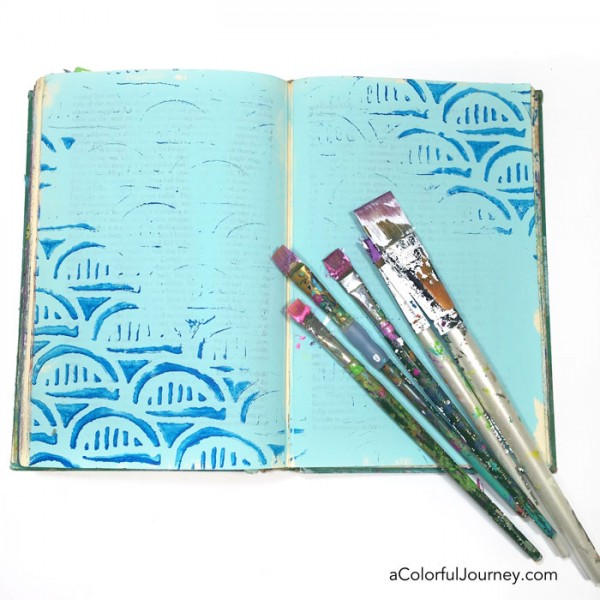 An altered book is just an old book that I use just like any art journal except that the pages come pre printed with words!
These brushes only had pinks and purples on them. I couldn't leave it like that.  I had to add some more colors, like yellow. So added more paint to my palette.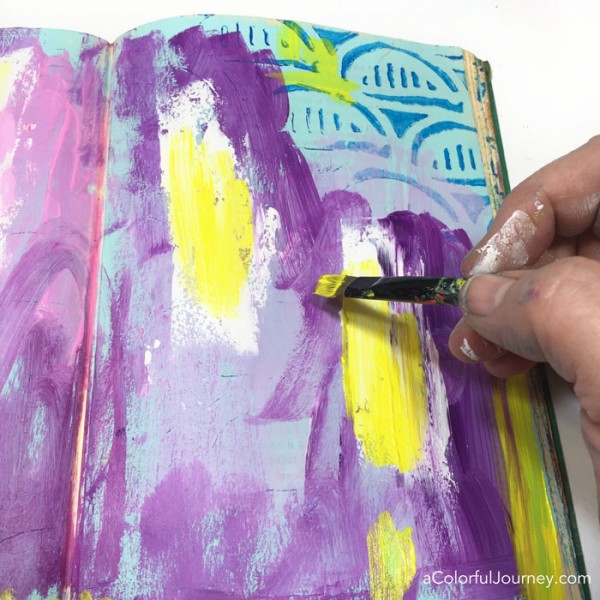 Before I knew it, the whole rainbow was involved.  Instead of using up the paint, I seemed to be getting more and more out.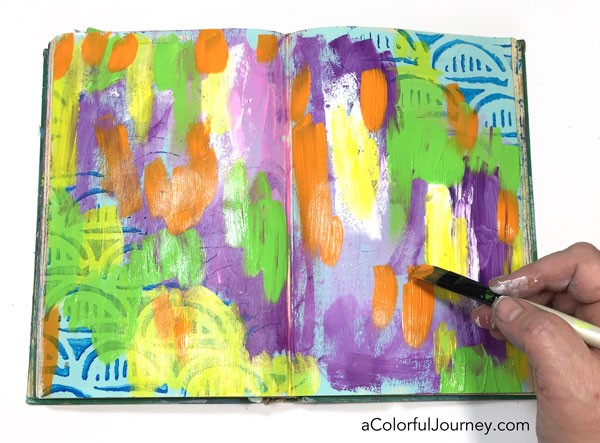 Out came the small Union stencil for very messy play.  I stenciled wet paint on wet paint.  And it was so much imperfect fun!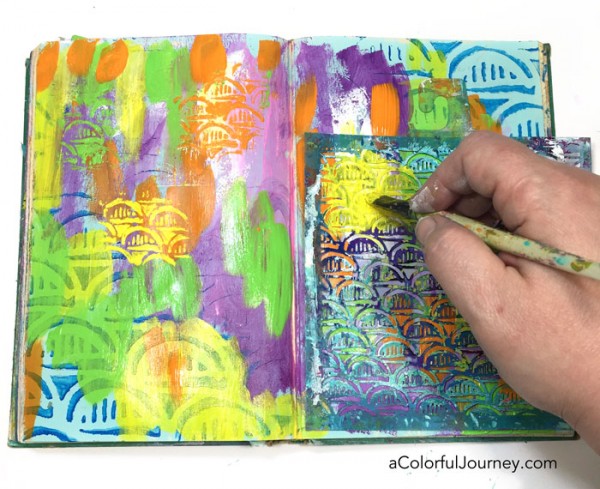 For the title, I used the Verbage stencil.  It had almost all the words I needed.  But not "the" so I cannibalized the word they by just stenciling t-h-e and voilà, I had the word I needed!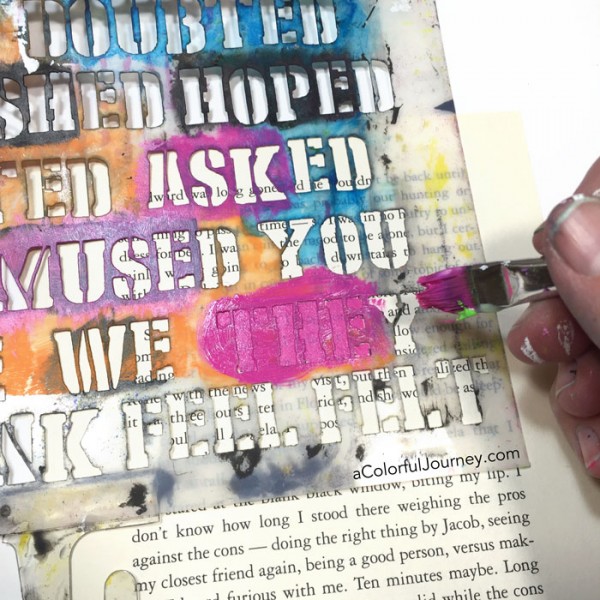 Whenever I ask the muse, I should to listen to what she says.  She said write neatly.  I tried.  I wrote really neatly for me.  It was awkward and uncomfortable to write legibly.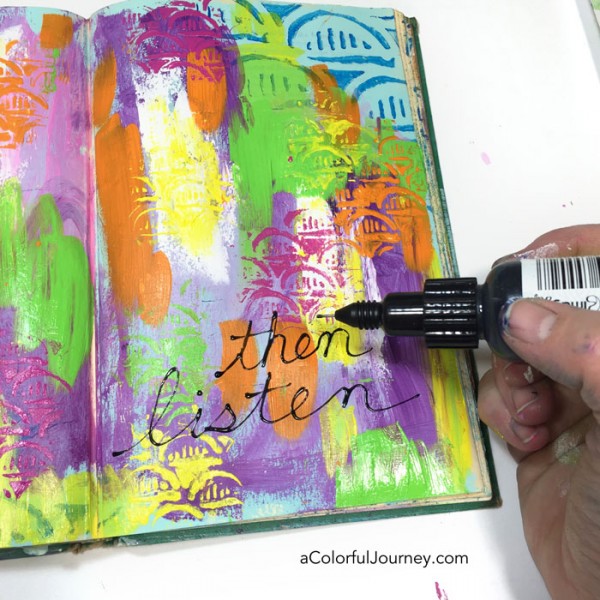 It didn't feel right so I did it the way that made me happiest, scribbly scratchy and messy!  So technically,  I listened and took her advice and then added to it!  But I did listen to her when she said play!
It doesn't take much for the muse to get me to play.  But it wasn't always that way. If you'd like to know 3 ways that I used to thwart that unplayful voice in my head (the inner critic), get signed up for my newsletter here.  There's a downloadable video and pdf waiting for you!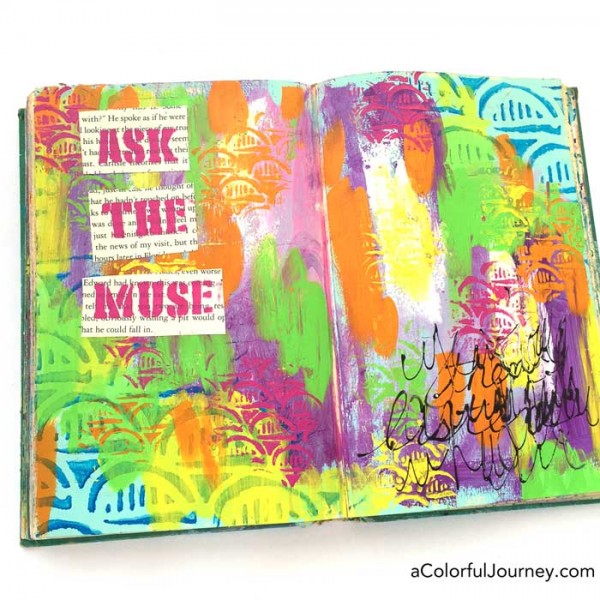 Here are the supplies I used. Some of these links are affiliate links which means I get a small percentage. It doesn't cost you anything extra and you are helping me keep this blog and my videos ad free! Thank you- I don't like ads any more than you do!