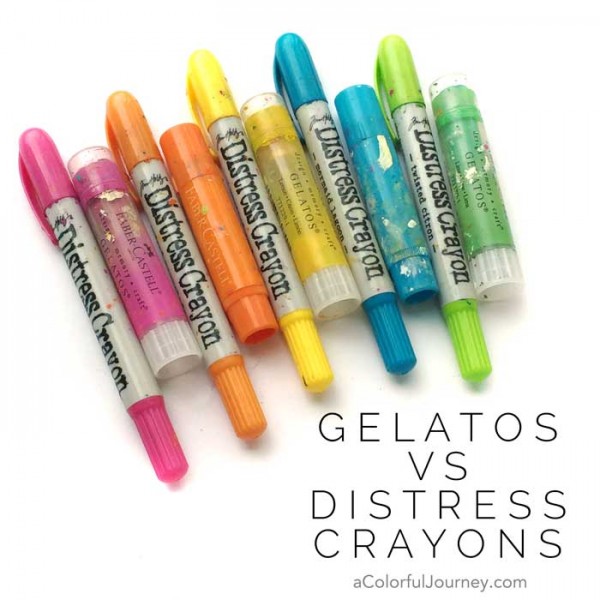 After sharing my video experimenting with Distress Crayons, I had a lot of people asking me how they compared to Gelatos. So, I thought I'd try them out in a video side by side and see how similar or different they are.
Disclaimer:  I am NOT a formally trained scientist adhering to strict rules of a carefully controlled double blind experiment.  I am playing and having fun with color…
Watch Gelatos vs. Distress Crayons on YouTube.
First thing I did was attempt to match up similar colors of each from my stash.   Next I used them to color in my Alternating Circles stencil in an art journal.  Notice the tape on the very left edge of the page?  It was worth the effort of taping this down so it didn't move on me with this technique!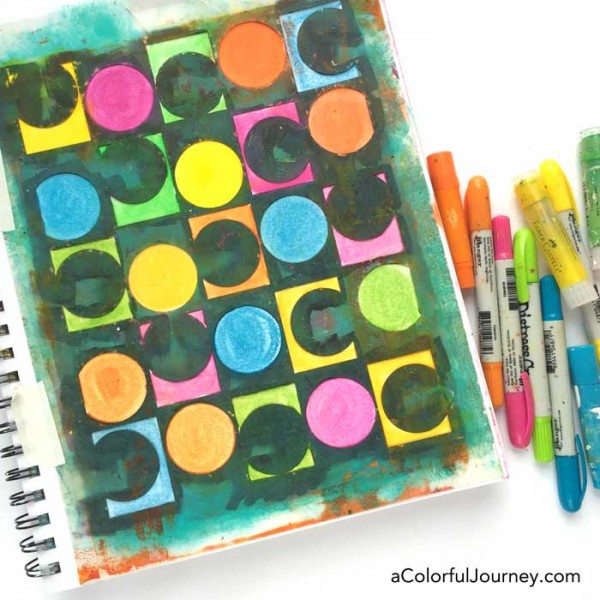 Then I stepped away for several days.  That wasn't my plan.  It was an Oops (an Outstanding Opportunity Presenting Suddenly).  I meant to just let it sit over night but then I got distracted by other duties.  So these things had a lot of time to cure and set up.
After such a long time, both the Gelatos and Distress Crayons did not smear when I ran my hand over them.  Well…for the most part.  The places where I had big chunks of the colorful creamy supply would smear in both brands.
I decided to see how well they would smear with the very fancy and sophisticated tool, the baby wipe, after such a long time.  Both did smear but the Gelatos seemed to smear more easily and more vibrantly.  The Distress Crayons did smear but not to the same level.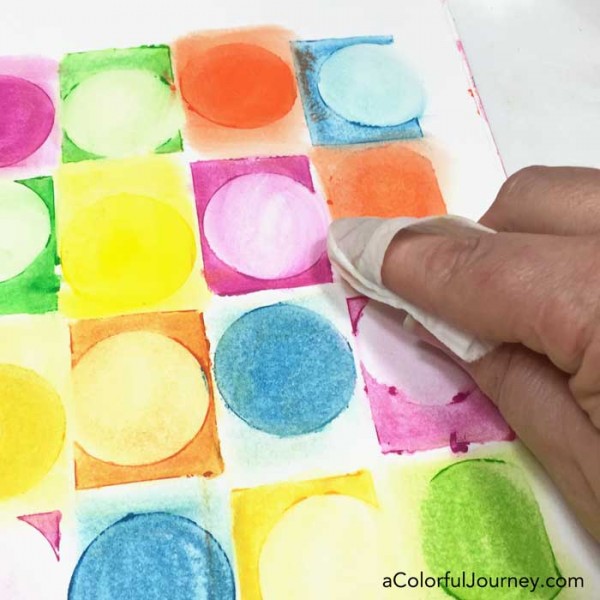 Is this good or bad? Depends on what you want.  Want something that will wake up and react to water at any point? Then Gelatos do that very well!  Want something that after it has time to cure doesn't react as quickly to water?  Then Distress Crayons do that a little bit better.  No matter which one you are using, it's fun to smear it around!
Could I use big crayons like this to get into the areas of a detailed word stencil like Fridge Poetry?  And still have a crisp image? Yup!  Super easy to do!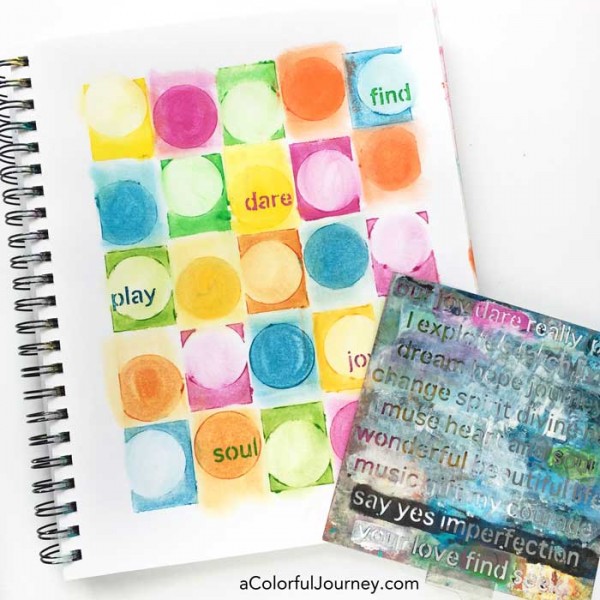 What's my final analysis of my detailed scientific study comparing Gelatos and Distress Crayons?  They are very similar.  Not identical, but similar.
Here are the supplies I used. Some of these links are affiliate links which means I get a small percentage. It doesn't cost you anything extra and you are helping me keep this blog and my videos ad free! Thank you- I don't like ads any more than you do!