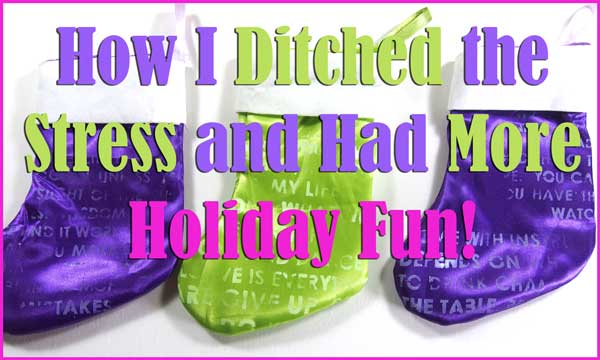 This is like an inner critic with enough family baggage to fill a cruise ship.  Over the years, I have tolerated that voice and let it suck so much joy away.
ENOUGH IS ENOUGH. I want to embrace the fun of the season not the stress.  Here's what I have been saying any time I hear that critical voice about my holiday decorations, my wrapping, my cooking, etc.
It is not going to be a masterpiece.  It is going to be done.
It is not going to be perfect.  It is going to be done.
It is not going into the museum of holiday decorations.  It is going into my hallway (or any other room in my house).
This has dramatically shifted my holidays.  There is so much more joy in them.  And so much more is getting done – like these quick stockings!
In the video, I dressed up some extremely cheap stockings.  These had been in the closet waiting for me to add something to them.  Well, now I have!  Are they perfect? Nope.  Are they a masterpiece?  Nope.  Did I have fun making them?  Yup! Will I have fun putting them up around the house? Most definitely!
Watch Quick stenciling on stockings on YouTube.
If you'd like more ways to quiet a critical voice, I've got a downloadable video and pdf waiting for you called "3 Ways to Thwart the Inner Critic".  Find the details here.
Supplies Used