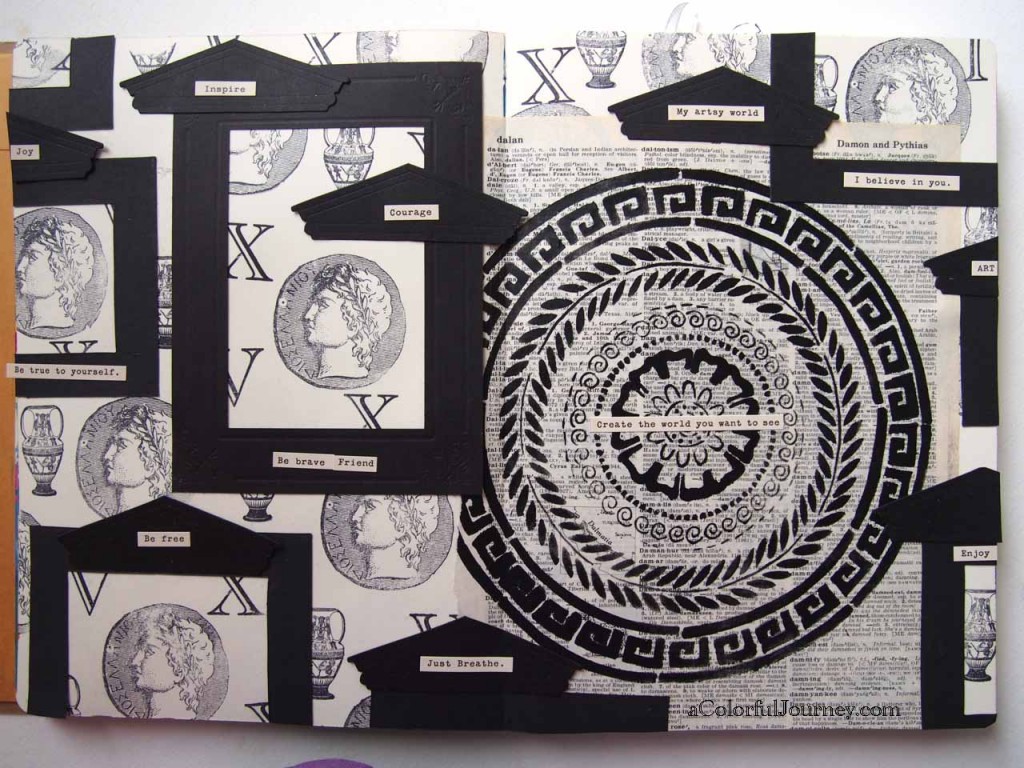 I have fond memories of Greece and am in awe of ancient Greece.  Love the old temples, the history, the mystery of it all! When I saw this stencil by Maria McGuire for StencilGirl Products I was flooded with memories of my visits.
Maria and I decided this stencil was to be our Artsy Fartsy challenge– a special edition of Artsy Fartsy in celebration of her new stencil, Stitch a Greek Medallion!  Over on her blog, BelieveDreamCreateWithMaria she is using the stencil too! Stop over there and check it out!
She's modest about her design but I am not- I know good design when I see it and use it! In the video you will see how covered in paint this stencil is because it has been used to much in the very short time I have had it!
Watch it on YouTube: Using a stencil and rubber stamping in an art journal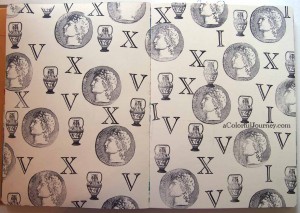 I grabbed some rubber stamps in the Greek theme and went to town!  Not perfect stamping but it didn't have to be- this was just the first layer.
Using my Dylusions journal.  Stamps are from Toybox and American Art Stamp.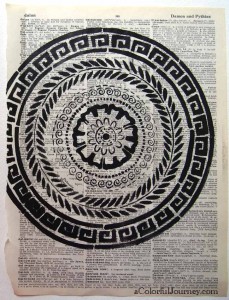 Here's the full stencil but I will tell you that you will be seeing more of this stencil on my blog in the future because it is so versatile- each pattern is magical all on it's own and when put them all together- stencil magic!
I am a bit biased because Maria is on my dear friends and the universe works in magical ways.  The dictionary page that I stenciled on has Damon and Pythia as guide words at the top.  They are a tale from Greek mythology about 2 friends.  How perfect for an Artsy Fartsy!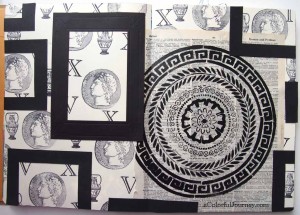 I grabbed these frames and felt so good using them up but then I thought, UGH- I don't like how this looks.  It was all glued down so I decided it was an Oops! Just an Oops no matter how tight the knot in my stomach was…since it was just an Oops I trusted  (took me a few minutes to get to the trust, but I got there) that would end up somewhere wonderful.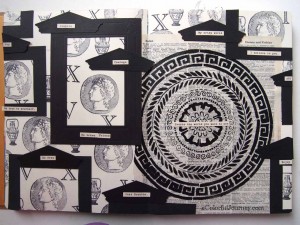 And it did!  This is the direction I intended to go in the beginning but better.  That Oops that felt so horrible in the middle of the process had to be there for me to get here.  And I like it here.
Thanks for visiting my blog.  Preparing a blog post takes quite a bit of time and energy.  If you enjoyed this post, I'd appreciate your support!  How? By sharing this post however you are comfortable.  Your support makes my muse happy and a happy muse keeps me coming back to the studio again and again!
Linking up to The Dictionary Challenge (letter D), Fashionable Stamping (text, book pages), Simon Says Stamp (anything goes), Creative Every Day, Art Journal Every Day, Our Creative Corner (words) and Glue It Tuesday.