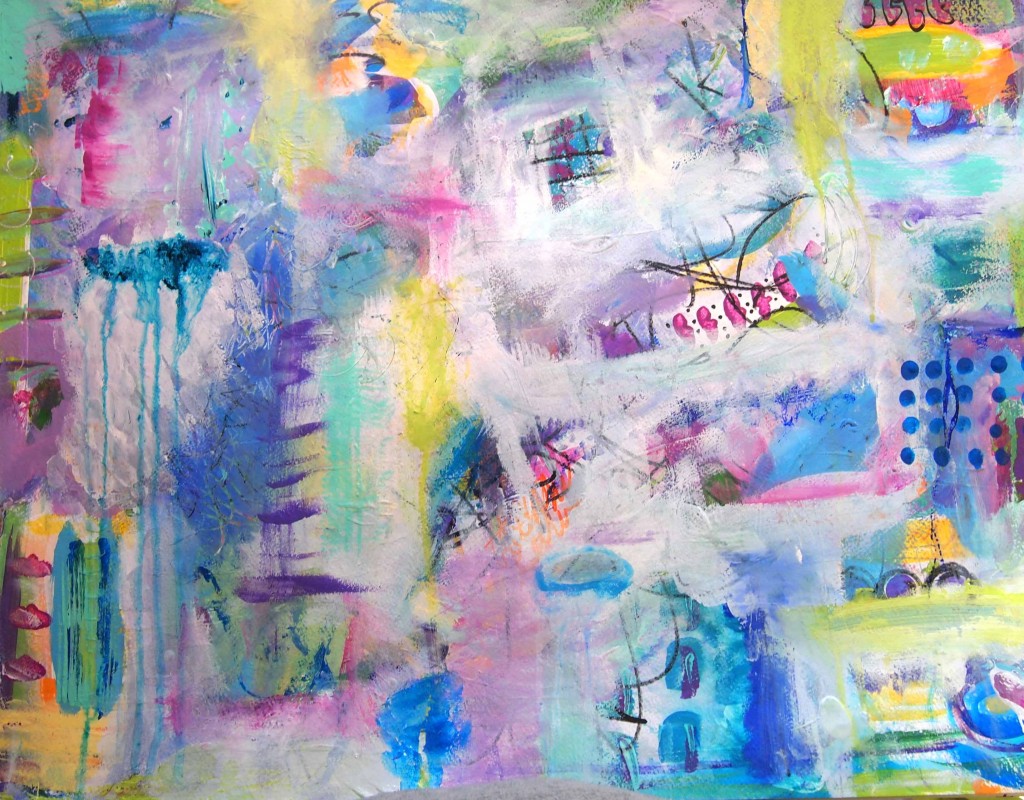 As I looked at this painting at various stages I realized I thought it was precious.  That is a wonderful thing when talking about time with my kids, date night with the hubby, or a girls night out my  friends.  Those types of things are precious.  My painting is not nor should it be!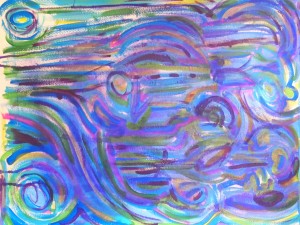 It sat at this point for a while.  I didn't like it much and had no real spark with it.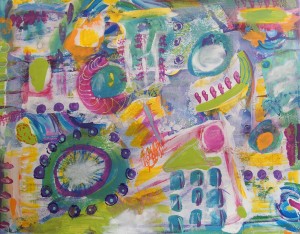 Since it wasn't precious I had no problem smearing paints around and making various random marks.
This is when the trouble started.  I started to really like parts of it and it was becoming precious to me.  My ideas dried up.  I felt frozen for fear of "ruining" it.  Thinking it is precious was in my way so I decided to try something big on it…Nothing happened. Frozen.  Trying to think of something big  or perfect just left me frozen.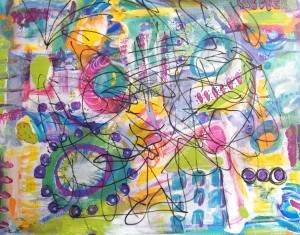 So I thought small.  I grabbed a black paint pen. Only I was too stiff, too in my head.  So I went left handed and closed my eyes and started drawing.  The most important part is that it got me interacting with the painting instead of just looking at it.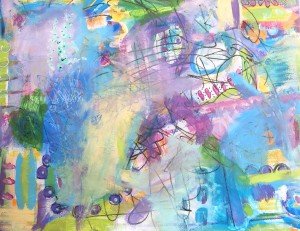 When I opened my eyes, I thought, "boy this is ugly with all these black lines" which is a good thing for me I am learning because now I was willing to take a risk and try something on it.  I smeared paint on with my fingers, used a brush to make shapes and lines, and began to cover up some areas and leave parts peeking out.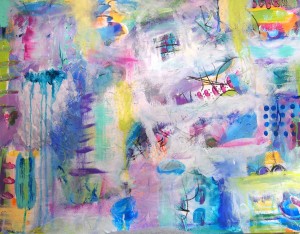 So here is where my work in progress is at for now.  I added a bit of drippy paint, a few dots, and more paint.  I am liking where it is going and just parts are feeling precious.  Before I am finished with this I imagine it will have some more ugly phases and more precious phases.  Don't know where it will end up but I will just trust my muse…
If you have a moment stop by and visit the encouraging and creative  artists at Paint Party Friday and Creative Every Day!