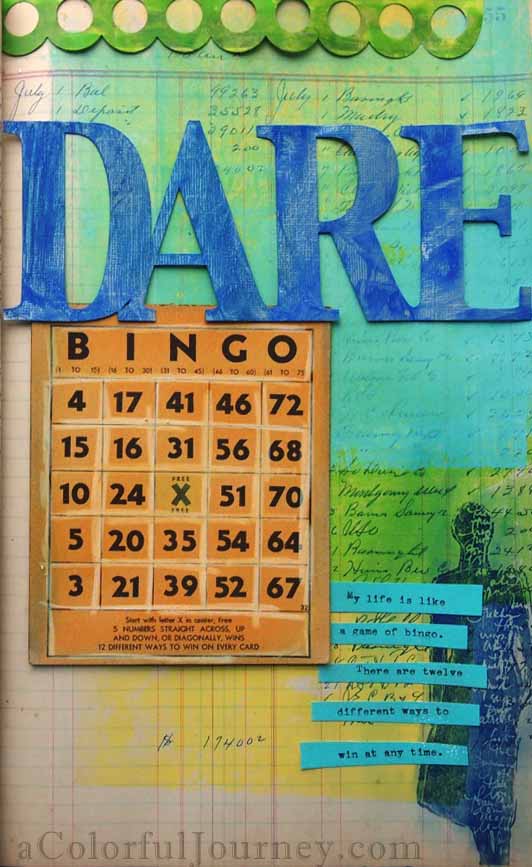 Sifting through a drawer I bumped into my bingo cards. My precious, must save, can't bear to use, bingo cards.  The words on 1 really caught my attention- 12 different ways to win on every card. Just like life, there are always lots of ways to "win".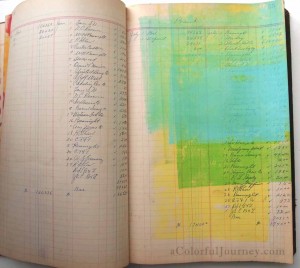 My old ledger colored randomly from using the brayer while Gelli printing.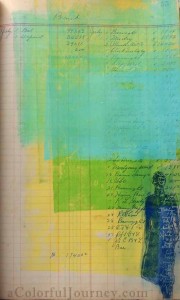 One of my latest favorite ways to stamp- with PanPastels.  I stamp in a clear embossing ink then gently brush the PanPastels over the top. It is a great way to mix subtle bits of colors together.
I typed on a Gelli print.  Not a fancy Gelli print but just a 1 color, solid print – no stencils no pattern- but it does have subtle little things like parts with just a bit less paint.  So nice to be able to print my own coordinating papers!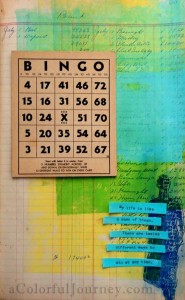 The precious bingo card I had been hoarding.  Now, when I say precious, you'd think I only had 1. Nope.  I have maybe 10 but for some reason I was holding it for the perfect project. Did you hear the bad word?  Perfect.  Well, right now is the perfect time – so I used it.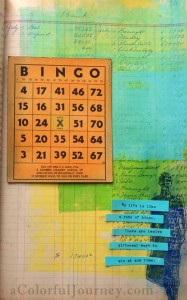 I had the PanPastels out and the orange was just calling to me- and it really perked up the bingo card but I can still easily see all the numbers!  I could seal it with spray fixative, but I didn't.  The PanPastels were rubbed in well so there won't be much (if any) transfer issues to the other pages.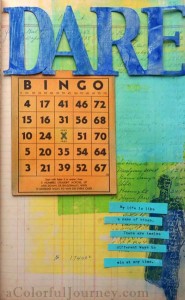 I went a bit crazy with the Silhouette cutting machine one day and made these huge words. And I love them!  Crazy thing, I felt myself starting to treat them as precious and had to remind myself I could just cut more!  A sloppy layer of paint was added to the cardstock word.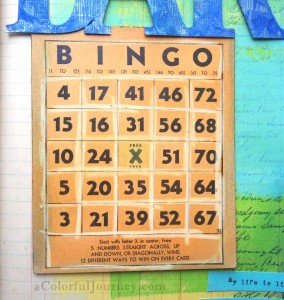 It was just not quite right yet, so some white oil pastel on the lines.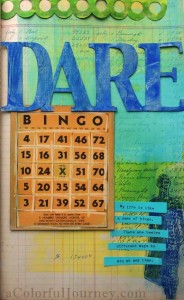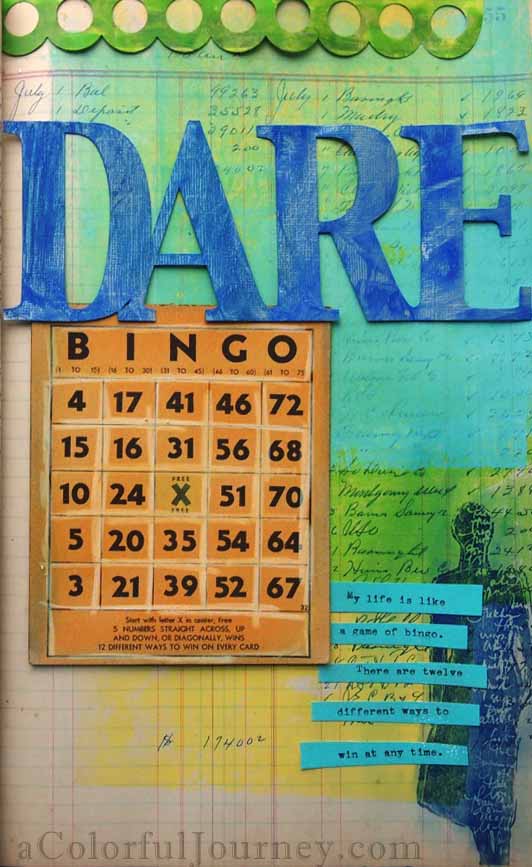 I am finding more and more reasons not to clean. This scalloped scrap was left out on the counter and worked perfectly here!  If I had cleaned, I never ever would have used it!
So as I look back at making this- I realize the bingo card was daring me to use it!  What's daring you?
Linking to Simon Says Stamp,  Art Journal Every Day, Creative Every Day, PanPastel UK Challenge Blog, and Paint Party Friday.