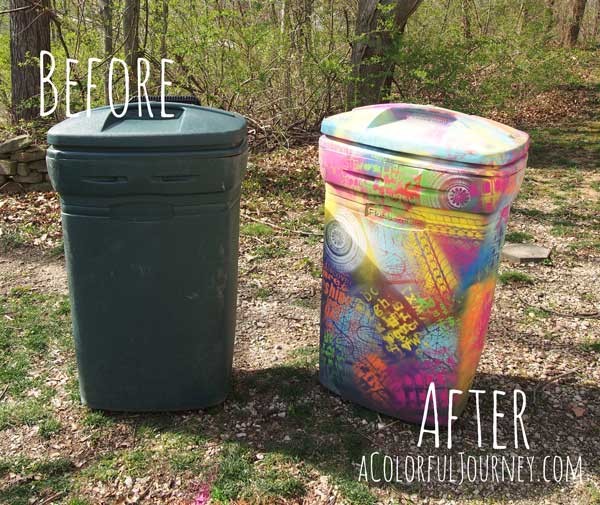 "You'd be so good at vandalism Mom!"  Hmm…maybe I need to rethink the example I am setting for my children….nah!  Everyone should grab a can of spray paints and let loose occasionally!  Nothing seems to be safe here from the paint lately at our house. The neighbors haven't rioted yet with all the color.  As a bonus, when the wind blows the trash cans down the street everyone now knows who they belong too.
Watch Spray painting with stencil on a curbside trash can! on YouTube.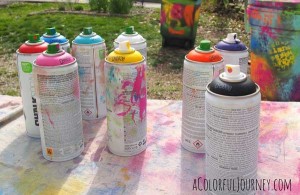 The Chalk Spray Paints are at Amazon and at Dick Blick.  These aren't traditional spray paints, they are temporary chalk ones.  This may take quite a while to wear off since it only goes outside once a week….I put it on a concrete wall a couple of months ago and it is still bright and vibrant!
What stencils did I use? More like which did I not…here are just some of the ones I used.  All can be found at StencilGirl.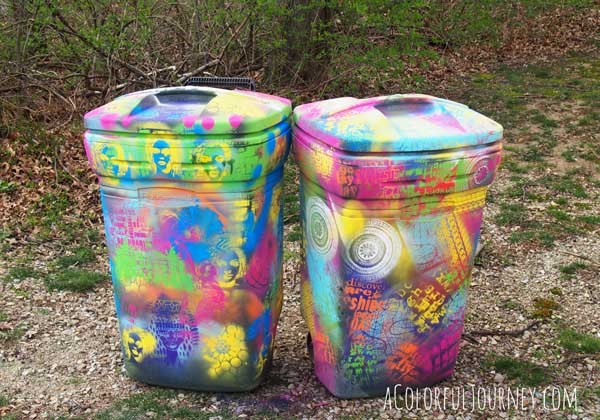 Who did that 2nd can? My daughter….so proud that I've infected her…I mean encouraged her creativity!