I am blown away by all the visitors to my blog!  Welcome to you all!  They, the internet gods, say the summer is such a slow time on the internet.  Thrilled that is not the case here! So now, on with some Gelli Plate fun!
August's Colorful Gelli Print Party is in full swing!  There is so much inspiration being linked up and they are linking up all month long so be sure to stop back and check it out! There is still plenty of time for you to join in and link up too!  Here are just a few…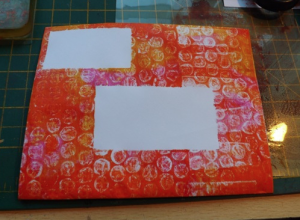 Mary Anne has a tutorial on making your own foldnote!  Now that is some happy mail!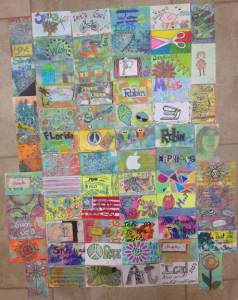 Robin has all her Index Card a Day cards together. What a wonderful collection and she started many of them as Gelli prints.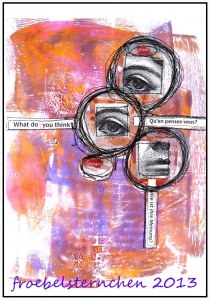 Froebelsternchen is playing with composition.  I love how her elements are all black and white against the Gelli print!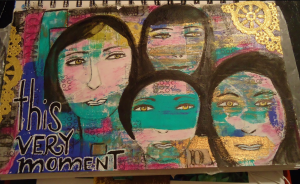 What a great way Jo did these faces – with the Gelli print shining through!
Since there are so many new visitors, I thought I'd share a few of my Gelli Plate videos that I have made.  There are actually quite a lot of them.  I have over 70 videos, many of them about the Gelli Plate.  You can click here to subscribe to my YouTube channel.
Here's a basic intro video for those of you who are new to the Gelli Plate.  And for those who have been following my videos, you'll get a kick out of the end when I actually clean the plate…Clearly an older video since I only clean it for special occasions….
Watch this video on Youtube:  Getting Started with a Gelli Plate
Mixing paint right on the Gelli Plate
Watch this video on YouTube: Mixing Paint on the Gelli Plate
Ever used a wine glass and a ping pong ball on the Gelli?  I am in this video using found items to make patterns in the paint.
Watch this video on YouTube: Household Junk on the Gelli Plate
Rubber stamps make very detailed and fabulous prints with a Gelli Plate!
Watch this video on YouTube: Rubber Stamps on the Gelli Plate
You can print on just about anything- truly- I printed my sneakers.  This is one of my favorite Colorful Gelli Print Party videos ever!
Watch this video on YouTube: Gelli Printed Sneakers
Now it's your turn to play!