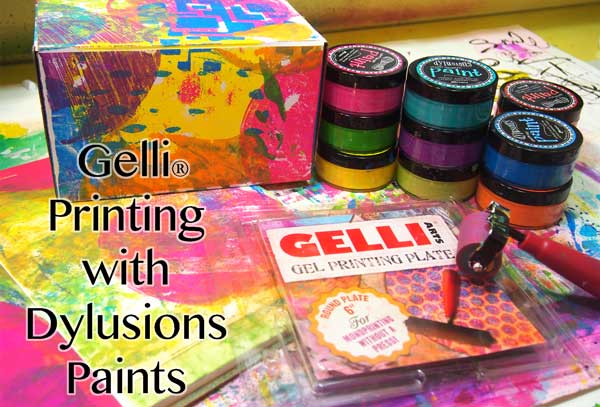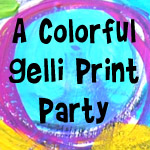 It's the first of the month and that means Gelli® printing fun with the Colorful Gelli® Print Party!  I'm taking Dyluions Paints and  various texture making tools to turn a white box into a colorful box…you know how I am about white space. In the video, you'll see how I play around and create textures and patterns on the round Gelli Plate®.
Watch Gelli Printing with Dylusions Paints on YouTube.
I use a twisty texture tool and you can see how to make one of your own in this video.  That hotel shampoo bottle isn't the only hotel toiletry I've used on a Gelli® Plate. You can see what I did in this video.
Supplies Used: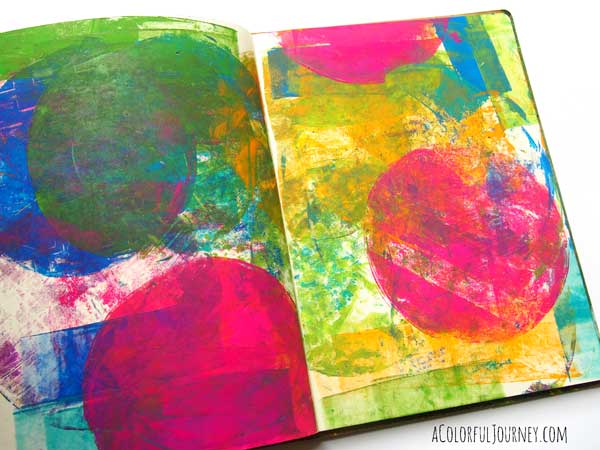 Here's the art journal page page I made while cleaning off the plate between prints.  Can't wait to play around and see what these pages become.  I'll definitely share what they become.
In Person Gelli Printing® Play Workshop
Want to come and play in person with me as we explore all sorts of ways to create prints as we play with all sorts of supplies I'm bringing.  You just need the basics (and actually, I even have a few plates that can be borrowed if you are brand new to this!)
I'll be teaching at the Arts Alliance September 12, 2015 in Mason, OH.    Find all the details and information here.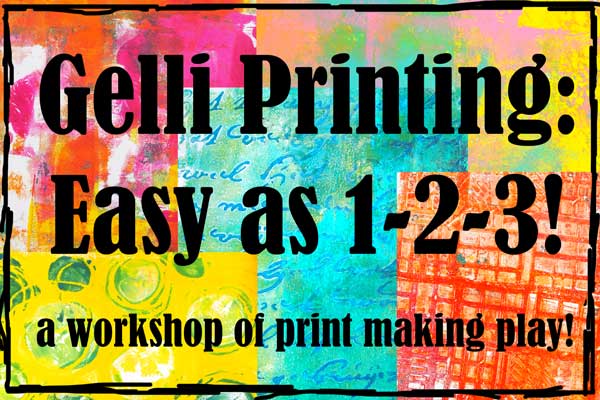 Want more Gelli Plate inspiration?  Check out all the Colorful Gelli Print Parties. 
Want to see what others are making with the Gelli Plate?  Take a look in the Google+ community, A Colorful Playground.    And while you're there – share what you've been making!  New to Google+? No problem! We're all learning that together.