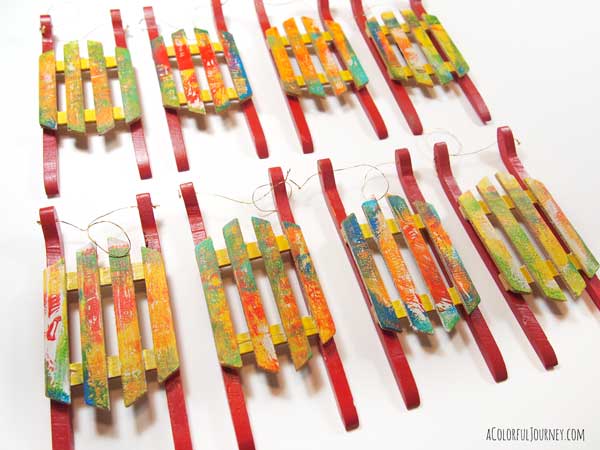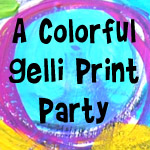 For this month's Colorful Gelli Print Party I'm taking some plain ornaments from boring to rainbow thanks to the Gelli Plate!  In just a few minutes and in only 2 layers, it looks like there was a lot more work put into these sleds I found buried in the back of a closet.
I have plenty of stuff I've accumulated over the years…and I have decided it is time to use it or lose it (donation donation donation!).  When I started I wasn't sure how these were going to turn out but I had nothing to lose.  These ornaments have been in a closet at least 10 years- it was time to do something with them!  Do you have anything like that in your house?
Playing always seems to offer me wonderful surprises, and today is no exception!  Check out the video to see how they made the print below!
Watch Gelli Printing on old Christmas ornaments on YouTube.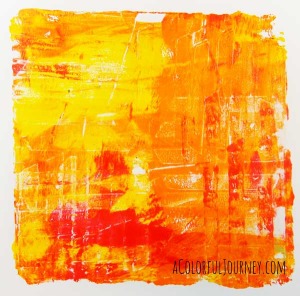 You never know what is going to happen when playing with a Gelli Plate! This print was a very happy surprise!
Want more Gelli Plate inspiration?  Check out just some of what was shared in the last month over in the Google+ community, A Colorful Playground.  There's Maria Green with an amazing embedded image, Laura Bush is collaging with her prints, Tami Howse is putting gelli printed tissue onto candles, Pam Wildeboer is creating art journal pages, and so much more!   And while you're there – share what you've been making!  New to Google+? No problem! We're all learning that together.