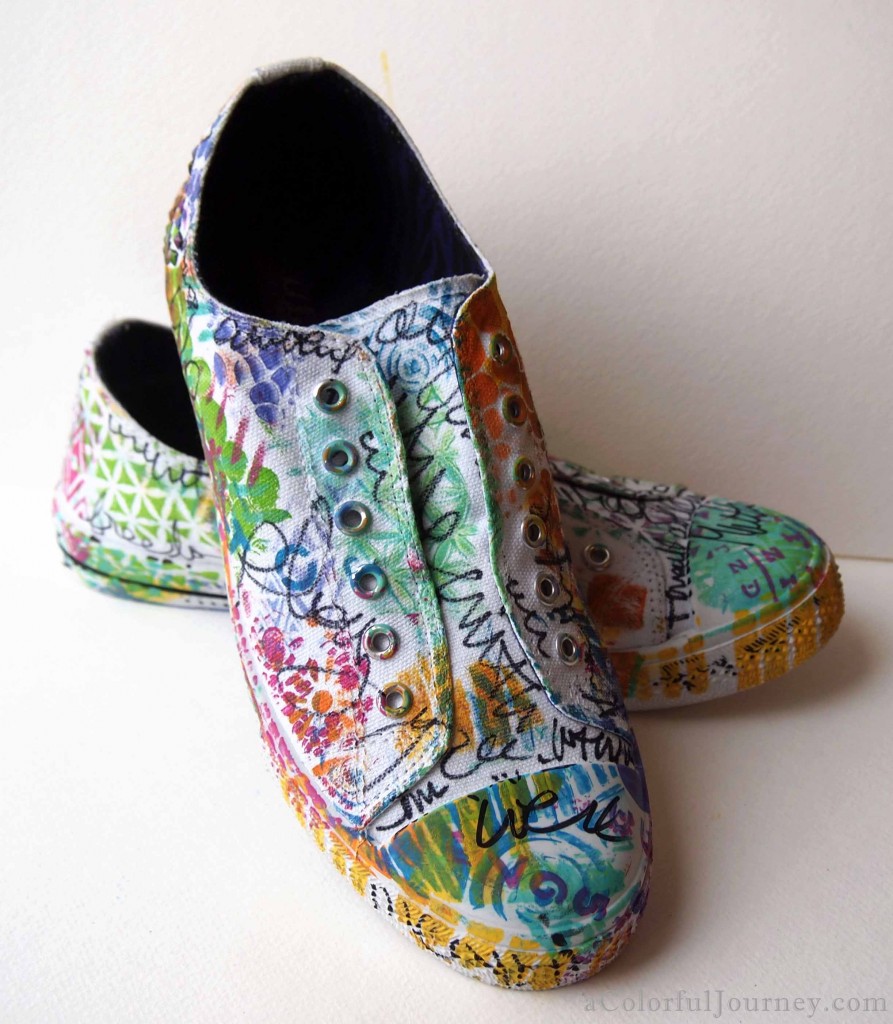 Welcome to the March Colorful Gelli Print Party!  A Gelli Plate , Crafter's Workshop Stencils, and Amsterdam paint – what else could make me this happy?  Wearing these at Art is You in Nashville!
There's a giveaway this month – a spot in A Colorful Workshop: Gelli Printing, my newest workshop.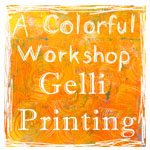 I'm demystifying the Gelli Plate in this 5 week workshop.  My layers are not random but purposeful and playful.  I have my reasons for why I print what I print.  Every Monday, Wednesday, and Friday I will bring  you techniques you can use.  You will  be looking over my shoulder and you will know the reasons why I make the choices I make so you can  print and play with confidence.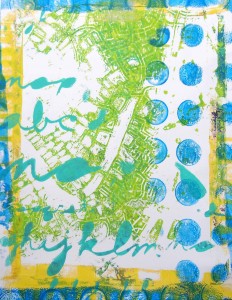 A sampling of what you will learn in this workshop:
how color theory applies to the Gelli printing
how to get subtle or bold effects when you want where you want
how to use more than just paint on the Gelli Plate
building a composition right on the Gelli Plate
how to use the prints in a variety of mixed media projects
how to be free and experience all the joy in playing with the Gelli Plate!
and so much more!
What's it like to take a workshop with me? Here' what people are saying from Use Your Words: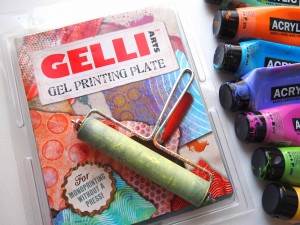 Thanx CAROLYN, This was a lot of fun. I enjoyed your thoughtful and careful instruction. I look forward to the next opportunity.-Linda
I have enjoyed this workshop and your carefree manner in presenting it. You shared ideas, tricks, and techniques that I will use often.- Sherry
Thank you so much for these videos. I can feel my mind relaxing and wanting to' go with it' rather than being so straight laced! Inspirational and very uplifting.- Janet
 Get all the details and sign up here.
How can you  win?  Leave a comment, get a chance to win.  Each time you link up a Gelli something to the party, get a chance to win.  Put the Gelli Printing badge on your blog, get another chance to win (just tell me in the comments). Share about A Colorful Workshop: Gelli Printing on Facebook or Twitter, get another chance to win (just tell me in the comments).
I'll be drawing the name of the winner first thing on March 15th!  But what about all the people who have already signed up?  If your name is selected by random.org I will refund you the cost of the workshop!
The Party – open all month!
Link up your Gelli Plate blog posts, flickr photos, YouTube videos – it is all welcome!  New posts or recent posts are welcome!
Link to a specific blog post or flickr page or YouTube video that way people can easily find your Gelli goodness.
Add a link back to the party so others can join us too!
Leave a comment on at least 2 other links from the party.  You know how wonderful kind comments encourage us creative types!
Participate as many times as you want- just be sure it relates to the Gelli Plate.  If you notice your link deleted it is because it didn't have a thing to do with the Gelli plate and that is what we're celebrating here!