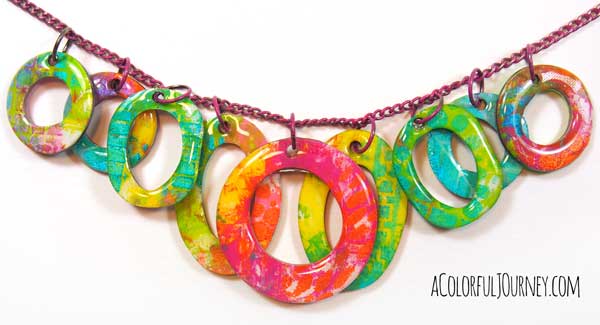 I'm trying my hand at jewelry for the 4th Annual Handmade Holidays blog hop!   There's lots of inspiration so be sure to check it all out including the fabulous giveaway from the very generous sponsors!!
If I'm making something, it usually involves a bit of color and this necklace is no exception!  These may not be traditional holiday colors but these are colors I think my friend will love when she gets this necklace as a gift.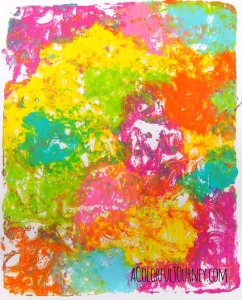 This Gelli print, made using techniques from my One Pull Wonders workshop, started it all.
Thanks to the Sizzix die, asymmetrical rings, and Maria McGuire's Doodle It Inchie stencil these ready for the Ice Resin!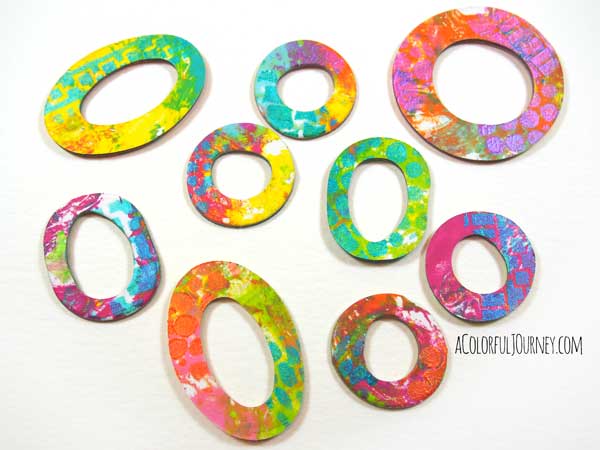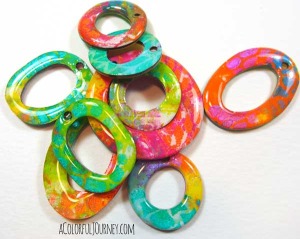 Now you know there had to be an Oops or two here…and there was…especially since I am not a master jewelry maker in any way!
Watch Gelli Printing and Ice Resin Make a Necklace on YouTube.
Enjoyed this project? Join my free newsletter and play with a free downloadable video and pdf!  
Welcome to the final day of the 4th Annual Handmade Holidays Blog Hop! We hope you enjoyed the projects from the last 2 days! A few years ago we were looking online for handmade gift ideas and thought it would be great if there was a resource dedicated JUST to handmade gift ideas. Enter the Handmade Holidays hop! We've gathered over 100 of our creative blogger friends in the craft industry as well as some of our fellow product manufacturers to bring you a plethora of inspiring gift ideas you can make now to give to your friends, family, and colleagues. Pin and bookmark these ideas for this holiday season and to use throughout the year! Each day of the hop features approximately 30 gift projects and you can "hop" from one blog to another to check them all out.
Are you ready for lots more creative handmade gift ideas and projects??
Follow along on our blog hop! Simply click on each of the links below to be taken to that post with additional information and photos on how to create a handmade gift project. Have fun and pin away!
Meagan – The Charming Farmer
Scrapbook Adhesives by 3L – Angela Ploegman
Oh Snap Lizzie – Lizzie Sanchez
Ellison Educational Equipment – Jan Hobbins
RoseRedd Paper Studio – Rochelle Washington
Follow our Handmade Holidays Gift Ideas Pinterest board for even more inspiration!
Follow Jennifer Priest of RainMaker Media Works + Hydrangea Hippo's board Handmade Holidays on Pinterest.
A huge thank you to our sponsors for this hop – please visit their blogs & websites below and follow them. And be sure to come back tomorrow for another 30+ amazing Handmade Gift Ideas!
Clearsnap || Ellison Educational Equipment || Walnut Hollow || Graphic45 || Westcott || ICE Resin || Therm O Web || Rowland Industries || Scrapbook Adhesives by 3L || Pink and Main || Elizabeth Craft Designs || The Buckle Boutique || Neat and Tangled
Additional Sponsorship provided to bloggers by:
Sakura || Fairfield Processing