Catching a glimpse of a rainbow in the sky isn't a daily event here, so when I want to enjoy the rainbow, I create my own on a gel plate! You can use any number of colors, in any order you want, and as a bonus, it's quick! There's a trick to this rainbow technique, and that's to use a small amount of paint. That's extremely tough for me, but I've found a way to do it consistently!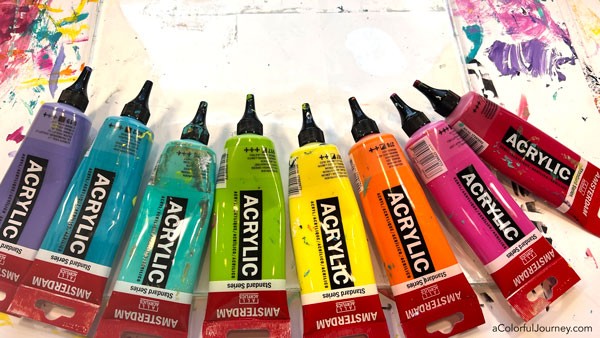 Create thin lines with as many colors as you want in your rainbow. It's tough for me to use small amounts of paint, so that's where the nozzles on the caps are so handy. Wondering if they'll clog? I was skeptical when I started using them, but 6 months later they haven't clogged.
An unexpected benefit of the nozzles is that they are great for travel. Usually when I pack paint, I wrap the flip cap in packing tape to be sure it won't come loose during travel. But these nozzles twist closed, so they don't spill paint as easily as the flip caps. Last time I flew with my paints, I got to skip all the time and hassle of the packing tape thanks to these nozzles!
You can see the details about the nozzles here – it is an affiliate link and it means I may get a small percentage and it costs you nothing to support the blog and keep the free tutorials coming!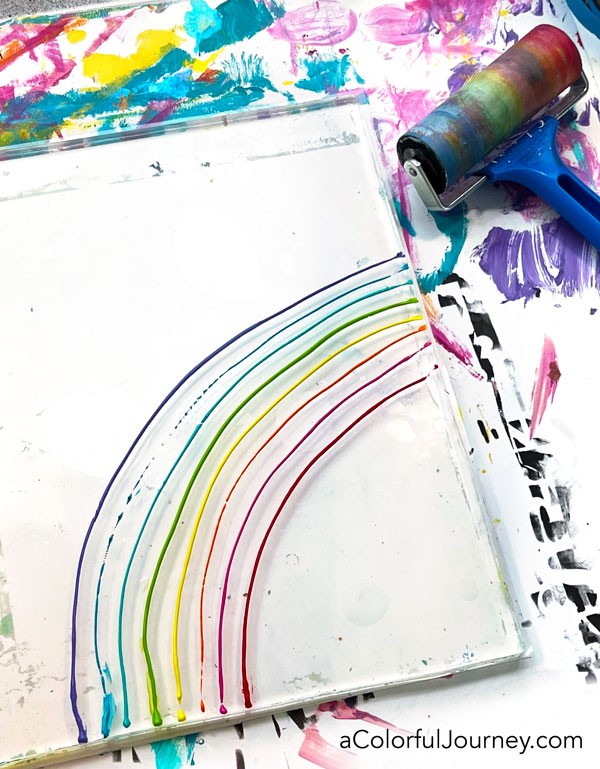 Once you've got your thin lines of color on the plate, use your brayer to roll over them. Notice how my lines aren't perfect. They don't have to be for this technique.
The 4″ brayer I am using is by Essdee (link at the bottom of the post), and I have to say, this thing is solid, sturdy and a joy to use!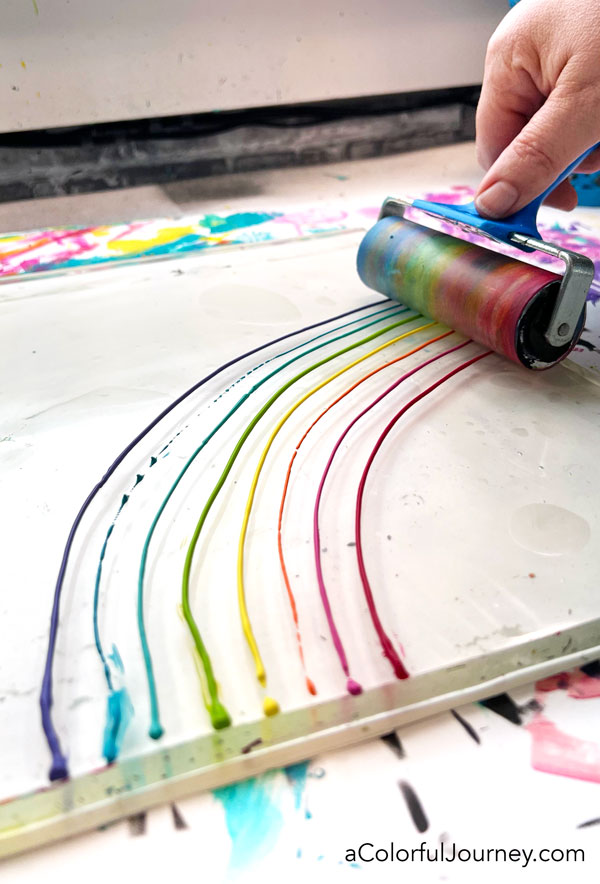 Normally, I roll off the excess paint on a clean up sheet of paper. But not with this technique. I leave that paint on the brayer so I can use it to make more rainbow prints!
After you take a print or two, take the brayer and roll more paint on your gel plate. Then take another pull. Repeat this process until the paint is all off the brayer!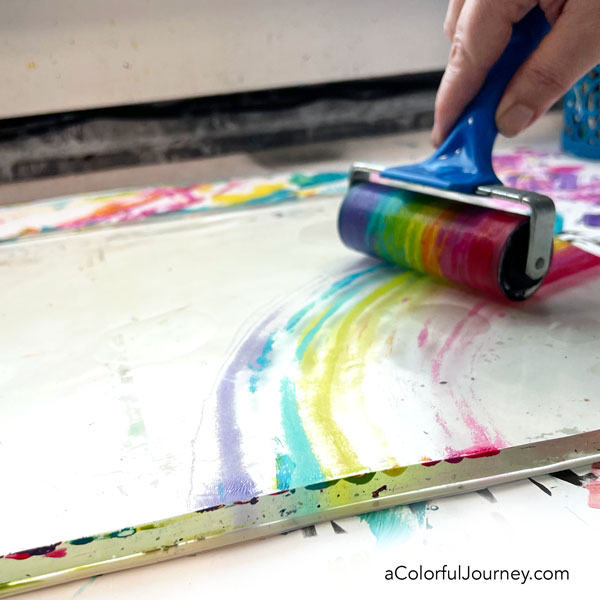 Rainbows hold a special place in my heart for 2 reasons. First, all those colors together just make me happy. Second, the symbolism of the rainbow. All those bright wonderful colors can mean a lot of different things from hope to promise to peace to luck to new beginnings to eternal life. 
But the one that holds the most importance to me is the one for equality. Both of my kids are gay and every time I create a rainbow it's like throwing the intention of equality into the world for my kids and for everyone in the LGBTQ+ community.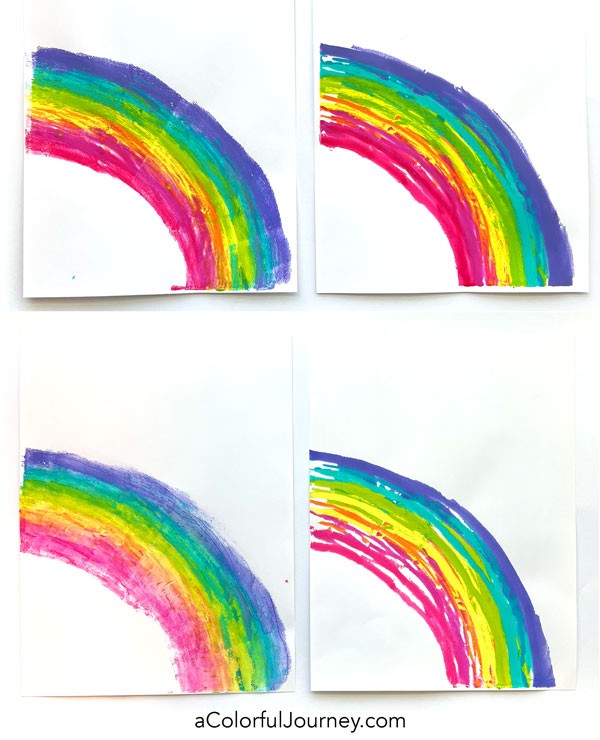 This is just one of the many kinds of prints you can do with a gel plate, you see more ideas and everything you need to know to get started on my page of gel printing resources.
Here are the supplies used. Some of these links may be affiliate links which means I get a small percentage and it doesn't cost you anything extra! It doesn't cost you anything extra and you get a really good feeling knowing that you are helping keep the free tutorials coming!