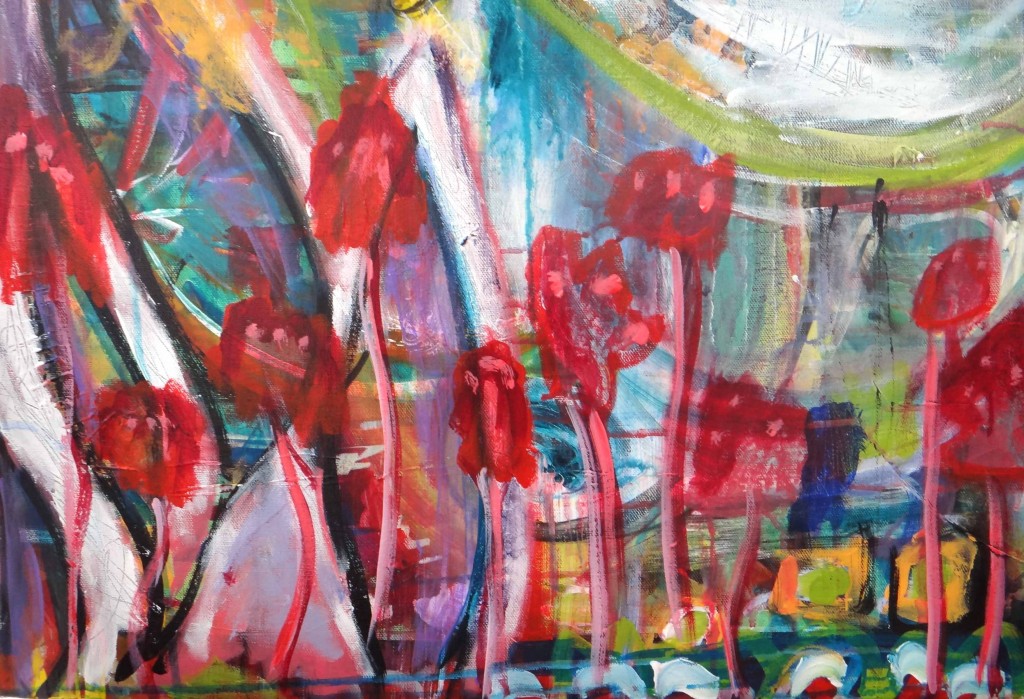 Taking a class at the Makerie with Flora Bowley was amazing- especially since I am trying to reducing my "tightness" when arting.  She had so many ideas for how to overcome that.  Thought it was perfect that her new book, Brave Intuitive Painting,  came out just as I finished the class.  You bet I bought it.  You can read about my trip to them Makerire there in this post.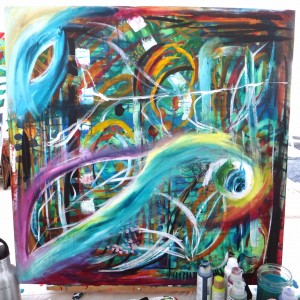 This is the painting that was my neighbors.  Flora had us give 1 of our 30″ x 30″ paintings  to the person on our left.  Wow, was that stressful.  I had never experienced this in a class before.  Even with all the shock I am glad she had us do this.  It really pushed me out of my comfort zone.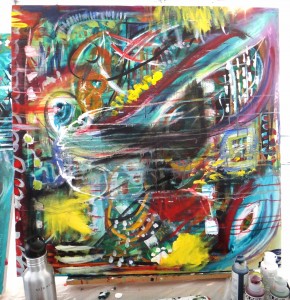 I started adding some of my marks to the canvas.  I had no idea of where this was going.  AT ALL.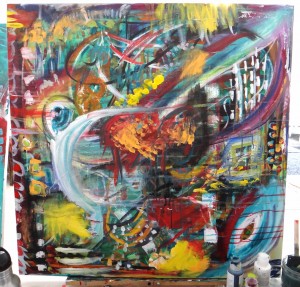 Still more mark making.  Guess what, no idea where it was going.  Shocking, I know.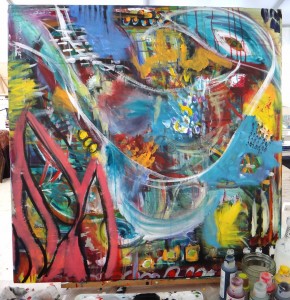 I've seen a bird like thing in it. Outlined it and decided to add some leaves.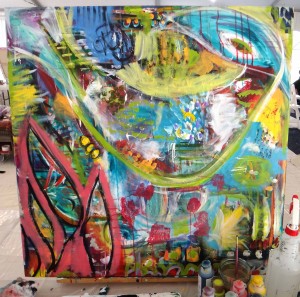 Adding colors around the bird to make it stand out more, fiddled with the leaves, but realized, oops.  I don't like the leaves too much.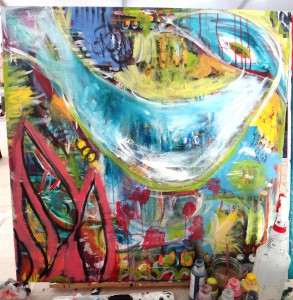 Much happier with the bird with a neck injury now that I have blued in the body.  Still don't like the leaves.
For some reason, I kept trying to save the leaves, redeem them in my eyes.  Not working….so obvious to me now but when I was painting it was not so clear…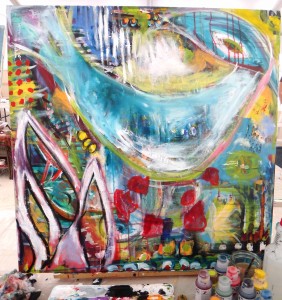 Adding the white above the body I thought would help the bird be more defined.  I am starting to see the red blobs at the bottom as red tulips.  There were the most wonderful red tulips blooming all over Chautauqua.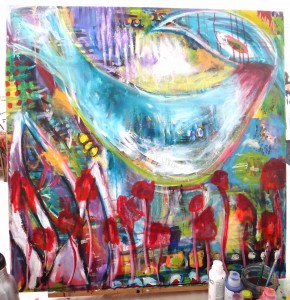 At last I fave up on the ugly leaves and covered the entire bottom with red tulips- my favorite part of this painting.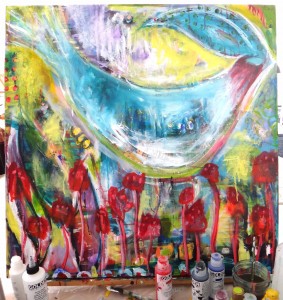 The odd head has become the feathers on top of the head since that head was at a weird angle.  More paint and colors around the bird to define it more.  Not sure if this is a work in progress still or a finished piece.  I'll step away from it for a while.
I left my comfort zone many many times during the 2 days with Flora- and I LOVED IT!  How have you been leaving your comfort zone lately?
If you have a moment stop by all the wonderful artists at Paint Party Friday!