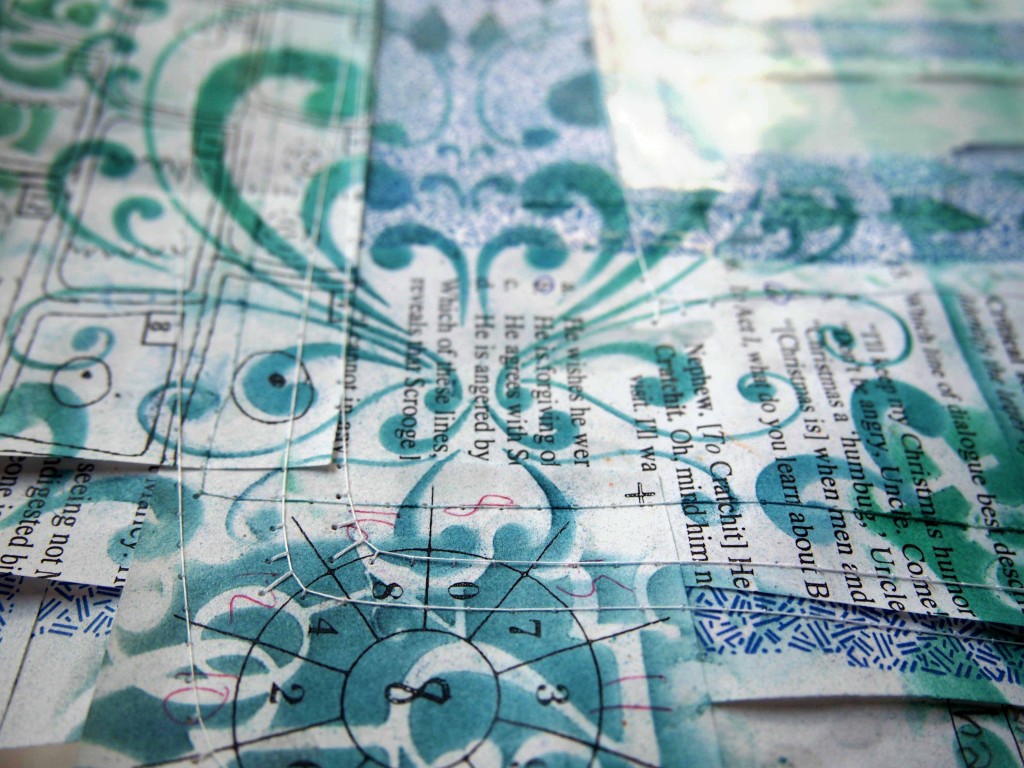 Why do I make art?  This is a question I have grappled with over the years. There must be a purpose, a reason, a justification for me to put so much time, energy, and money towards it.  Turns out I don't need a purpose.  I don't need a reason.  I don't need to justify.  I just need to art.
Arting is how I process feelings.  I have spent too many years burying certain emotions, ignoring some emotions, downplaying emotions.  Art lets me honor all of me.  As I look at a journal page, a painting, a collage, any of it, I am taken back to the feelings that fueled the art.  The yucky emotions are more processed once I have arted them which  gives me distance and perspective.  That allows me to see the lessons in the emotions and grow as a person.
Then there are my anchor pieces, like the one above,  that just bring me pure happiness every time I look at them.  This is just my daughter's homework stitched with envelopes and any thing else I found.  She gets a kick out of knowing why I get excited to get her old homework papers.  The color is pan pastels and stencils.  Just a day when I played with no rules, no restrictions.  Amazing that it is almost a year ago that I did this, but the good feelings are as strong as if I did it today.  Its significance to me is how it makes me feel when I see it.
How about you?  Why do you art?
Linking up with Creative Every Day and Inspire Me Monday!