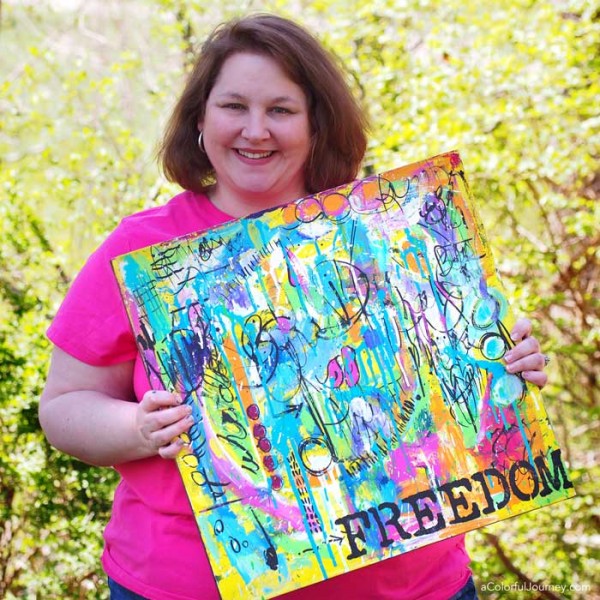 Freedom.  I love the feeling of freedom…it is after all so freeing! So how do I get that freedom?  I create stuff that stinks.  Stuff that is absolutely no good.  And that it is how I find freedom.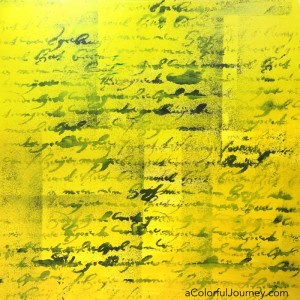 I started with this canvas I stenciled and spray inked eons ago with Rembrandt's Words.  It has been sitting the studio unloved for a very long time because I had an idea for it and then abandoned the idea.
The plan had been abandoned.  Zero inspiration at all here.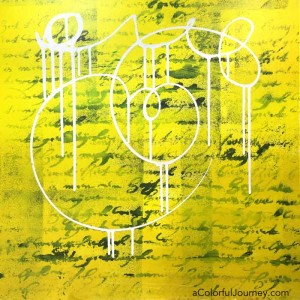 That means I have nothing to lose and everything to gain.  So I grabbed some paint and drew randomly on the canvas.  Totally fun but is this a masterpiece?  Not one bit. But total joy to squirt paint and watch it drip.
Now to bring in the color.   This is one hot mess.   What matter most to me is that I had paint on my fingers and I was feeling the freedom smearing the paint ever so randomly.  No thinking, just doing.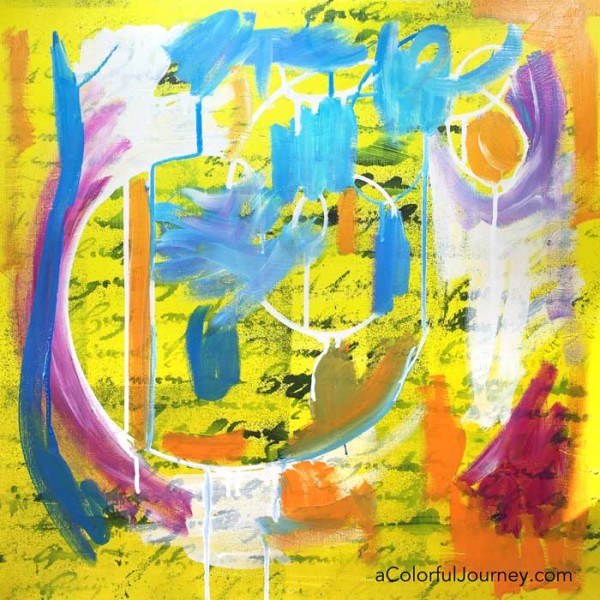 I could have taken this all very seriously. And years ago,  I most definitely did take this very seriously.
Coincidentally, that is when it was less enjoyable to create.
I could have listened to that critical voice in my head pointing out how I have absolutely no direction for this painting.  I could have lived in terror that this canvas will always and forever be a hot mess of artful shame.  I could have but I didn't.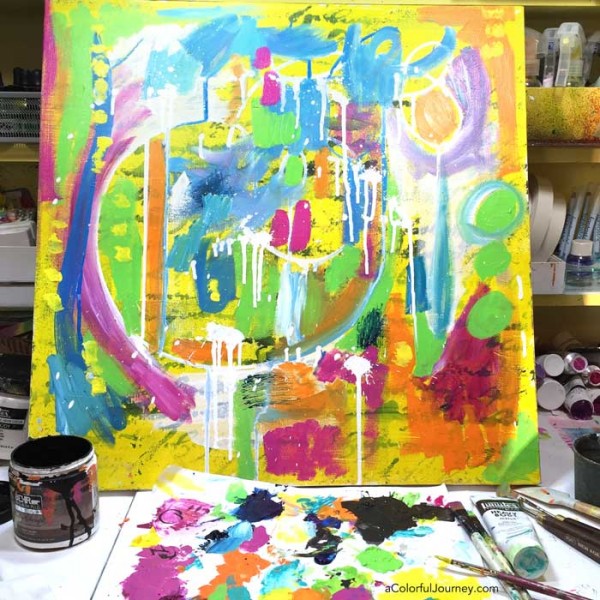 I was feeling a bit rebellious towards that voice, after all I just wanted to have some fun.  Yes…I am hearing Cyndi Lauper in my head…
That's why I make art.  For the fun and the freedom!  So, I grabbed some india ink and started drawing the shapes that popped out to me like these 2 birds.
I'll give you a little hint…this part of the canvas, before I drew the birds will be the next Spark of Art-spiration to go in my newsletter for you to download and draw your own shapes over.  If you're not already on the newsletter- jump in and get signed up!  There's a downloadable video and pdf waiting for you too!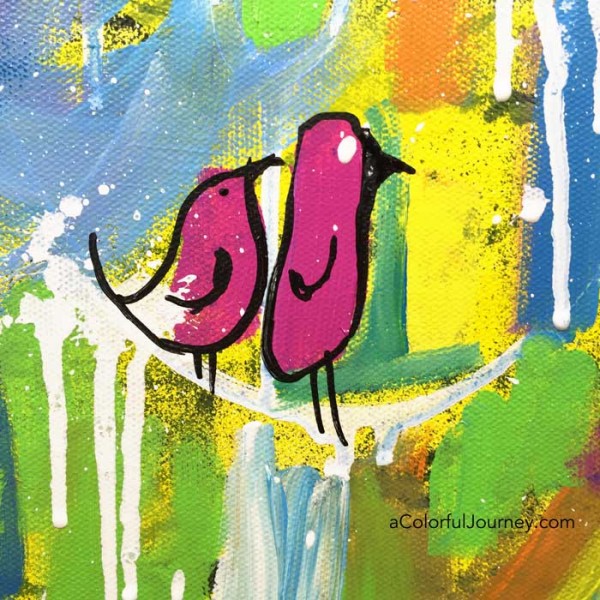 Then the dinosaurs?  Well, that was what was popping out at me…and the duck in a lab coat with a neck problem and no arms/wings…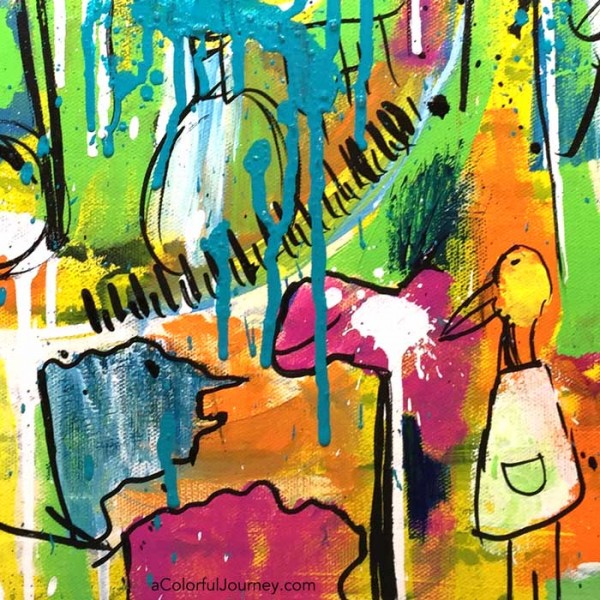 At this point my inner critic had a total melt down.  Full on temper tantrum in my head…and what did I do…I laughed at that voice.  And randomly splattered more color on it!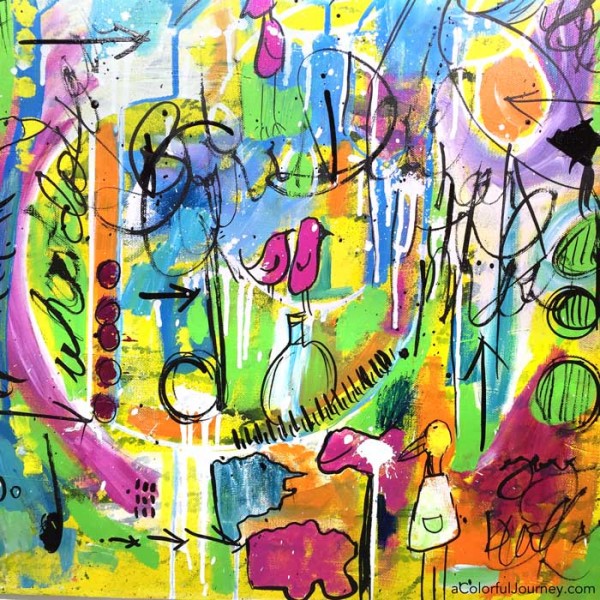 The tall bird captured how the inner critic felt, just in shock as the paint went flying.  Which only encouraged me…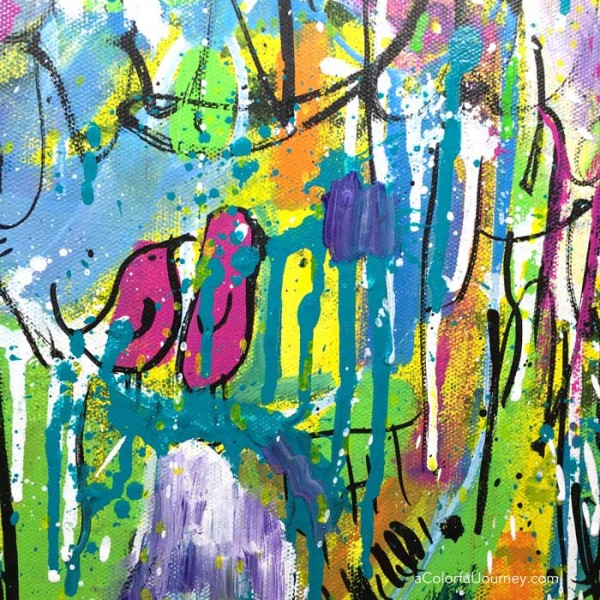 Here's where the freedom really came in to play because that voice was worn out and was barely a whisper.
This is just paint and a canvas.  A canvas I had let languish so there is nothing risked.  Plus, nothing is permanent on a canvas because I can paint over it.  That's the freedom.  So the dinosaurs…well…they disappeared.  I'm not painting Jurassic Park…although it does look like the blue dino is a bit perturbed by my decision.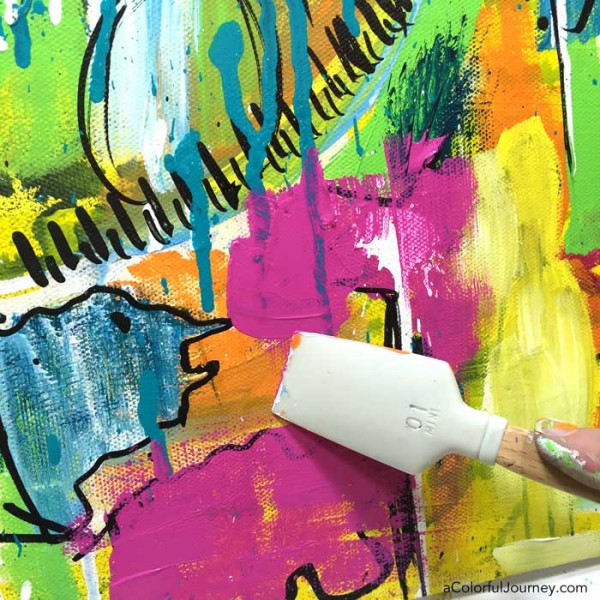 Then I stenciled the word that just belonged on this canvas using my Vintage Typewriter Stencils and black paint…freedom.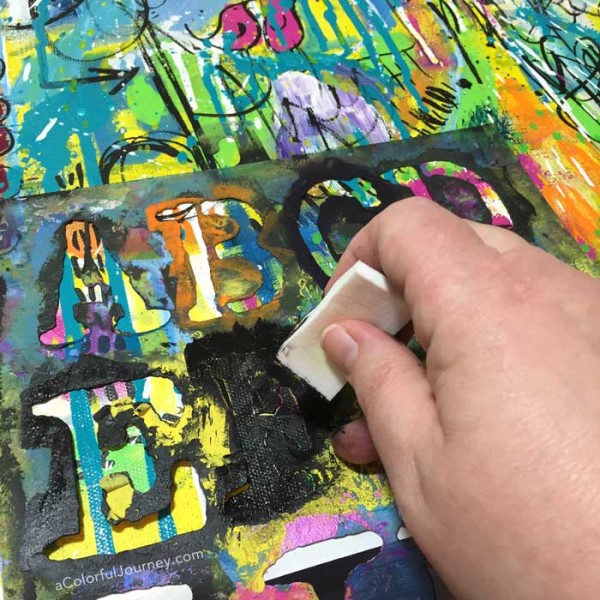 Here's the finished canvas.  Is it worthy of the Louve?  Is it my finest canvas that I ever made?  Who cares about the answer to those types of questions.  What I really care about is did I have fun making it?  YES!  Do I remember that feeling of freedom when I look at it?  YES!  Those are the questions that matter most to me!  When you create what questions matter the most to you?