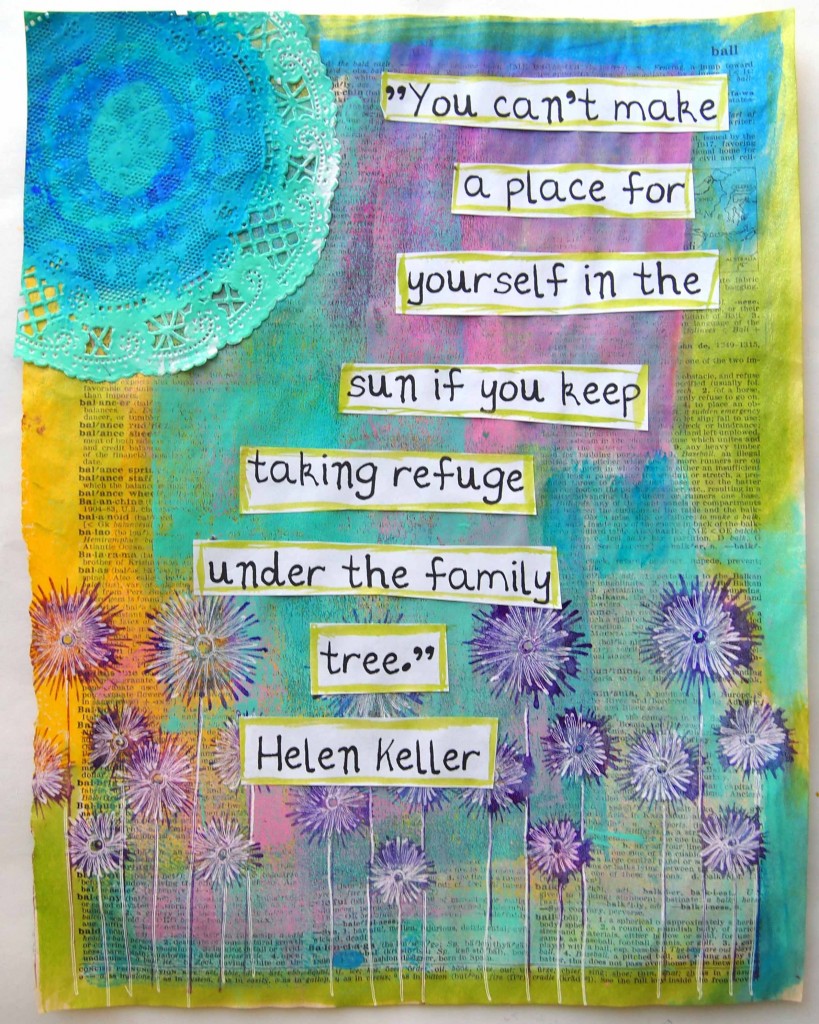 Challenge #4  from Fall Fearless and Fly inspired this page.  The quote resonated with me and I knew that it had to be a big part of this art journal page.  I really tried to stay with the cool color prompt but a bit of yellow managed to sneak in on me.  It looked so nice I just couldn't turn yellow away…and once it had some shimmering Twinkling H2O added it just couldn't refuse it!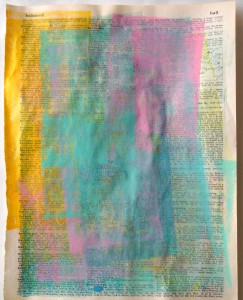 My Gelli Plate keeps on giving and giving! This background was made as I cleaned off my brayer while making prints with the Gelli Plate.
I never would have put the yellow here if I was planning this out.  Seeing the impact of it as it developed reminds me to add a splash of unexpected to my work.
There is a great giveaway over at Fall Fearless and Fly  for challenge 4 from DreamingColor.com – I have loved their Twinkling H20's for a long time.  They have Silks, a great translucent shimmering paint that works on fabric, Radiant Rains spray inks, and more in bright vibrant colors!  There will be 2 winners for this challenge!
I did 2 kinds of stamping here- clean and precise & messy.  If I take my time and carefully brush the Twinkling H2O on the stamp I can get a very detailed image.   That is not my first choice- I like messy so I slopped the shimmering purple onto the stamp and got  a more "artistic" image.
I have been known to forget to clean up paints from my stamps before but it is no big deal with H2O's because they react with water- so I can clean them up later.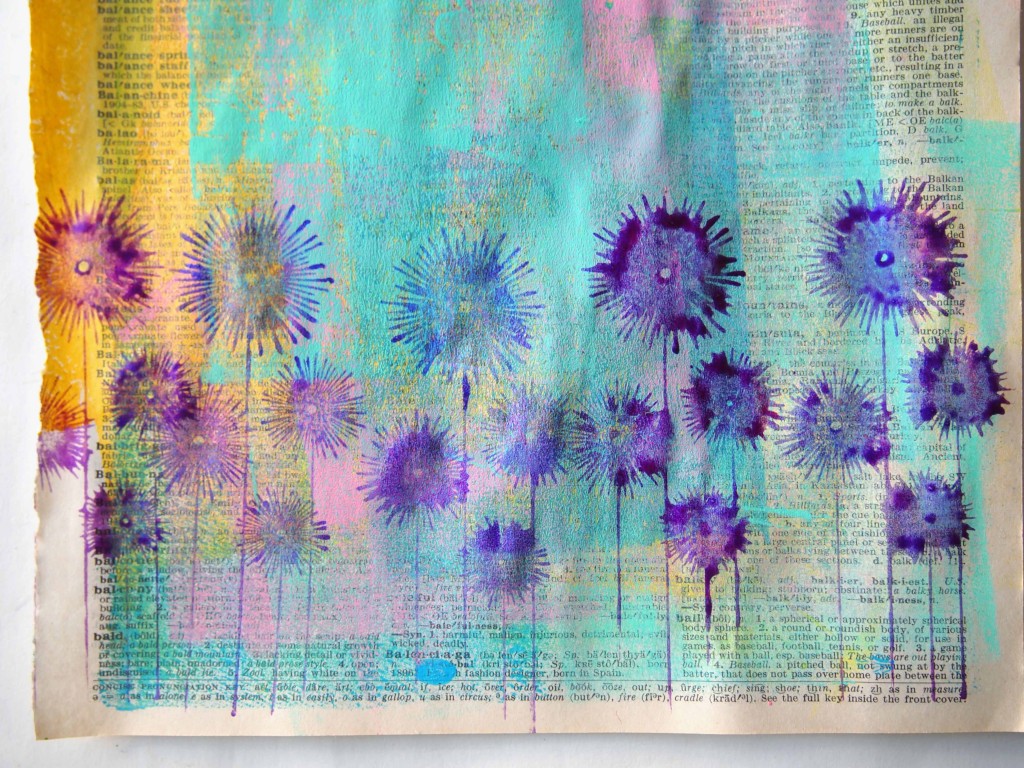 The acrylic paint was good but I wanted it to be more intense.  Since Silk paints and Twinkling H2O's are translucent when I added them over the paints they worked together & brightened it up. Here you can see if before (on the left) and after  (on the right).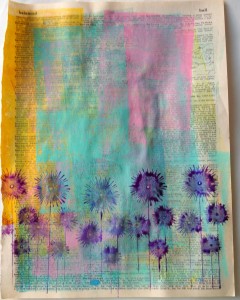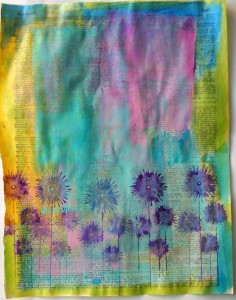 Good think I don't mind warped paper since I was building this journal page on a very thin piece of dictionary paper.  After I was finished I just flattened it out under a book for a while and it smoothed out considerably.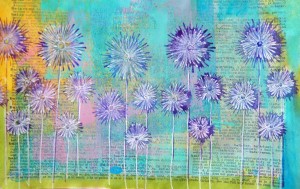 A white pen and the flowers felt complete.  Unfortunately, I began to love love love it at this point.  That is a problem because it felt precious  and I began to think too hard about what to do next.  If this is my biggest problem- I consider myself very lucky!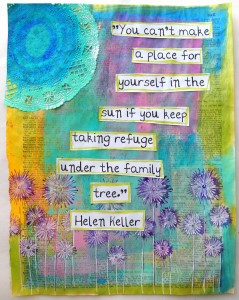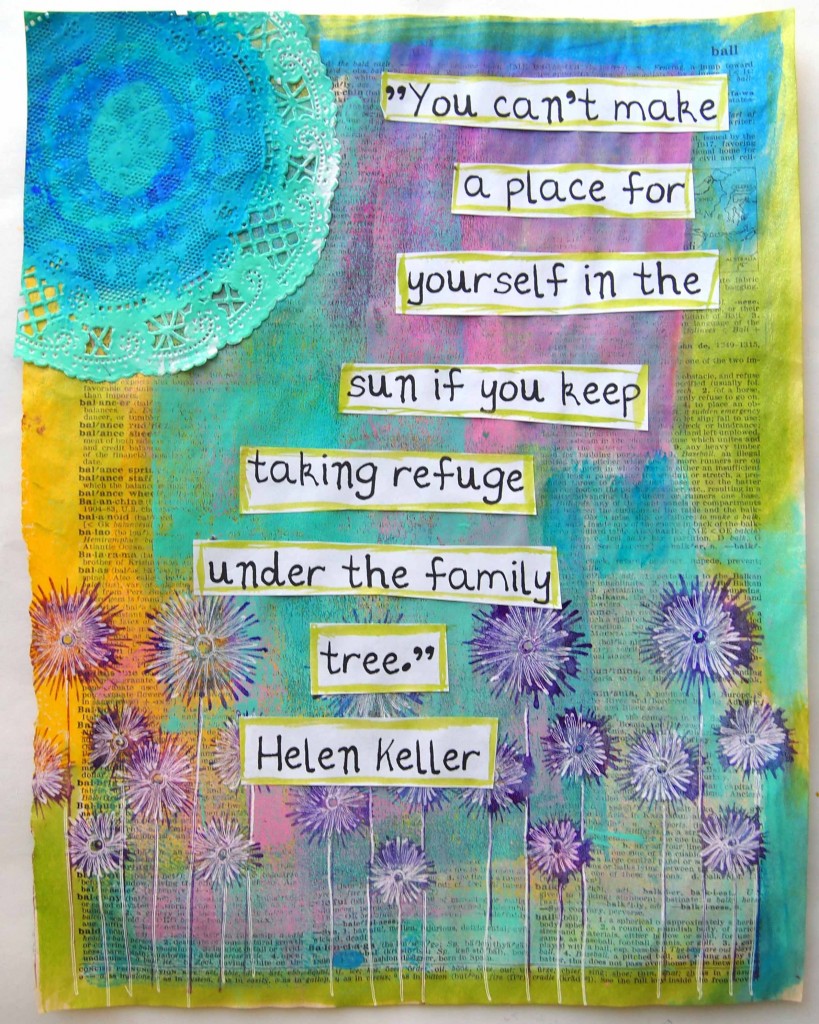 I was worried my handwriting would destroy it so I used my printer.  A nice part of using printed titles is I can move them around to find the placement that makes me happiest.
The blue doily was another remnant from my last Gelli Plate session.
Here is a quick video of the page coming together.
One of the greatest aspects of an art challenge is that I get to see how others interpret the same prompts.  You will be knocked over by what guest artist, Maria McGuire, made for this challenge.   Click here to see it!
Sharing with Creative Every Day Month, Inspire Me Monday, Fall Fearless and Fly, and Show Me What You Got.