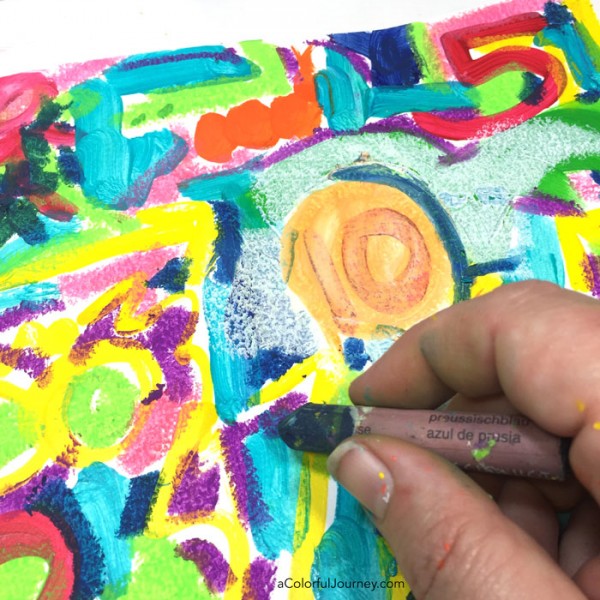 I am turning to the masters of play to help me when drawing the ideas that pop into my head.  When I draw it is often far far from perfect.  In fact, it is often not even recognizable.  How do I know that is okay? I studied the masters of play, kids.
When a kid wants to draw a person, they don't spend time assessing proportions or sweating if it will look hyper realistic.  They just grab something and start drawing with pride.  Skill isn't a requirement for play.
In the video, I prove beyond a shadow of a doubt that skill is not a prerequisite of having fun while playing!
Watch Playing and painting like a kid in my Art Journal on YouTube.
Watch the Fineliner video mentioned in the video.
My inspiration for this play was all the animated critters in Pokemon Go. Yes, I am admitting that as an adult I find great joy when a Jigglypuff or Oddish is captured.  I blame my kids for getting into this wonderful silly game.
My drawing isn't very realistic…or even recognizable. But then again, who ever said play had to be those things?  Not someone who was playing!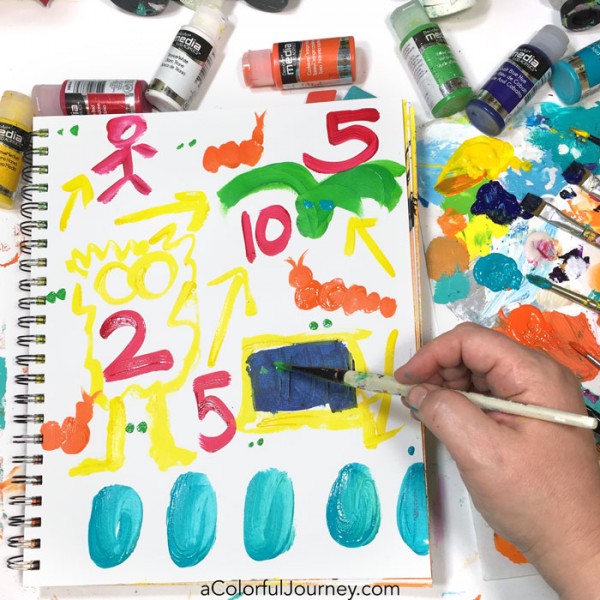 After the background was loaded with color, I brought in my 1700's stencil from StencilGirl.  In the video, you'll see how I added white space then covered it right back up!
To my neighbors….painting the house like this is a dream of mine, but for now I will show some restraint.  For now…
Now you've seen my play, let's see yours!  Share what you're creating with us all in the Facebook group and be inspired by what others are creating! And be sure to leave a comment here to get entered in the monthly $50 gift certificate giveaway!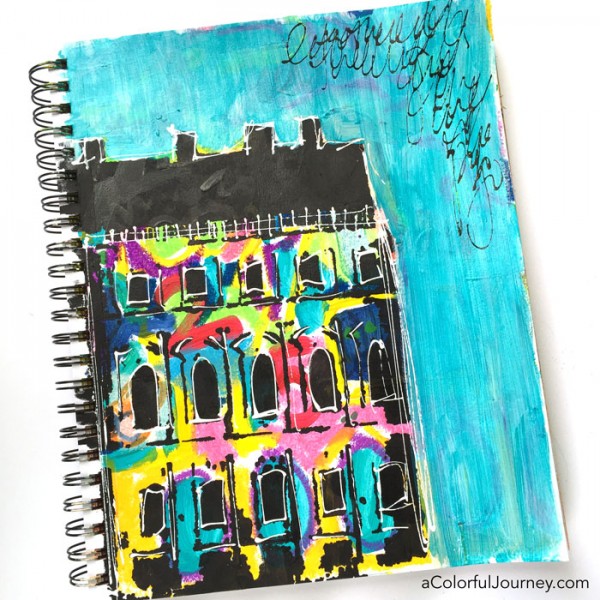 What is Let's Play?  It's all about rediscovering the ability to play. Each month I share a specific strategy that helped me recapture the freedom and fun of play.  This month's theme is act like a kid. You can see more of the Let's Play series here.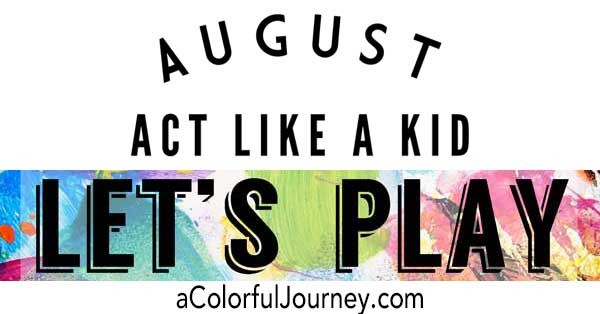 Want to see more Let's Play videos? You can find all the weekly posts here.
Sharing your play:   I, and a whole bunch of others, would love to see what you're creating!  We're sharing it in the Facebook group called A Colorful Place to Play. Why Facebook?  I've listened to your feedback about how and where you'd like to share your play instead of the link parties.
Monthly giveaways:  Leave comment on any (and all for more chances) of the weekly Let's Play blog posts to be entered and one winner each month will be chosen by random.org.  Want more chances to win a $50 gift certificate to DickBlick.com?  Pin any of the images from the page or share about it on Facebook- then come back and leave a comment telling me what you did and you can have more chances to win! Giveaway closes the Sunday,September 4th at 11 pm EST and the winner will announced on the blog the following Monday.
Congrats to Kristiina, last month's winner!