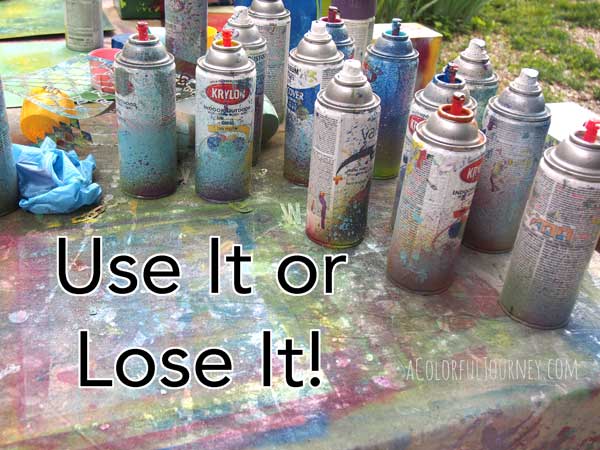 There isn't enough space in my studio.  A common problem for me since I seem to collect all sorts of things.  To remedy this situation, I have given myself a deadline to use it or lose it.  Whatever spray paints from a long ignored drawer I don't use up today, get donated to a local art studio that works with kids.  What freedom to destash this way!
Why did I have such a build up of spray paints?
I only saw spray paints at WalMart and the such and they didn't have the exact colors I wanted but I kept trying to find colors I loved.  They weren't expensive at all so it was easy to just try a new one.
These are oil based which means they really build up on stencils (but I can't resist using stencils with them!)
They leave my hands super sticky if I don't wear gloves.  I hate wearing gloves.
They stink of spray paint chemicals.  Not a surprise, but still a strong odor.
At some point I learned a better way to spray paint.
A water based spray paint had less of an odor, would wash off of stencils after being soaked in water, washed off my hands with soap and water, had my colors and always had my colors available, not just for one season.  Here's the brand I use most often now.
With the attitude of "Use it or lose it" I was totally free to see what happened, to experiment, and to have fun with color even if they weren't my usual rainbow colors. Here is just one of papers I made with the Dream Landscape stencil while attempting to use up 30+ cans of spray paint.  You can see more of what I was up to over on Instagram.  I've recently jumped into that and am becoming quite enamored with it! @carolyn_dube
Reality check after a full day of play.
There's a lot more paint in one can than I expected, let alone 30+ cans.  The cans that were full enough to donate have been given away and I extended my deadline by a day to use up the last remnants in the almost empty cans.  Off to play some more!