I want to learn to cook – really cook food with flavor, fresh ingredients, and enjoy the process.  I have gone to some demonstration classes in the past and it helped, but I was still  a mediocre cook.  It could be because I hate reading and following recipes.  Now my husband reads recipes religiously. If it said to add old tennis shoes, he'd add old tennis shoes.
We're both a bit extreme which can make dinner a bit entertaining.  I'll experiment with recipes in my language – about this much, something like an egg (we have several food allergies so I am always trying to find ways to replace key ingredients), a bit of this to taste…Drives him nuts!  I found an answer – a cooking class.  A real hands-on cooking class at The Learning Kitchen.  He said he'd go, especially since he knew there would be food.  I'm so glad he did- we had a blast!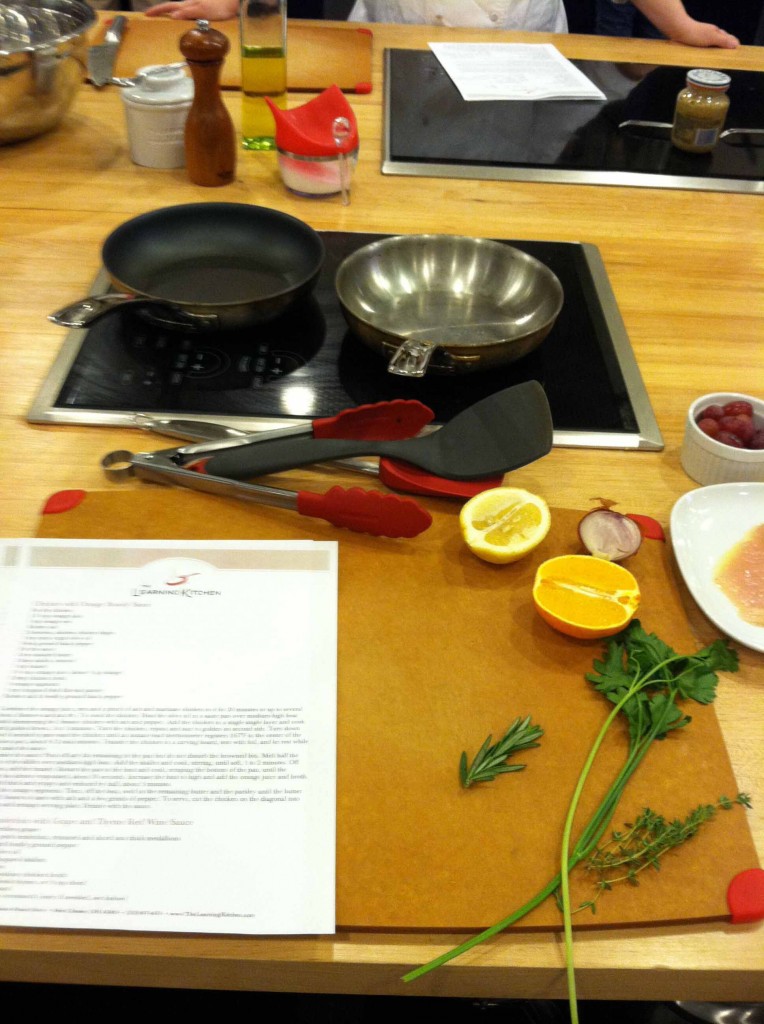 We show up and our station is just fab!  An induction cooktop, fresh herbs, plenty of tools, and the recipes (which Dave will use and I will probably not). They got all the supplies ready, they cleaned up everything.  Yeah!
This class was all about pan sauces (which were new to us).  While making the recipes we also learned about herbs, cutting the meat, segmenting the oranges, and more.  The chicken and oranges were delicious.  My plating skills aren't up to Chef Gordon Ramsey's standards but the chef here was so much nicer and more patient than he ever is on a show.  We asked so many beginner questions and she answered every one patiently!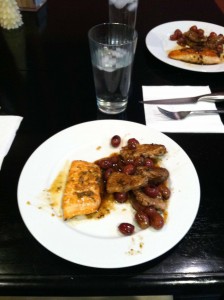 The salmon was a treat to make- I have made salmon before and well, let's just say I felt it was huge waste of money.  This time it was tender, flaky, and full of flavor.  The final dish was a recipe I NEVER would have tried before. It just sounded not me – grapes in sauce with pork.  It became my favorite – wow just like with my doodle horse!
We had so much fun – we signed up for more classes before we left!  The kitchen just might be our friend after all!