Making patterns for printing with hot glue and cardboard is a time honored way to play.  But how do you get the hot glue uniformly smooth for the best printing?  What's the no fumble way to use them when printing?  How can you stamp a good impression in an art journal using regular acrylic paint (and this used to frustrate me so much until I found a solution)?
All these secrets are revealed in the video below. Okay, secrets may be a bit dramatic but they are the tips and tricks that I learned while playing with the Gel Press plate.
Watch Tips and tricks for how to make hot glue pattern making stamps on YouTube.
You'll need a hot glue gun, extra glue sticks, cardboard, a non stick surface, and caps, lids or little things like the mini dental floss you get when visiting the dentist.  (I get the super cheap thin non stick mats from Amazon and they are around a $1 per mat.)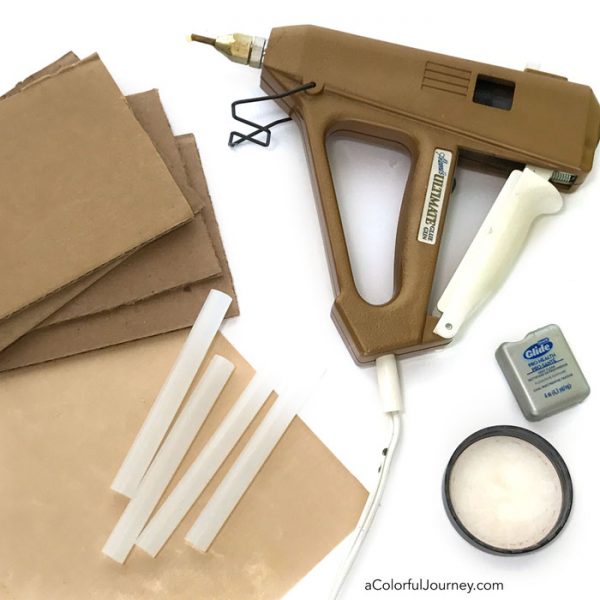 When I stamp with homemade hot glue pattern stamps and acrylic paint directly onto paper, the image is spotty at best.  The paint had to be loaded on it, and then only some of it transferred.  Lots of wasted paint, disappointment and frustration.
But if I stamp onto a Gel Press plate, then quickly take the print of it, I get a whole lot of the pattern and detail.  All the wonderful color mixtures here, all loaded up on the stamp while making a traditional gel print, transferred directly onto the art journal page.
All those wibbly wobbly circles in my journal make me so happy and the big trick for doing this is to have the paper or art journal right next to you and ready, since the paint is so thin it will dry very quickly.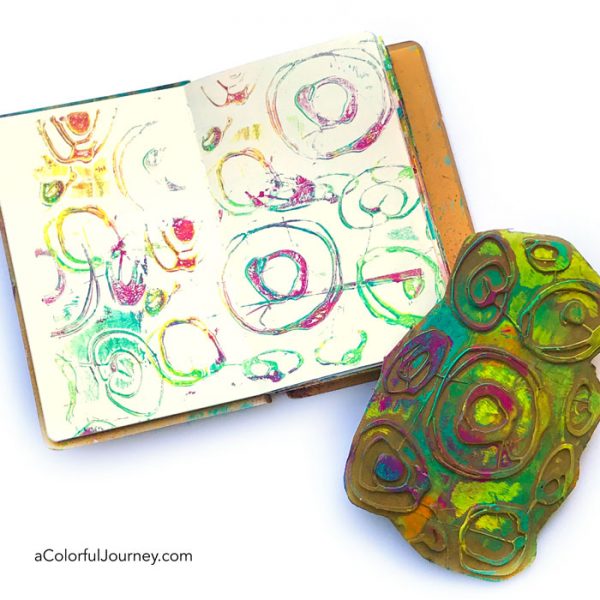 I was so excited about this big circles stamp, I totally forgot to play with the single circle I made in the video! OOPS!  Twist my arm…guess that means I need to go and make some more prints!
Curious to know more about gel printing?  I've got a step by step video and downloadable guide to get you started.