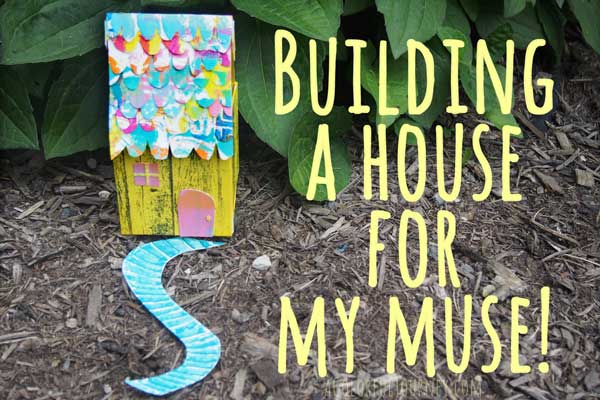 I want my muse to feel welcome here at my studio, so I decided I'd build her a mixed media house of her own for the StencilGirl and Eileen Hull Designs blog hop!
I started with the roof.  I grabbed a sheet of paper made during some stenciling play and cut strips of scallops from it.  Just some of the stencils in here are Eddy Rose, Seeds, Wonky Eyes, Scribble Scratch, Straight Stems, Greek Border, and more!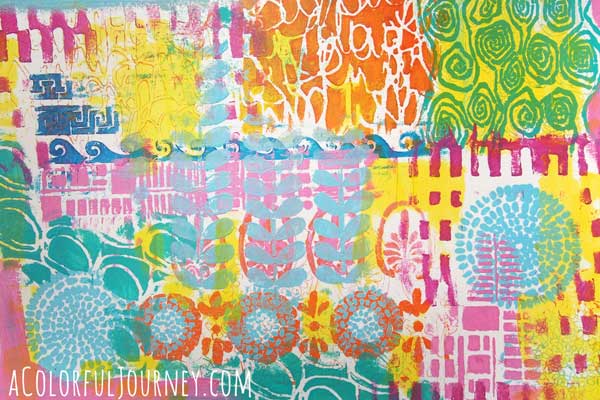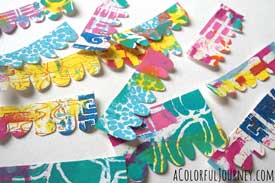 These random, wonky pieces will become the shingles on the roof.  To assemble the building the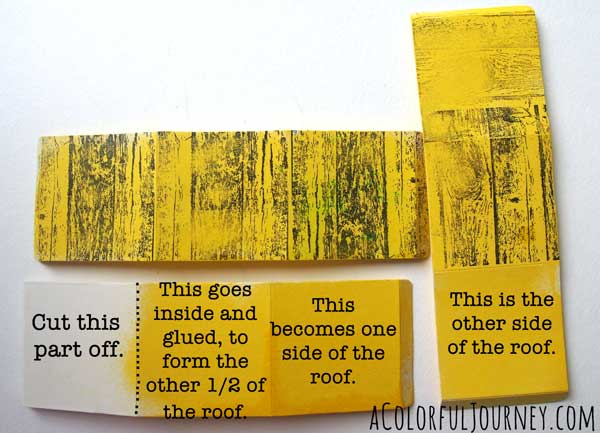 Using Eileen's Die-Blocks/Cubes 3 Sizes Sizzix die I cut 3 pieces of mat board.
I stamped on 4 of panels with Eileen's Barn Wood stamp- since those are the only ones that will be seen my touch of experimentation on side #5 won't show.
Using Dylusions spray inks, I covered both sides in yellow.
To assemble the house, put one cube together but leave the top open.  Then slide in the 2nd roof piece to form the roof, pushing it agains the side so that one square sticks out and forms the roof.  It is so hard to put this into words, but I promise when you are holding them in your hands it makes sense…lol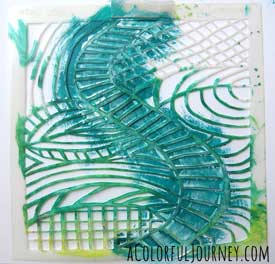 My muse needed  a welcoming walkway and the center curve of  Zen Landscape stencil was just what I needed.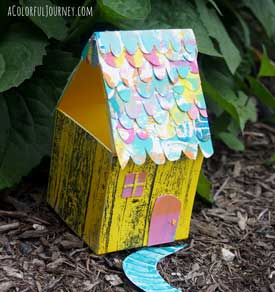 When assembling my muse's house I left it open on the sides for a very important reason.  I wanted to be able to slip notes of gratitude in there in appreciation of all that my muse does for me.  My life is so much more complete when I am creating, playing with color, and exploring thanks to my muse!
This is a week long hop so there's plenty of inspiration to be had!  And yes, a giveaway too!  Leave a comment on this post to be entered to win and if you'd like more chances, leave a comment on any and every blog post in the hop this week!  Of course, just one comment per blog please. And it ends Sunday at 11:59pm CST – so get your comments in before then!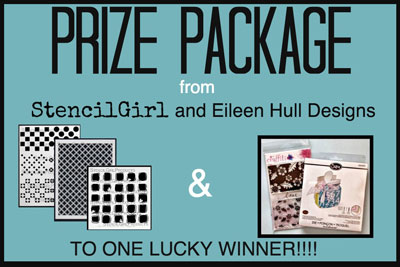 Carolyn Dube -you're here