What's the right way to store your gel plate? You've probably heard conflicting ways to store them from different people. The reason for that is there is more than one way to do it. Keep reading to find out the reasons behind storing your plate, because when you understand why something happens it is so much easier for you to confidently choose the way that fits you best.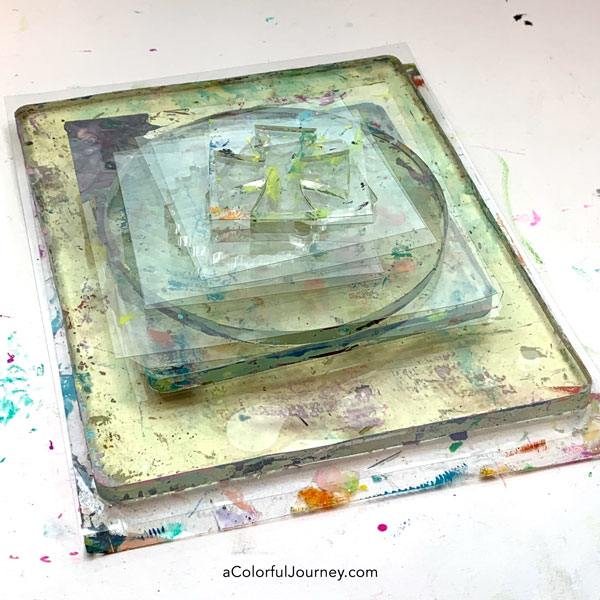 To figure out the best way for you to store your gel plate, you're going to need know something about you (that's easy, you probably know you pretty well) and about gel plates. What I'm sharing here is for any gel plate that has squish, like a Gel Press plate. After all, that is the big factor that lets a plate do its magic.
So let's talk about you.
What type of creative are you? Do you like everything you own to look factory new even after years of use? Do you let your art supplies get covered in paint and they stay that way? Or are you somewhere in between?
How much space do you have? If you have a studio larger than an Amazon warehouse you have a lot more options than someone who has a just part of closet to store their supplies.
Now let's dive into gel plates.
There are only 2 things that I avoid at all costs when storing my gel plates. First, I avoid anything that is absorbent that causes the mineral oil in the plate to leach out. So that means papers, or anything that when left on a gel plate for an extended period of time creates an oil spot. That's why I love using the plastic protectors that come with the plates or cheap copier transparency sheets. Be sure to use ones that have no coating on them.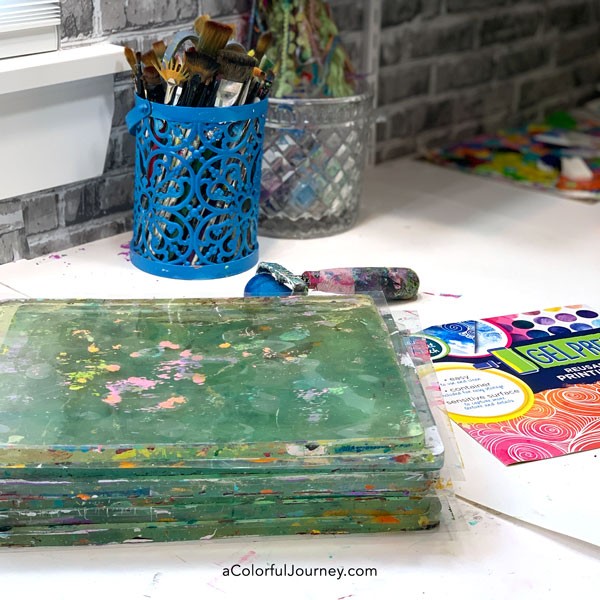 Second, I avoid storing them in weird or drooping positions. So no hanging halfway off the shelf kind of a thing or resting at an angle. I store mine either horizontally or vertically so that the plate will hold its shape.
One of the benefits of stacking gel plates is it lets me have them all within arm's reach. Any time I stack gel plates I tend to store them horizontally. When stacking plates that are different sizes, I keep the plastic on both sides of all the gel plates and stack them in size order, with the largest on the bottom.
Anything that is trapped for a while between the gel plate and the plastic can leave an indentation in the plate. Air bubbles can leave indentations, a strand of hair, or anything else that gets in there. Those little indentations don't impact my prints the way I print so I don't worry about them. But that's me and what's important is that you store your gel plates in the way that fits your needs the best.
But how can you store your gel plates if you want to avoid those?
If you store it between the plastic sheets, put the plastic on carefully and brayer out any of the air bubbles. Another option is to store them with nothing on top such as on a shelf or in a drawer.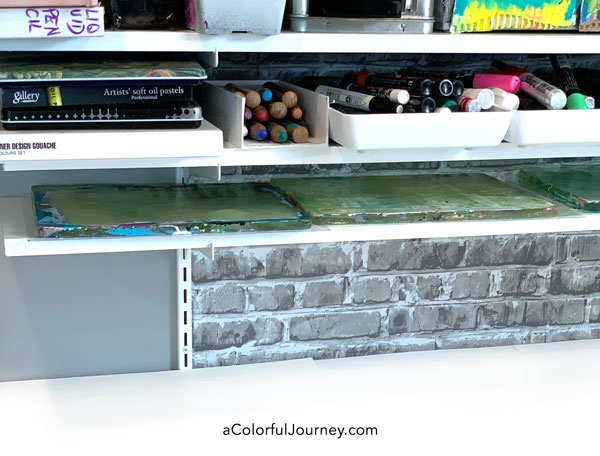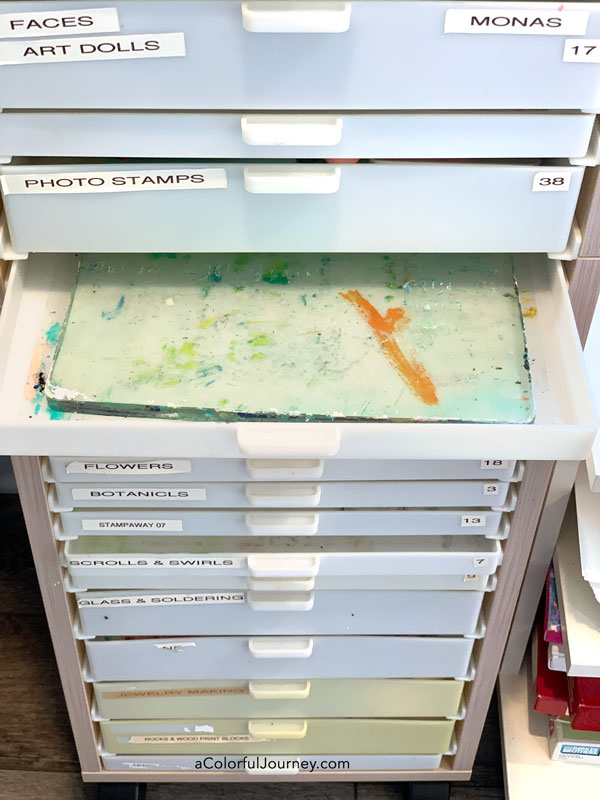 Since I use my plates all the time, there is never any dust build up on them when I store them on a shelf. If you only use your gel plate infrequently, you may find that dust accumulates on them when left uncovered, so having a cover of some kind over it may be helpful.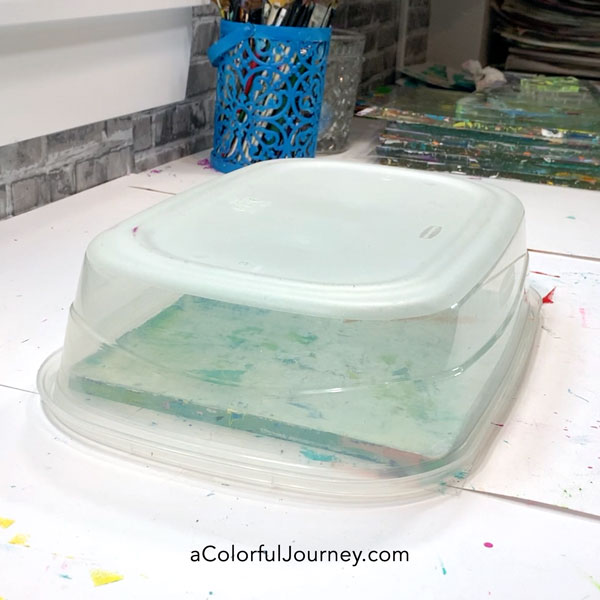 The bottom line is storing a gel plate is about it keeping its shape and storing it away from the things that will draw the oil out of the plate. There isn't one single way to do this so you have the freedom to choose the way that fits you best.
Now that you know what to look out for when storing your gel plate, you can look at your stash and storage options to choose the answer that is best for you.
If you've found that understanding why is helpful, check out my gel printing workshops, because they are all about understanding why so that you can get the most out of your gel plate.