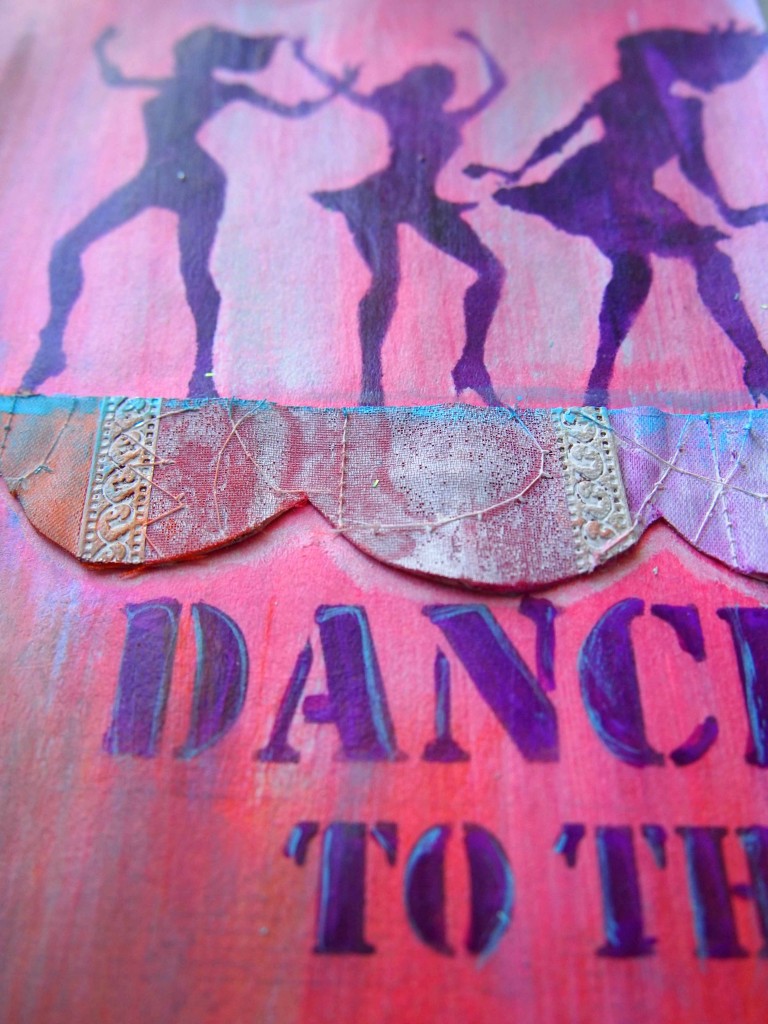 A story of friends, two young artists at heart
Inspired together, though so far apart
Maria just loved to Believe Dream Create
A Colorful Journey was Carolyn's fate
They arted their artiness each other week
And found that a challenge is what they would seek
So then they decided that it would be fun
To both do a challenge — and do the same one!
A painting palooza!  A stencil sensation!
A wonderful, colorful, co-llaberation!
The challenge was chosen and neither could wait
To see what their wonderful friend would create
The paint started flying; the spray-ink did too
And stencils and pencils and glitter and glue
And when it was over, I'm sure you can guess
That one thing that both of them made was a mess
A beautiful mess, which is how you can know
You're properly using your art studio
So please check it out, because now that they're done
It's artsy and fartsy and friendly and fun!
I have been blessed to get to know so many amazing people through art. Maria McGuire is one of them.
To those of you who have not met Maria yet, she writes great tutorials and has an elegant sense of style.  Here are some of my favorite creations by Maria: stencil and resist,  an amazing tag, canvas wreath oh, I could go on and on with links!
We met at an art retreat and promptly began causing trouble. Since then we've found places to meet up and art.  This trouble has been kept on the down low- until now.
Every other week we're giving ourselves a challenge which will require us to do some shopping together so we have the same supplies.  Yes, we will shop out of duty to our art!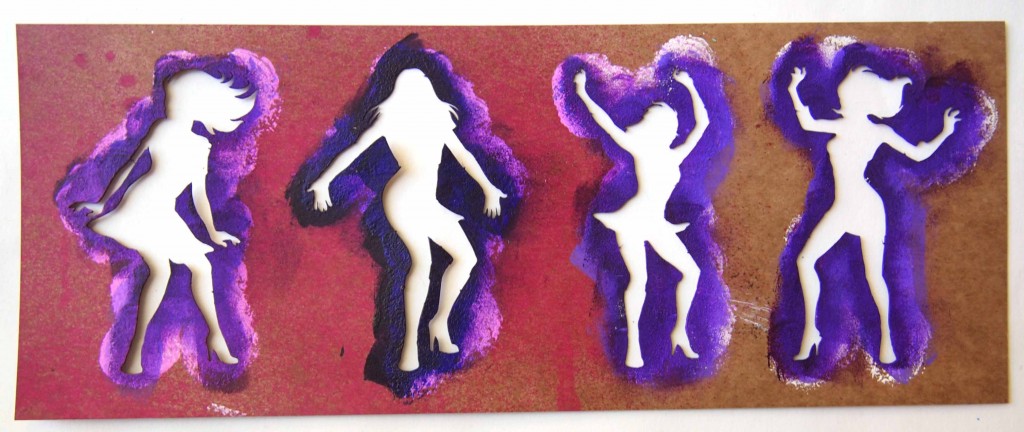 The rules for challenge #1 is to use the  dancing girls stencil from Coffee Break Design, ribbon, and music.  Since I have been known to have trouble with rules, we do not discipline rule breakers or rule stretchers…
Without further ado, here is my contribution to this challenge-
I have way too much ribbon, especially spools I find on sale…so I took a big piece of red rosin paper (from the hardware store) as my base.  Then I recklessly stitched the ribbons down and put a thin layer of gesso on the top.  It really brought out the stitching.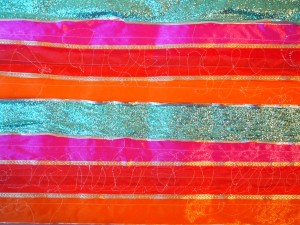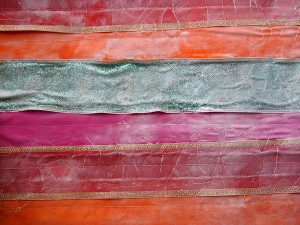 My original plan was to use this as a background but that wasn't going to work.  Instead I cut a scalloped border out of the gesso'd ribbon paper.  A leftover scrap led me to the 3 dancing girls on the ledge & the quote.  I must confess, my Silhouette made it very easy to do that quote with a stencil…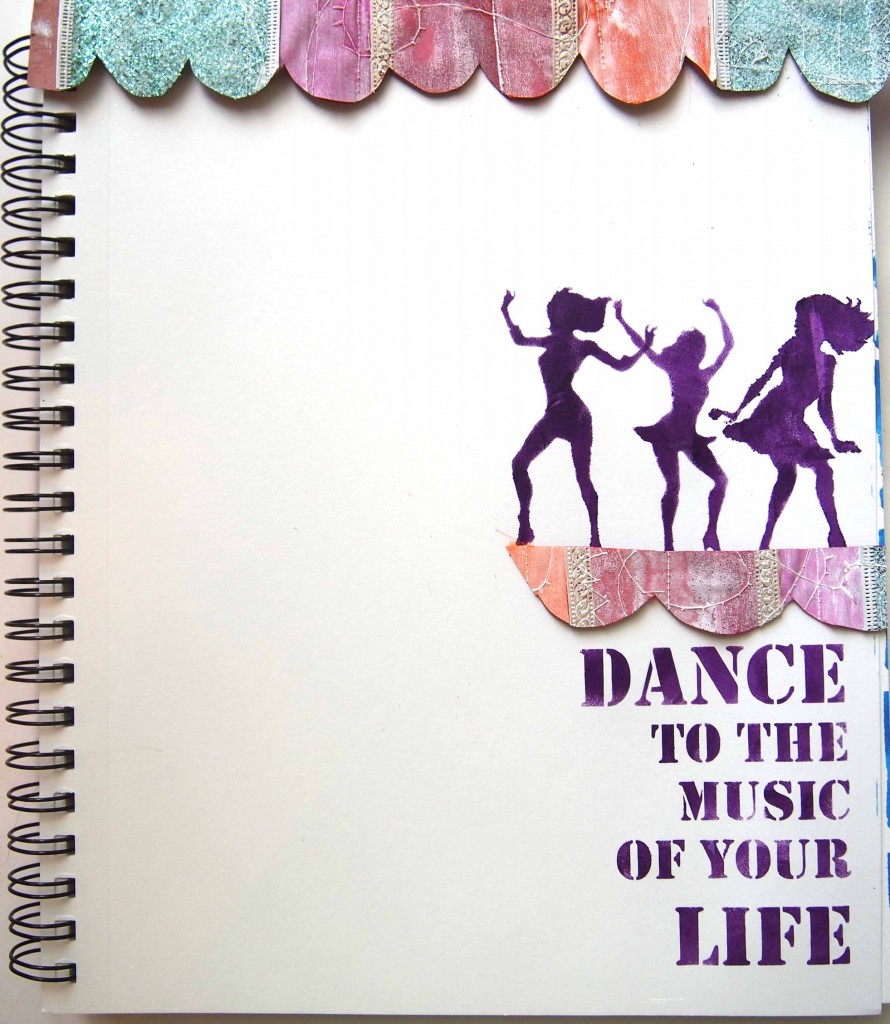 Since I have some kind of weird aversion to white space on my journal pages I had to add color…there were lots of layers.  Not because I was planning carefully but because I couldn't get the look I had in my head on the paper.  In the end, I am happy with my struggle because it did add some real depth of color and buried my rubber stamping of a sheet music quite nicely.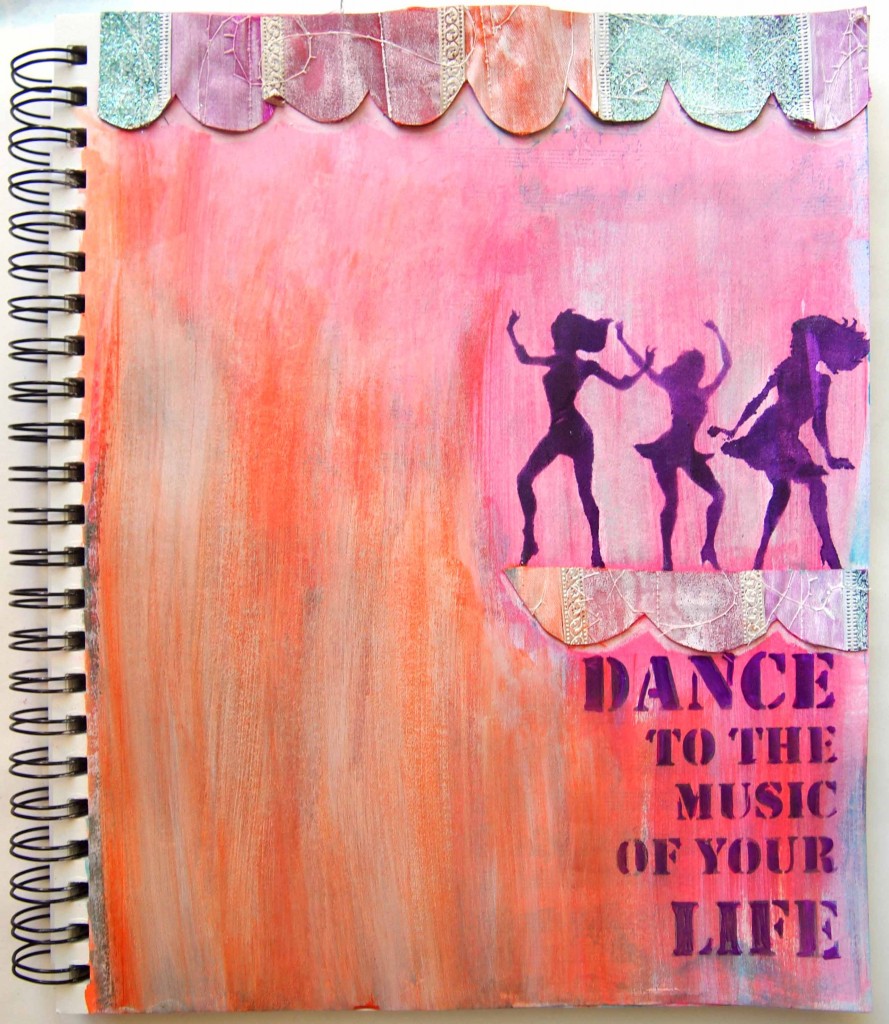 But it still wasn't right.  The scallops at the top were too small.  I already glued them down.  I just ripped them off. No guts no glory!  Took a bit of the paper with them, but it was well hidden by more layers of scallops…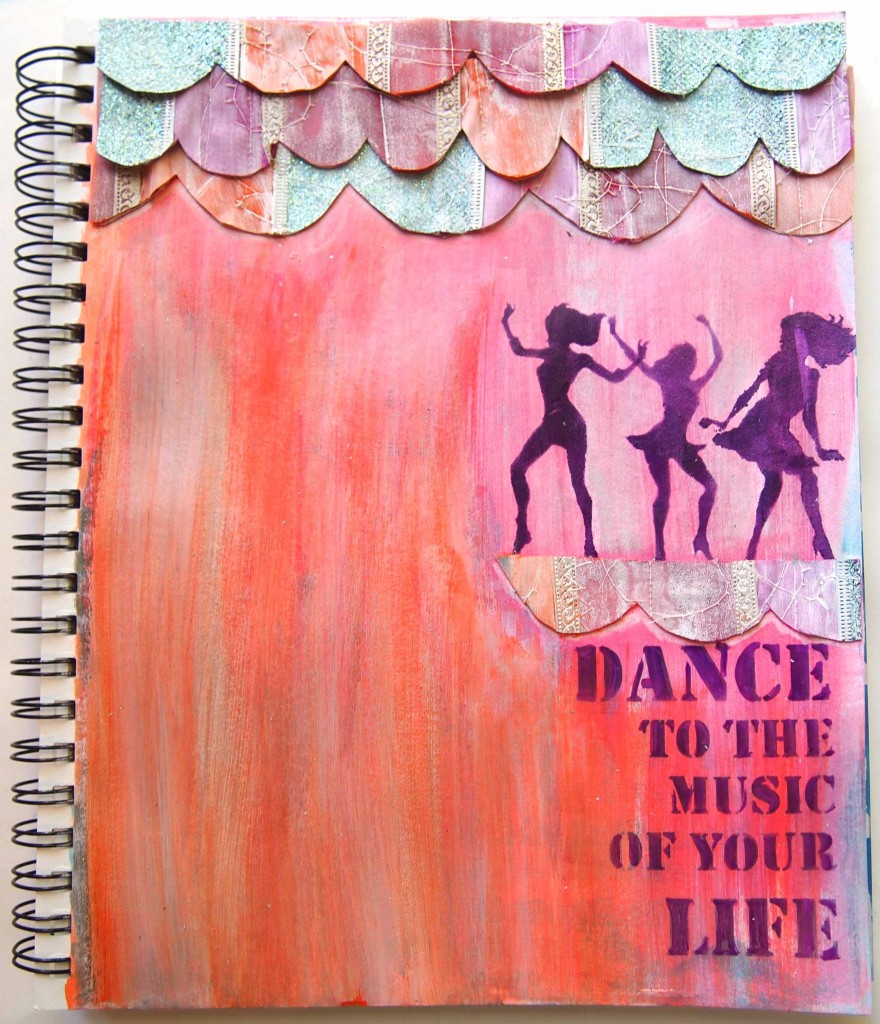 Still not quite right. I needed more blue.  A few smears here and there.  With a steady hand (not really, just a really small paint brush) I added blue acrylic paint to the words.  Now it felt complete.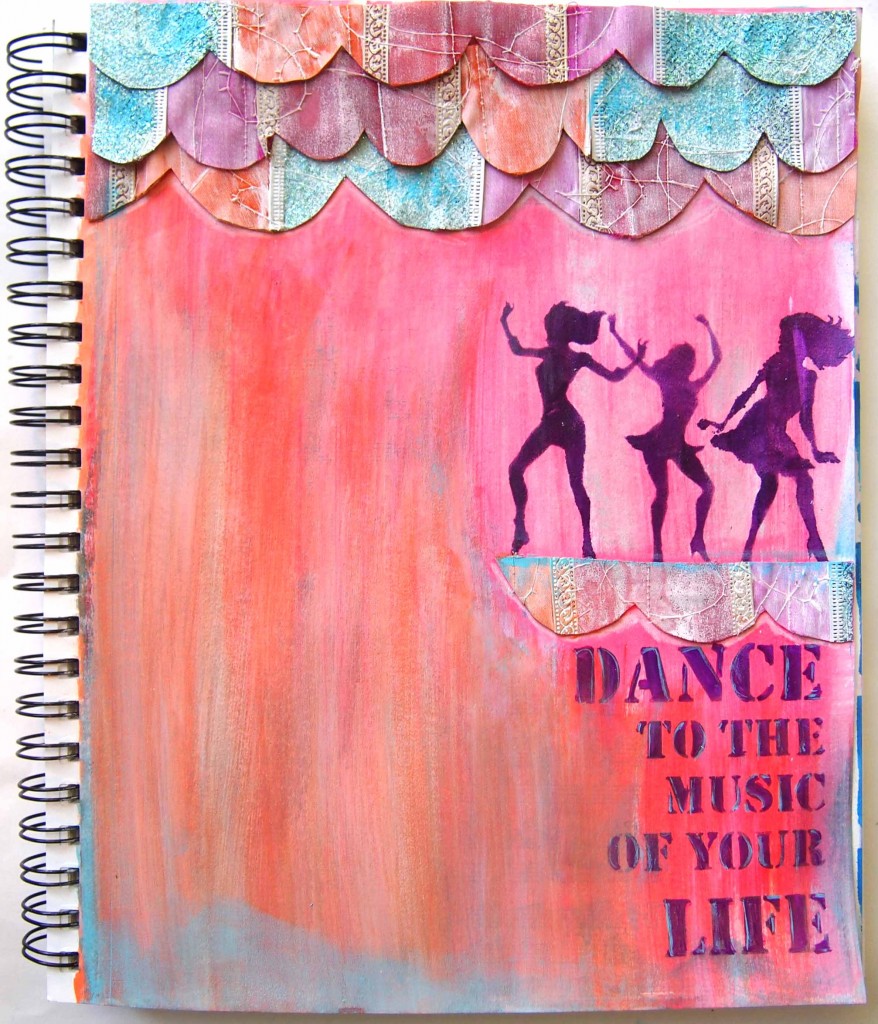 Thanks for joining me on my Artsy Fartsy Friendly Fun Challenge!  Stop on by Maria's blog and check out what she did!
Have a few moments?  Check out the great posts at Inspire Me Monday and Creative Every Day and Art Journal Every Day!