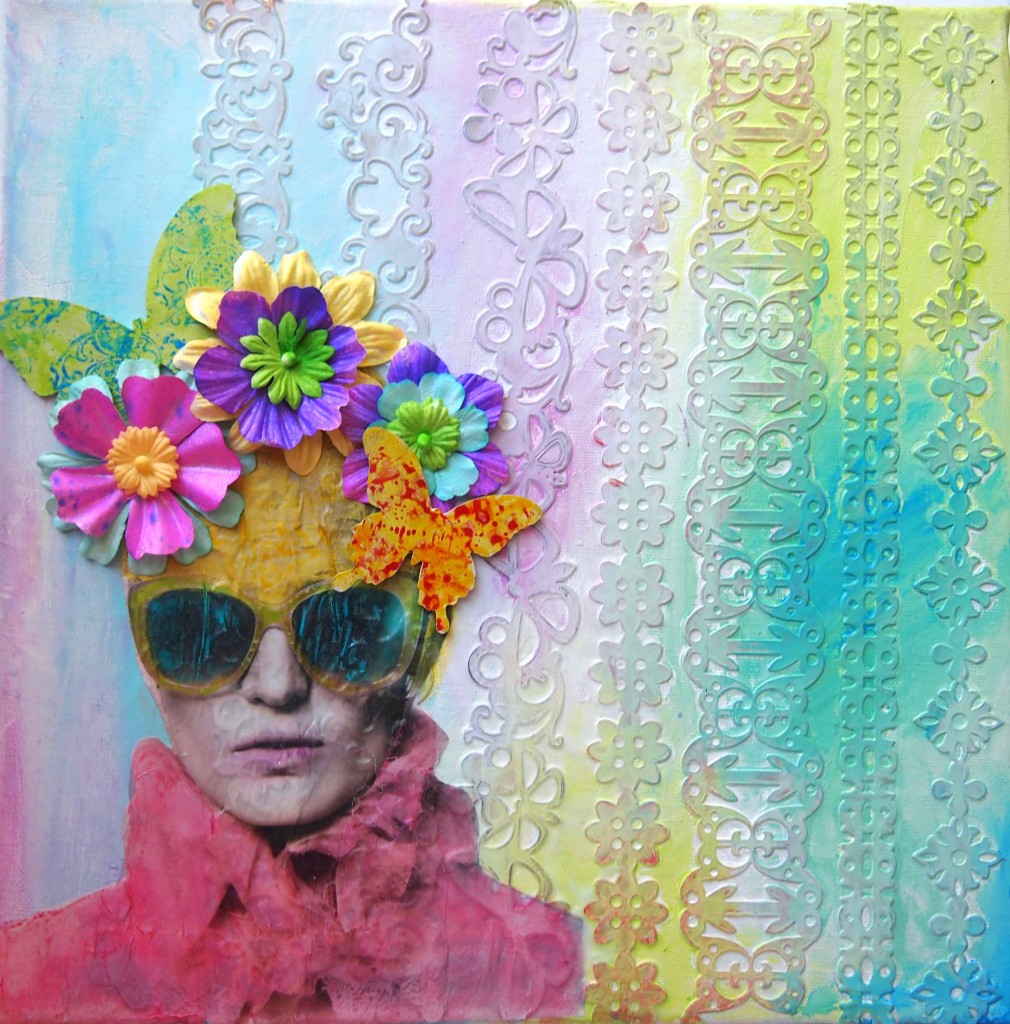 As  a kid I wanted to be an archeologist.  The magic of unearthing history was so enticing to me until I learned about real archeology.  Any time I found a real dig to go on it involved potential snakes (South America), intense heat, bugs galore and sparse accommodations.  I wanted to do archeology in an air conditioned building with a 4 star  hotel to stay in and definitely no creepy crawlies.  Shockingly, I did not become an archeologist.
As I was painting I realized I have become a reverse archeologist with my art.  Each layer that I add to my painting is like adding a bit of history to it, more of the story for it to tell.  The more layers the more excitement for me.  And I get to stay inside, have running water, and there are no bugs!
Here's the reverse archeology of this piece: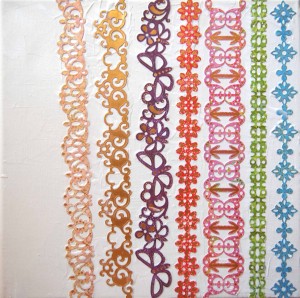 The blank canvas was having a stare down contest with me so I slapped on some decorative strips of paper that I have had a while.
Then a quick layer of white paint to begin to bury the papers.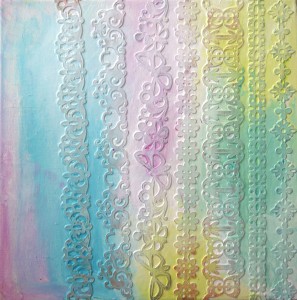 Some inks smeared around while the paint was wet so it all blended together.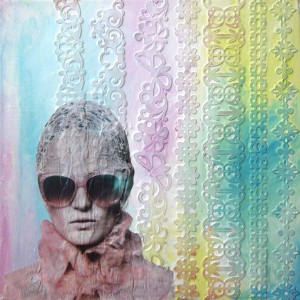 I was expecting flowers or butterflies after the last layer because I was seeing such soft and gentle spring colors.  But no- the magazine woman I cut out a while ago demanded to be a part of this.  When the art talks, I listen.
Using a bit of gel medium to adhere a thin magazine cut out to a very textured surface has its challenges…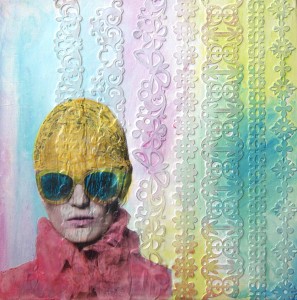 I wanted more color but didn't want to loose the detail of the woman so I turned to my Twinkling H2O's.  They have a wonderful shimmer but I can easily control the opacity.  It gave me the color pops I wanted with the sheerness I needed too.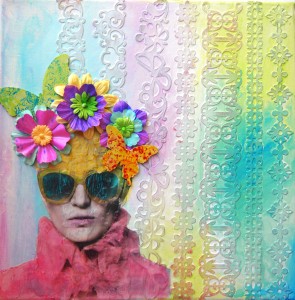 Turns out those flowers and butterflies did show up-
What attitude she has- "Of course I have flowers and butterflies on my head! Why wouldn't I?"  Not sure if she is finished so I'll just let her hang out on the wall for a while…
I have exciting news for October!  I am co-hosting a challenge called "Fall Fearless and Fly" over at Artists in Blogland with Jessica Sporn.  Every other week, there will be artistic prompts designed to get you thinking about setting intentions and shedding emotional baggage to step into 2013 as your bravest, most fearless self.  Have you ever done a juice cleanse?  Think of this as an art cleanse!  Any medium goes, and Aritsts In Blogland has great prizes and giveaways.  Each week, there will be a guest artist participating! I'll be kicking off the art on October 1st.  Here is the line up of our guest artists: Rhonda Palazzari, Jane Davies, Maria McGuire, Marcia Beckett, Dina Wakley, and Joanne Sharpe!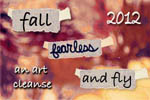 While you are waiting for October 1st to roll around, check out the websites of these amazing artists & grab the blog button to help spread the word about all the fun we're going to have!
Happy Paint Party Friday and Show and Tell Saturday and Creative Every Day!