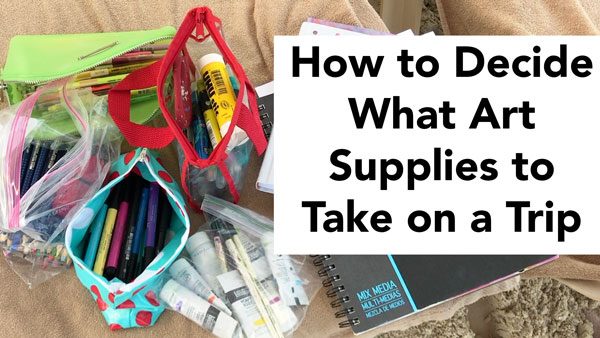 You're going on vacation and you want to bring some art supplies. But which ones?  There are 3 questions I ask myself when packing that guide me when choosing what supplies to bring. And nope, I don't use everything I bring, but you'll see why that doesn't bother me a bit at the end.
Are they spill proof in my luggage?
Will it be easy to use them in different environments?
Do I have a variety of supplies?
Watch How to Decide What Art Supplies to Take on a Trip on YouTube.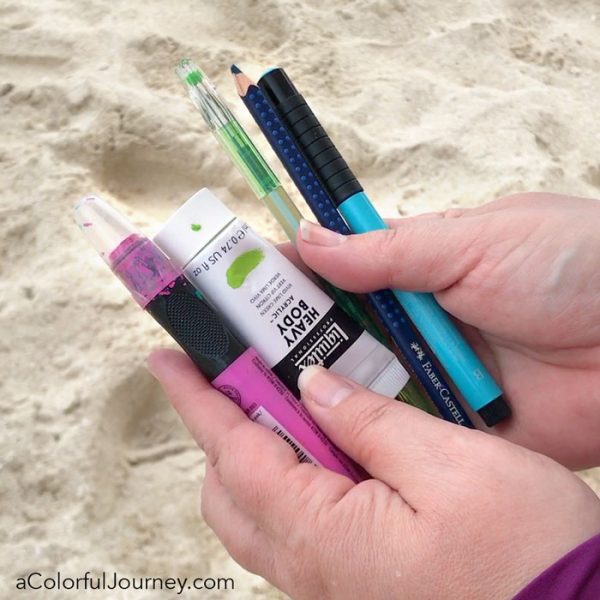 Are they spill proof in my luggage?  I've had art supplies leak and that is no fun so I chose unspillable items and paint that has a screw on cap.  No more flip caps for me if I can avoid it when traveling. What if your paints are all flip caps?  Putting a piece of Saran Wrap over the opening and then putting the cap on dramatically reduces the risk of spillage.  If it can't be fully sealed up easily, then it stays home.
Will it be easy to use them in different environments? This includes the actual supply as well as how it is packed. Whatever I bring, I want the flexibility to create in the hotel room or on location, which in this case was the beach.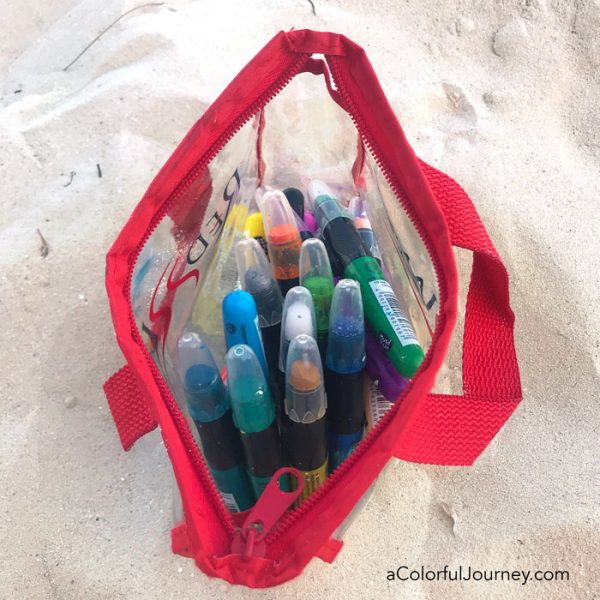 Each supply goes in it's own pouch or bag. When I run out of favorite pouches while packing, then it's ziplock bags.  That way, when heading out for the day, it's simple to toss only the supplies needed into a tote.  I treasure zippered pouches that have wide openings because that makes it super easy to grab what I need while creating.  Another perk is pouches that can stand upright in the sand.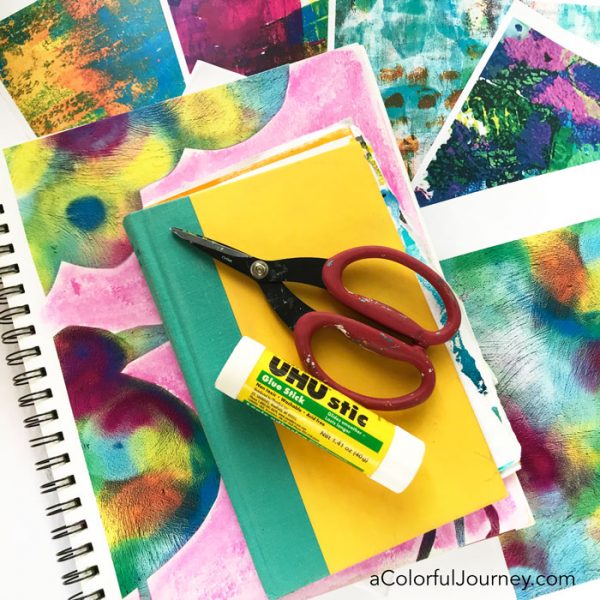 The weather is never guaranteed, so I pack plenty to keep me creating if the weather is less than ideal.  A handful of Sparks of Art-spiration were my collage fodder when the rainstorms hit a few of the nights.   Those storms were a great opportunity to start a page inside, and add to it on the beach the next day.
Would you like to play with the free Sparks of Art-spiration?  They're sent weekly, along with creative encouragement in my newsletter. Get signed up and you'll get a Spark right away to start playing.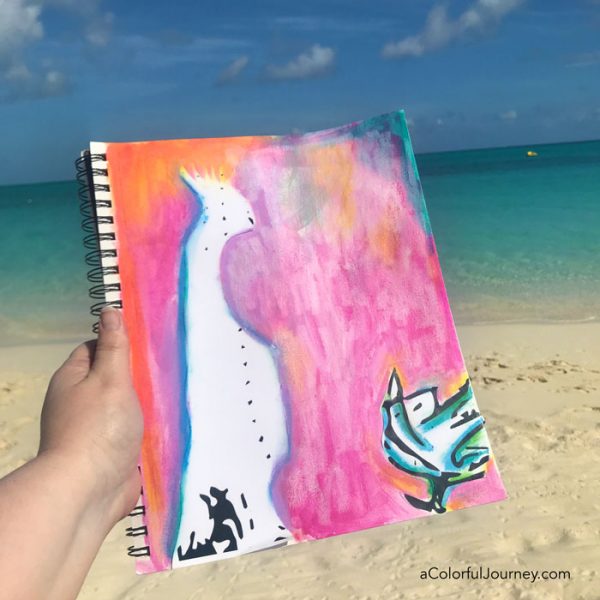 Do I have a variety of supplies?  Will I want to paint or watercolor or draw?  Do I want bold and big strokes or fine detailed lines?  I don't know in advance what the muse will inspire, so I go for a variety.
For the big and bold option, paint and Art Crayons.   The Art Crayons let me have the tactile joy of the creamy crayon and the flexibility to watercolor with them since they react to water.
For finer lines or more details, I packed pens and pencils.  Watercolor pencils also does double duty as colored pencils and watercolors.  Pitt Pens gave me a vibrant fine lines for sketching. The gel pens because it was a more opaque look than the Pitt Pens.
For variety, I brought 2 different journals.  One big and blank, the other smaller and filled with gel printed pages. Gel prints as the start of an art journal page is one of the many ways to use those stacks of prints.  If you're looking for more ways to use yours, check out this workshop.
I couldn't leave home with out a stencil, so I brought Little Figments of Imagination which I used on this page.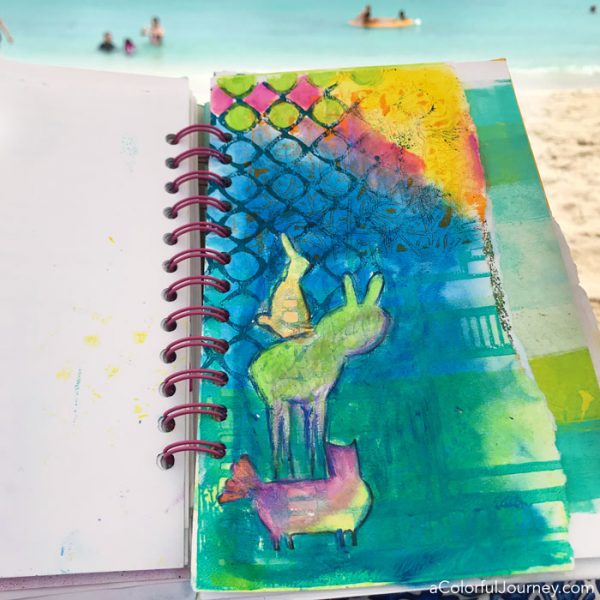 Did I use everything that I brought on the trip? Nope. I packed supplies for if the sun shone the entire time and if it rained the entire time. Since those two things can't happen on the same trip, that means something probably won't get used.
But I don't know which ones until the trip is over, so I pack enough so I am prepared for whatever the weather brings.  Happily, we had only some rain, so the gel pens  didn't get used on this trip.
Next time you're packing travel art supplies, if you have a hard time deciding what to bring, try the 3 questions.
Are they spill proof in my luggage?
Will it be easy to use them in different environments?
Do I have a variety of supplies?
Here's what I brought on this vacation.  Some of these links are affiliate links which means I get a small percentage. It doesn't cost you anything extra and it helps keep the free tutorials coming!