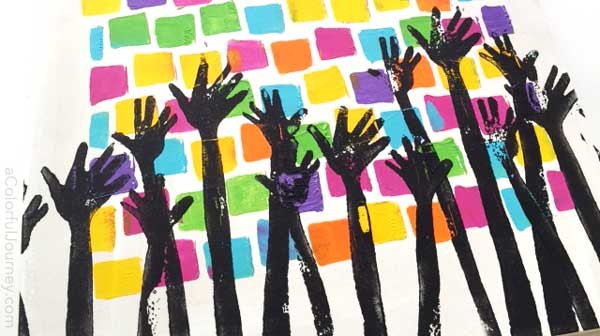 What happens in my life influences what I create in art…and seeing a David Cassidy concert last weekend had a big influence on this canvas!   I adore the tone of his voice and the happy pop sound of his Partridge Family music.  It's infectious!  So much that it is one of favorite playlists in the studio…as a bonus my teenager is so sick and tired of hearing it!
I started with a gesso'd canvas board…but it didn't stay white for long! A full rainbow of paints, randomly stenciled through my Squares Layer Me stencil. Now the stencil wasn't large enough to cover the whole thing but that was an easy fix since the pattern can be lined up and stenciled over and over and over to fill any size canvas.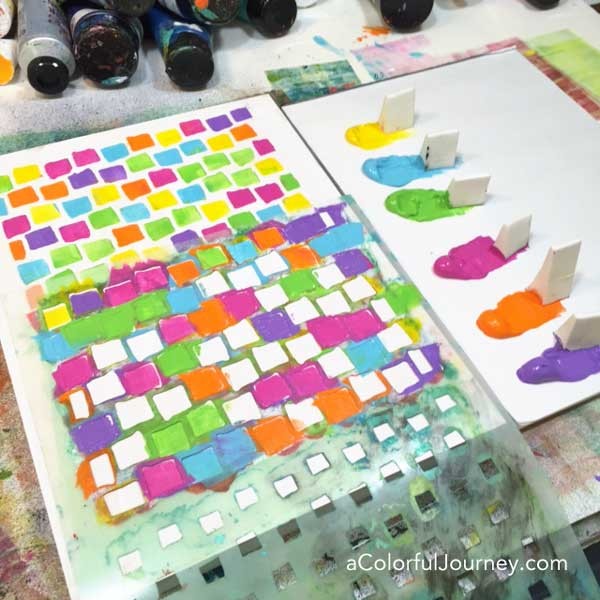 Here are all the happy colors.  What's next? I wanted to capture a feeling I had from the concert…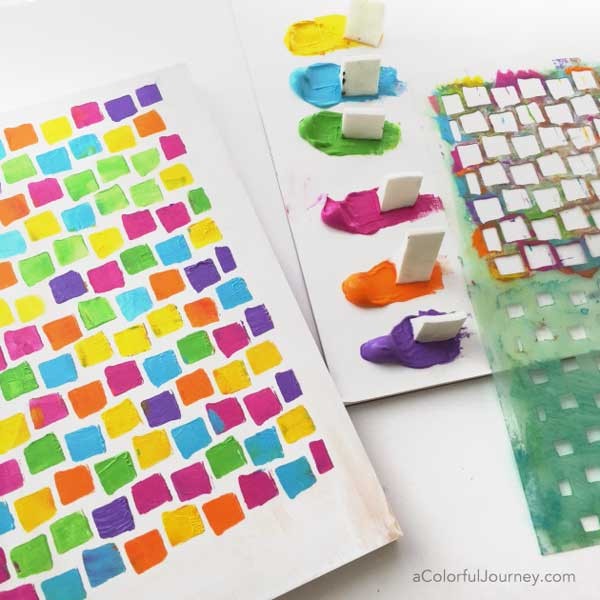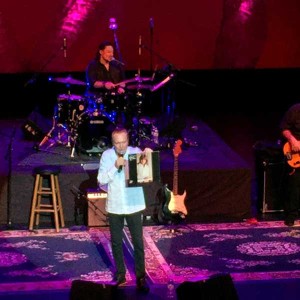 David had a fantastic sense of humor and a genuine appreciation of the fans.  One fan near the front (which wasn't me…hence the blurry iphone photos), had an original album that had the song he was playing…so he played along and make a few comments about how much younger he looked then.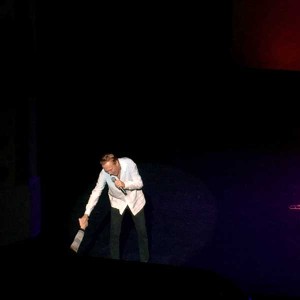 He is not 19 anymore but that didn't diminish all the hands reaching up to him during the show.  Near the end, I actually expected a frenzy of fans to rush the stage…which was surreal to see since I was one of the youngest fans there at 45…
All those frenzied hands reaching up for David Cassidy gave me the inspiration for a hand carved stamp…no pun intended!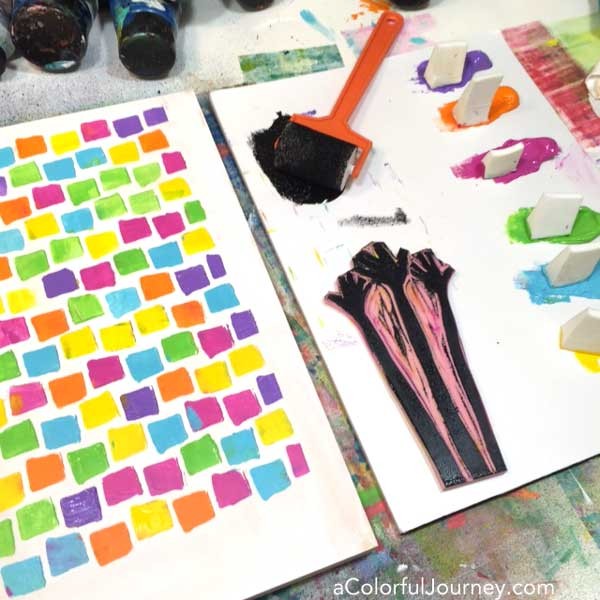 This is the feeling I wanted to capture the most -the energy and the excitement that was flowing from the fans and being returned by David Cassidy.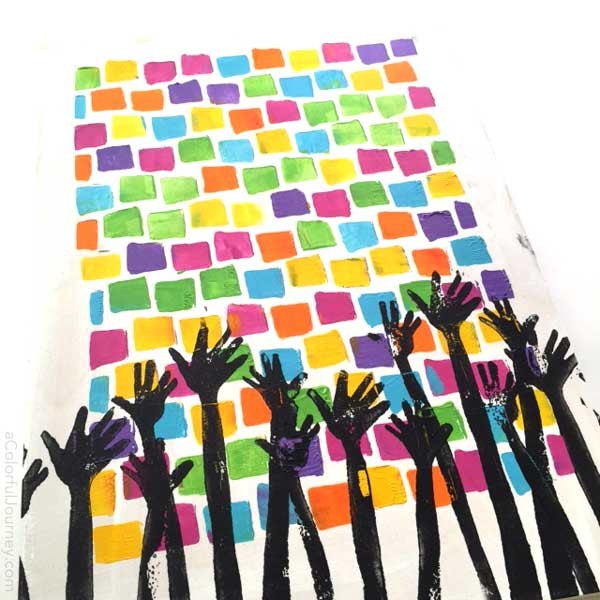 There was way too much white space for me…so I added some orange and yellow.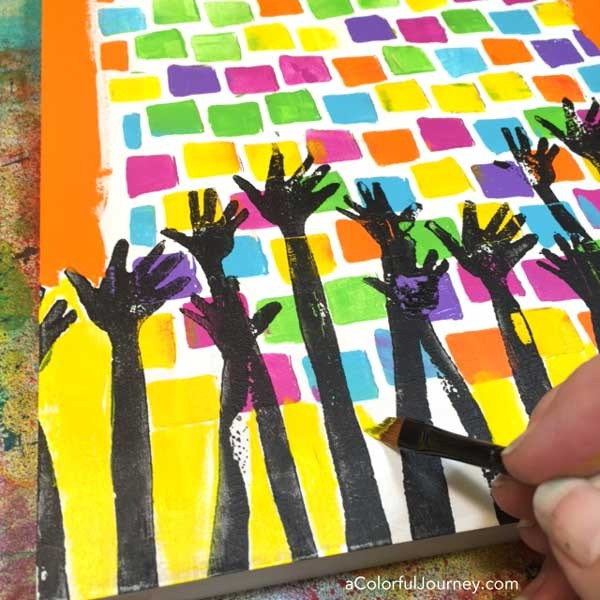 Then some scribble journaling around the edges with a fine liner with ink to capture the joy from the concert.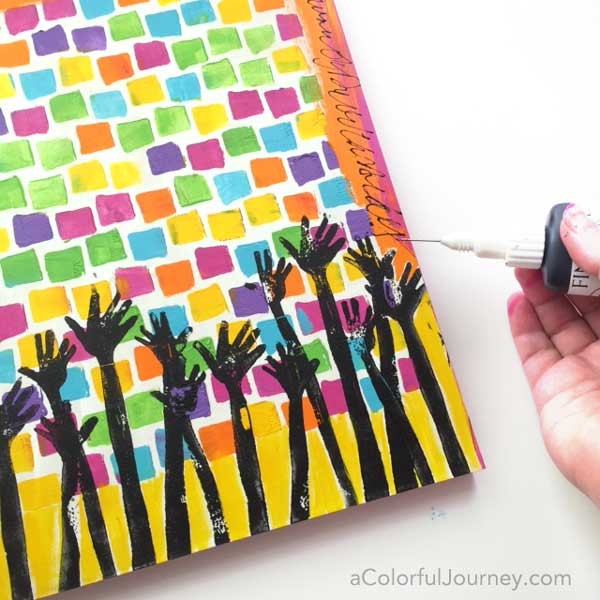 Now this is where I made the judgement call to only journal inside some of the squares…but the more I think about it the more I want to scribble in each and every one of those.  And guess what….since I made it I can go back and add to it any time.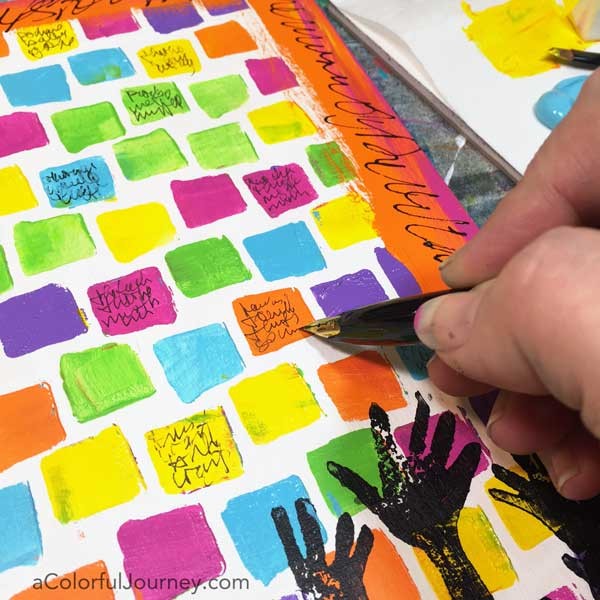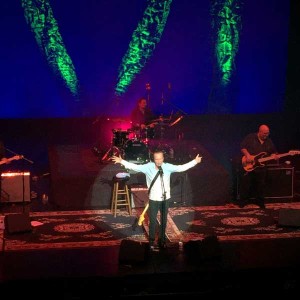 Thank you so much David Cassidy for an amazing evening and all the incredible music you've shared with the world!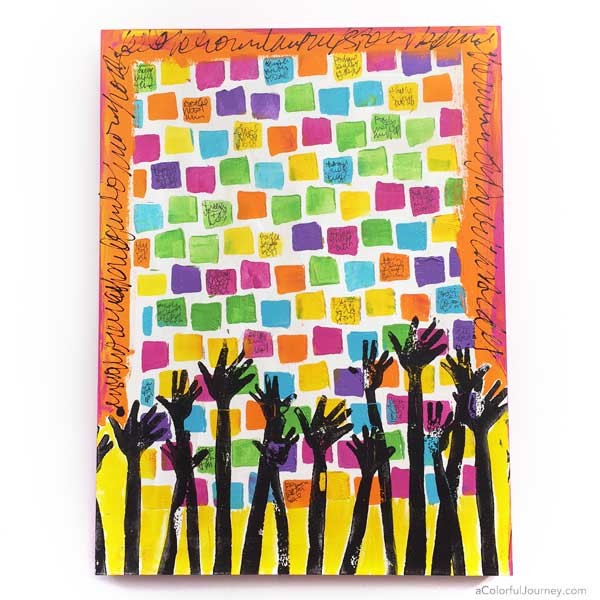 Here are the supplies I used. Some of these links are affiliate links which means I get a small percentage. It doesn't cost you anything extra and you are helping me keep this blog and my videos ad free! Thank you- I don't like ads any more than you do!