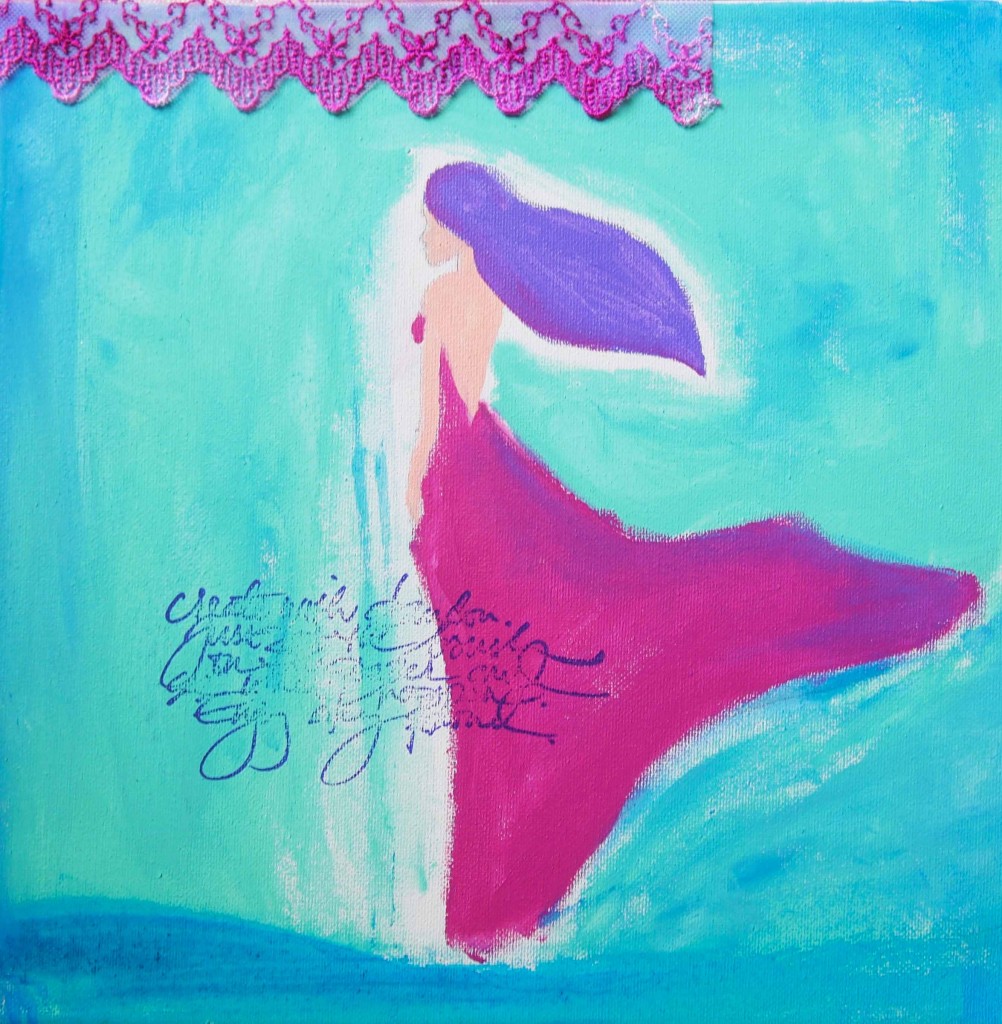 Dina Wakley's Out of the Journal challenge has been making my head hurt. It's not her fault.  It's me.  Is this a canvas or an art journal page (just not in a journal)?  I've pondered (which lead to the head hurting) how I would define art journaling and the answer that is best for me is art where I journal my emotions.  With that definition I would consider this canvas  art journaling.  Granted, it's art journaling that hangs well on a wall.
Do I use words to journal my feelings. Sure.  But not always.  I was feeling a bit stressed so I wanted paint on my hands.  I had the most wonderful green & blue paints stuck under my fingernails from the background.  My feelings were vital in why I chose that color – I wanted a happy ocean color that would lead me to a better mood.  Oceans and beaches are my happy place.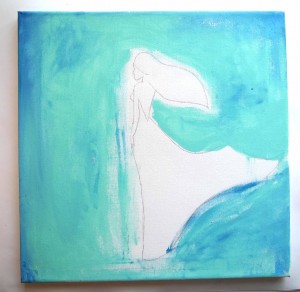 I wasn't sure what I was going to do with the girl in the middle so I just went "near" her carefully with my fingers full of paint.  I didn't trust myself not to get paint on her in most places so I left a bit of white.  I was sure I'd come back with a brush and touch that up.  Never did go back.  I liked the white around her.  She wasn't turning out the way I expected but it was turning out better than I envisioned.  Life lesson- make a plan and then stay flexible as it unfolds.  A reminder that most of the stress I needed to release with the finger painting was my own creation because I was not staying flexible.
No matter what I am working on- art journal, canvas, or something else – I am happy when my hands are covered in paint.  Be sure to stop by Dina's and see what everyone's doing for their Out of the Journal Challenge! Want to see more paint? Check out all the goodness at Paint Party Friday!  Want to see more art journaling? Check out Art Journal Every Day!