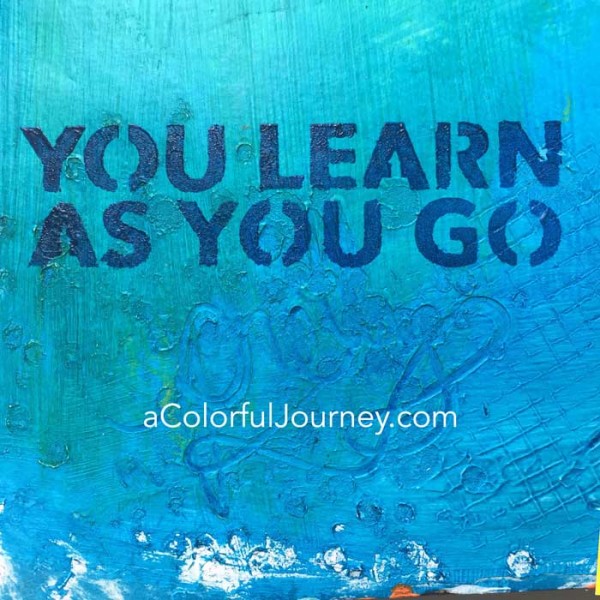 I had a plan that was inspired by a pattern on the sidewalk I noticed when I was on a bike ride. It was a crazy crazy plan.  It involved precision.  Straight lines and measuring. If this was a movie, you'd hear the ominous music playing.
But this isn't a scary movie, it's play inspired by the everyday, this month's Let's Play theme.
What is Let's Play?  It's all about rediscovering the ability to play. Each month I share a specific strategy that helped me recapture the freedom and fun of play. You can see all of them here. Plus get entered into the monthly giveaway by leaving a comment- details down below!
Watch How I used a pattern from the sidewalk in my art journal on YouTube.
Here's the pattern than made me obsessed with using a grid in my art journal.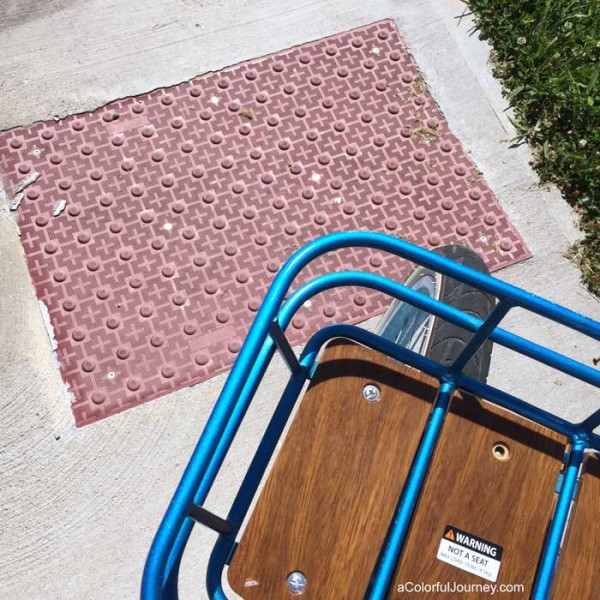 The moment this  pattern grabbed me, a plan that was destined to lead to an OOPS was hatched.  First, I would paint over ancient glue dots to create the raised bumps.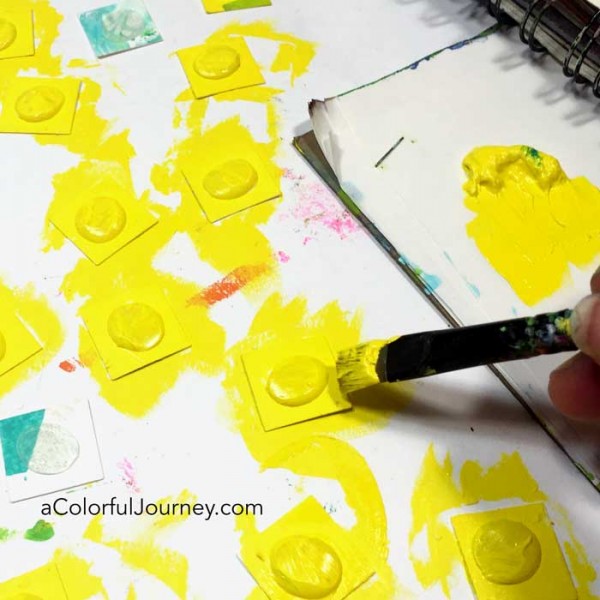 Next came the perfectly straight strips of paper that would make the grid lines under them.  I measured. CAREFULLY.  Really I did!  But the strips of paper did not come out as expected.  No fault of the paper cutter.  This was total user error.  OOPS!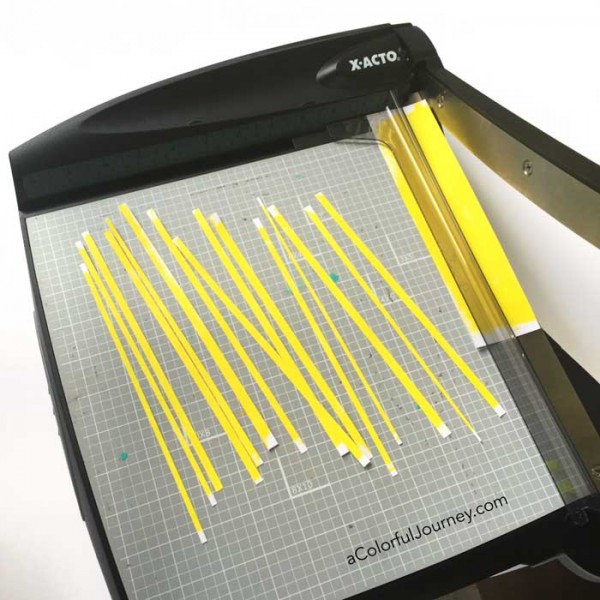 But I recovered.  I picked the most similar ones to use for building a precise grid. Or so I thought I would be building a grid.  I really wanted to build a grid.  In the video, you see why it didn't turn into a grid.
Those tall yellow ledges were just the perfect platform for the leaping, running, dancing girl from my Learning to Dance stencil.  The title didn't fit perfectly in the space I wanted, but that's no problem with a stencil!  It's easy to rearrange the words to fit the space.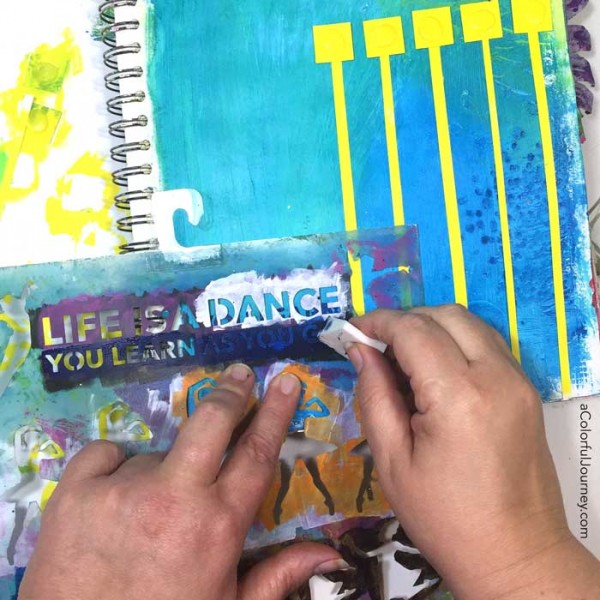 Two things were very clear to me at the end of my play session.  One, this page isn't complete yet.  Two, I was done working on it for now, after all an art journal page does not have to be finished in one session.
Of course, I'll be sharing where it goes next.  Get signed up for my newsletter (if you're not already) and you'll be sure to know what happens next to this page!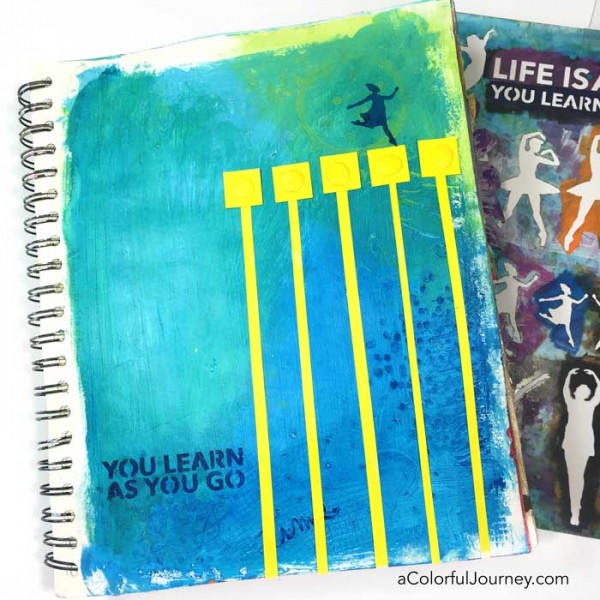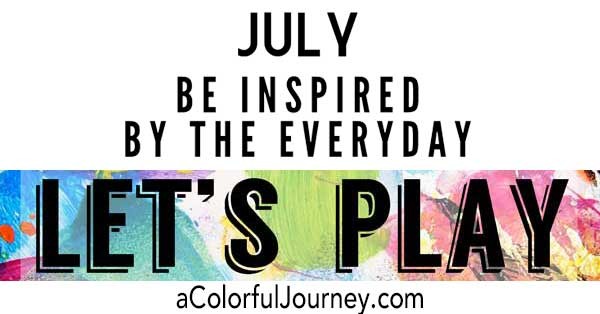 Want to see more Let's Play videos? You can find all the weekly posts here.
Sharing your play:   I, and a whole bunch of others, would love to see what you're creating!  We're sharing it in the Facebook group called A Colorful Place to Play. Why Facebook?  I've listened to your feedback about how and where you'd like to share your play instead of the link parties.
Monthly giveaways:  Leave comment on any (and all for more chances) of the weekly Let's Play blog posts to be entered and one winner each month will be chosen by random.org.  Want more chances to win a $50 gift certificate to DickBlick.com?  Pin any of the images from the page or share about it on Facebook- then come back and leave a comment telling me what you did and you can have more chances to win! Giveaway closes the Sunday, July 31st at 11 pm EST and the winner will announced on the blog the following Monday.