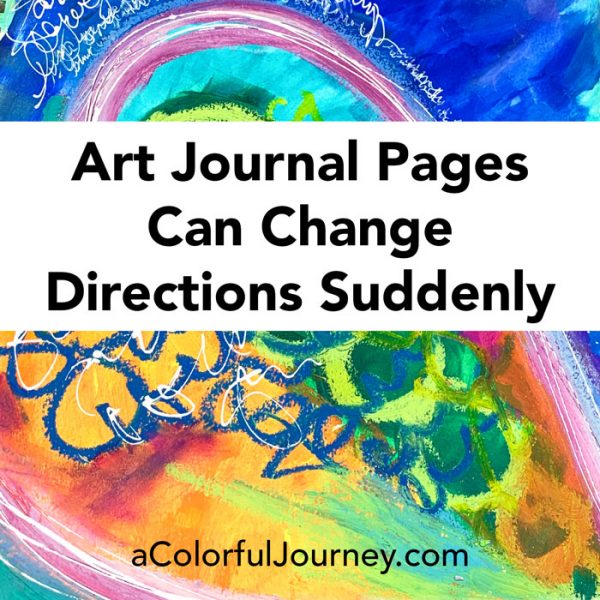 What can you do when you have no idea where an art journal page is going? Enjoy the adventure! When this page was started, there was no hint of where it was going. Who would have guessed a caterpillar with a mohawk and more than one O.O.P.S.would lead to the end result!
This page is brought to you by O.O.P.S.- because it was one big O.O.P.S. after another. The caterpillar's blue mohawk was not exactly intentional but it led to the pink.
The orange was an O.O.P.S. choice of color but that led to me seeing the heart shape instead of a green carrot. You see, an O.O.P.S. isn't a mistake, it's an Outstanding Opportunity Presenting Suddenly.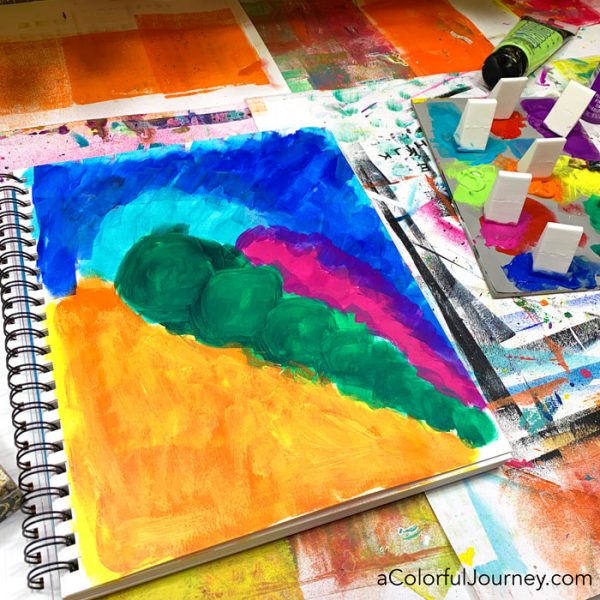 Outlining the heart with big oil pastels shifted the entire look of the art journal page in a direction I wasn't expecting at all.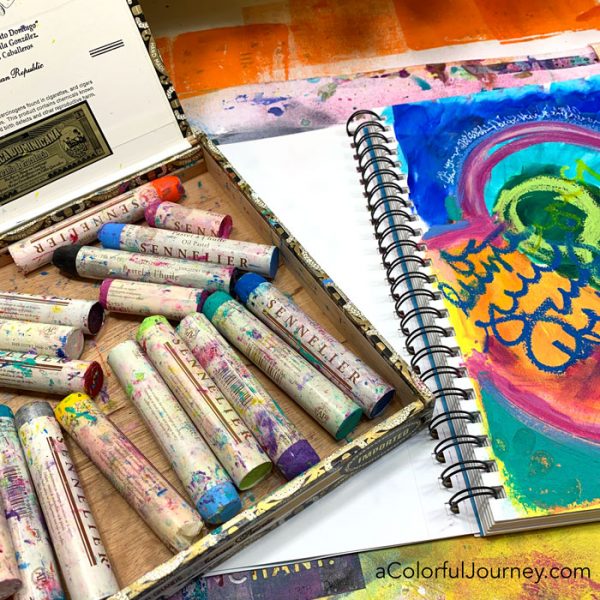 The oil pastels are creamy and smooth but that is a challenge for pens. It is hard on pens to write over oil pastels and it can ruin them. So what could I do? Write next to the oil pastel and avoid writing ON the oil pastel.
It was a good plan, but not so careful execution. That's why the pen struggled to give a solid white line.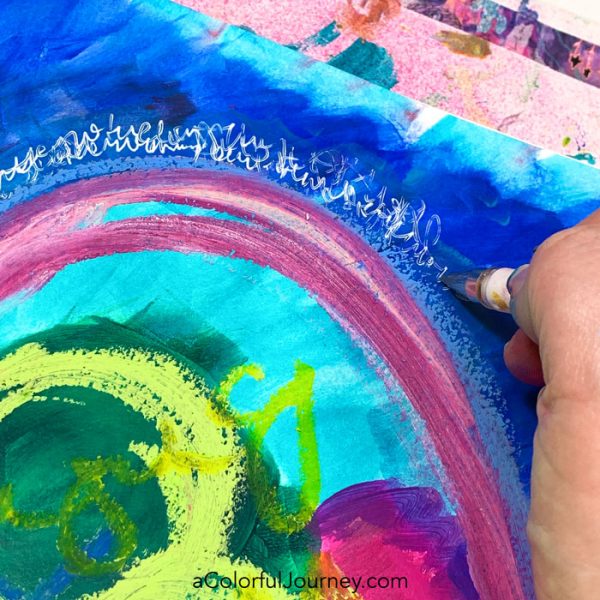 What are the best supplies to use for art journaling? The ones within arm's reach. That's why I used the PanPastels. Just a touch of color that added a softness to the page.
What supplies do you have out and ready to use? Bet those would be great in your art journal!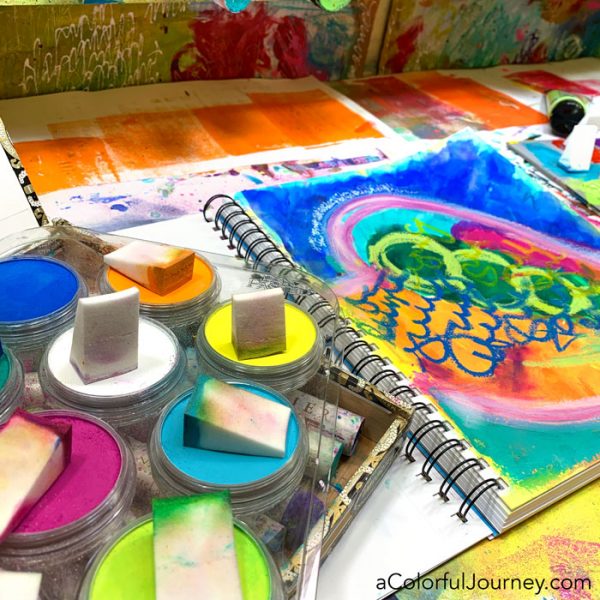 O.O.P.S. again! I thought a little oil pastel here would be wonderful. As soon as I did it, nope. Knew instantly it was not "right". But since I said O.O.P.S., I knew it wasn't a mistake or an end of the world event. It was an opportunity.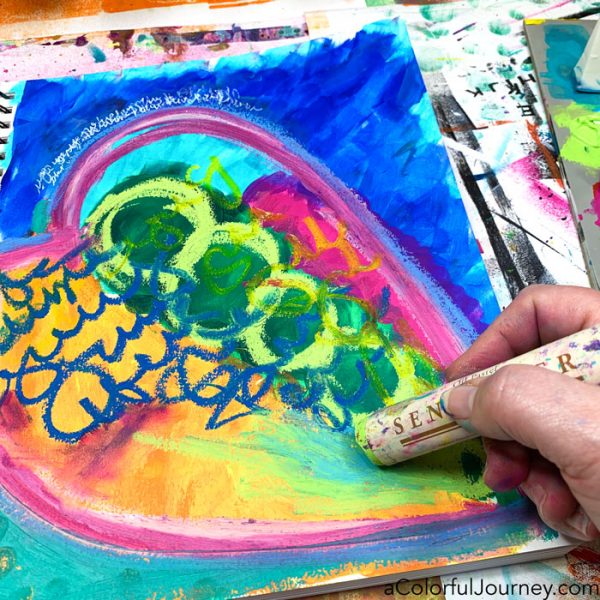 That O.O.P.S. led me to get more white on the page, which I hadn't even been thinking about. To write on top of oil pastels you need something that writes but isn't a pen – like a fineliner filled with ink.
This is my go-to way to write on things that you can't write on and you can see more about it in this video.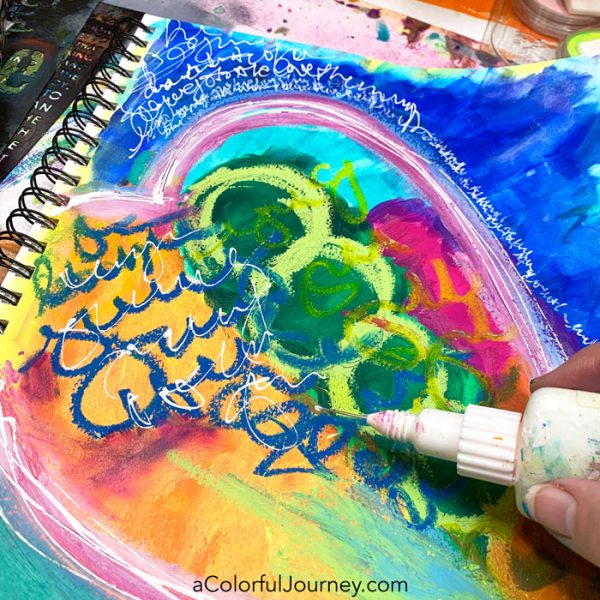 I often get asked how I seal my art journal pages. Usually, I don't. That's a personal preference so if you feel more comfortable sealing yours- go for it!
Next time you're art journaling and you have no idea where your page is going, enjoy the ride! You might be surprised where it takes you!
Here are the supplies used. Some of these links are affiliate links which means I get a small percentage. It doesn't cost you anything extra and it helps keep the free tutorials coming!