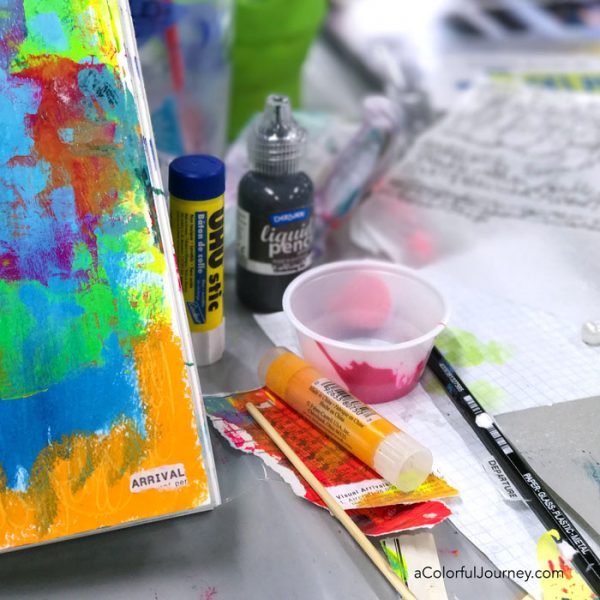 What happens when Mary Beth Shaw of StencilGirl and Kristin Williams of Ephemera Paducah plan a weekend retreat together?  Magic called StencilGirl & Friends: An Art Journal Affair.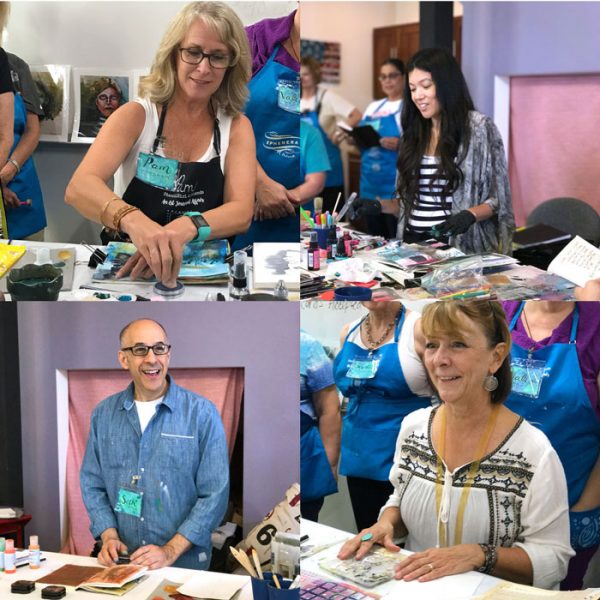 Who was sharing their art journaling talents with us? Pam Carriker, Traci Bautista, Seth Apter, and Mary Beth Shaw.  But they weren't the only ones- in the evening there were Pop-Up Demos from Sherry Canino, Glenda Miles, Mary Nasser, Debi Adams and Kiala Givehand.
Here's a peek at the play from my pre event workshop gel printing with Gel Press plates. These ladies were a blast and some had never made a print before!
The thing that made this retreat so soul nourishing for me was the people.  Being able to spend time in person getting to know online friends over our art journals was pure joy.  My face hurt in the best possible way from all the laughter at the end of the day.
This is an art journal spread by Valerie McCoy over the weekend that sums it up, we were all with our tribe.
There were colors and ample products to try like a cruise ship buffet of art supplies!  This was my first time using the scrumptious Paper Artsy paints, and I will be doing a blog post just on those in the near future.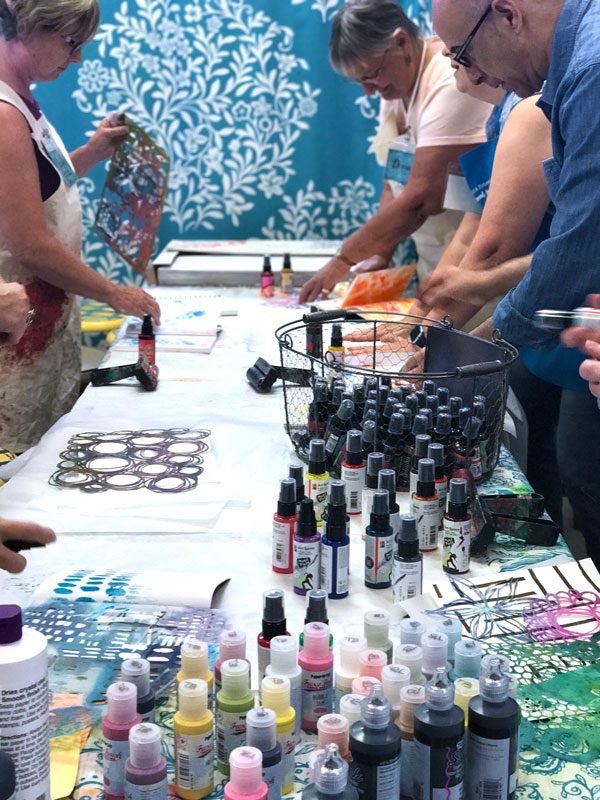 This may look like all fun and games, but there were some very scary times for me. For some, the fluorescent paint was out of their comfort zone. That wasn't what made me nervous.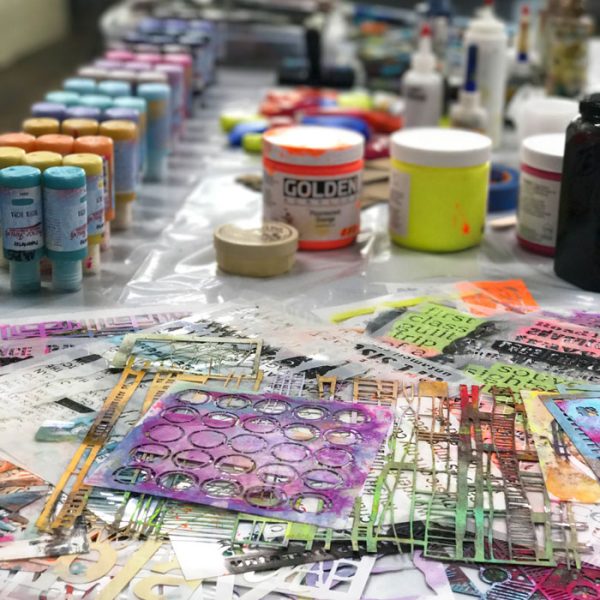 Seth Apter used browns, lots of browns.  And I was a good student and used them too, well, I wasn't that good of a student, I snuck in some hot pink and purple. But I did use a whole lot of the browns.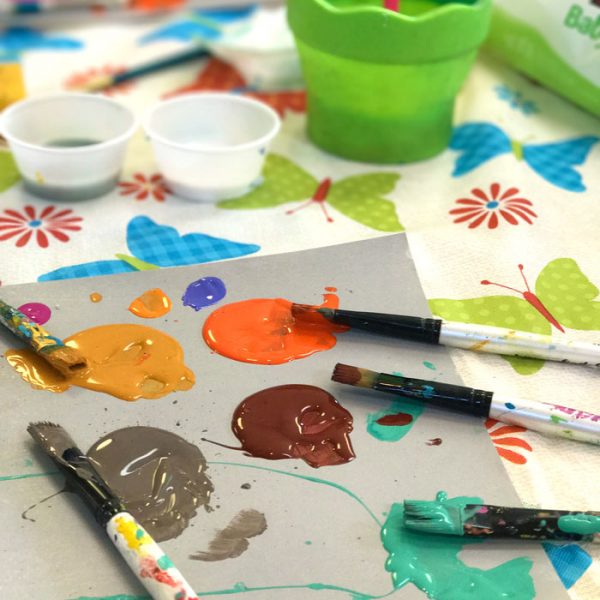 Pam Carriker and Mary Beth Shaw were using a tool that causes me to twitch…the ruler…but I dodged the bullet with that one because they didn't actually measure a thing with it!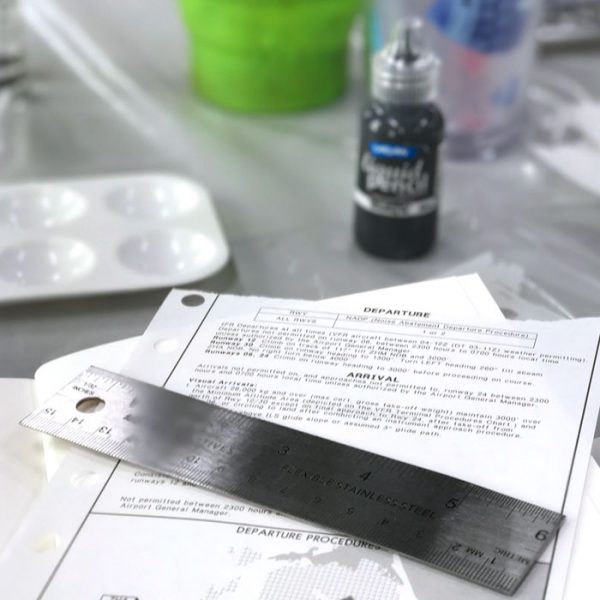 I was so in to the play that I didn't know which way was up, in my journal that is.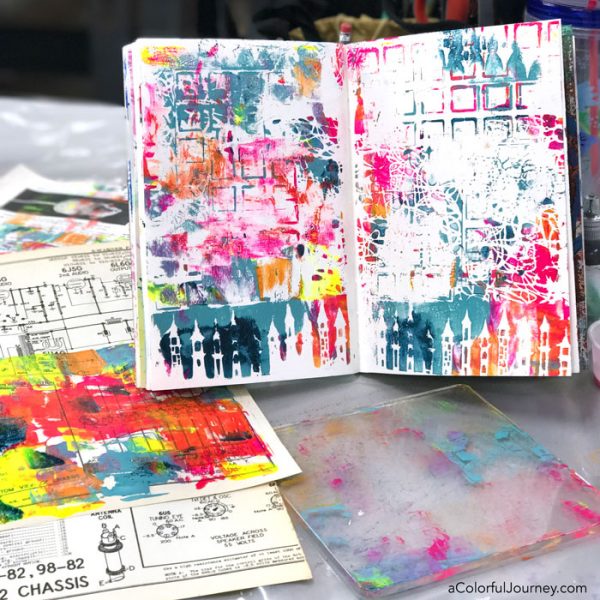 Upside down pages in a journal are just an O.O.P.S., an Outstanding Opportunity Presenting Suddenly.  In this case, the opportunity to see things from a different perspective.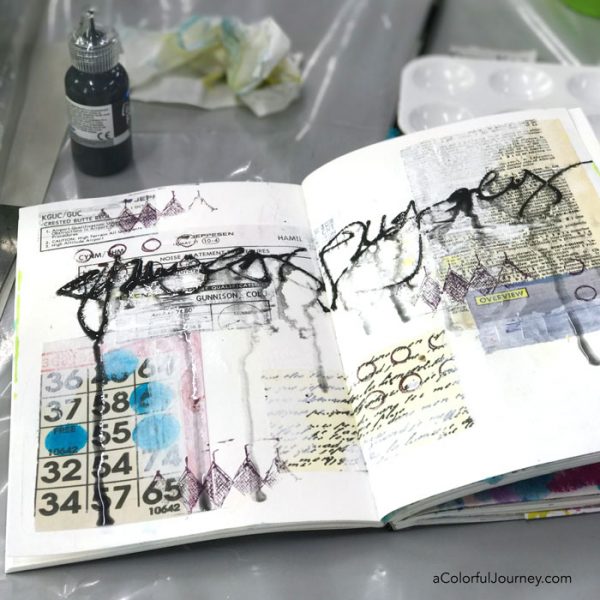 Where was this all happening?  At Ephemera Paducah.  If you are ever near Paducah, KY, I recommend stopping into check out a wide variety of creative goodies from art supplies to vintage treasures can be found.
There are ample places to sit and peruse the books and have conversations and take in all the art covering the walls, including in the bathroom!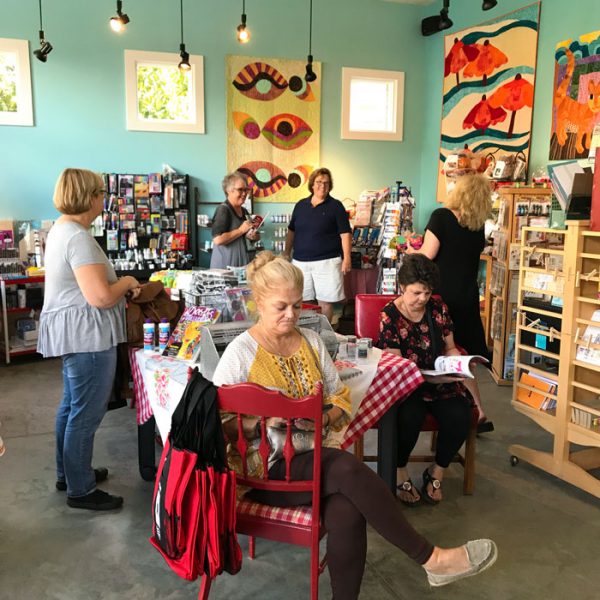 A perk of being around this artsy group is that no one questioned the weird behaviors of a creative…when I bent down to take a photo of a fun shoe…no one batted an eye.  When I do this stuff around other types of people, they give me a pretty strange look.  Glenda do you recognize your feet?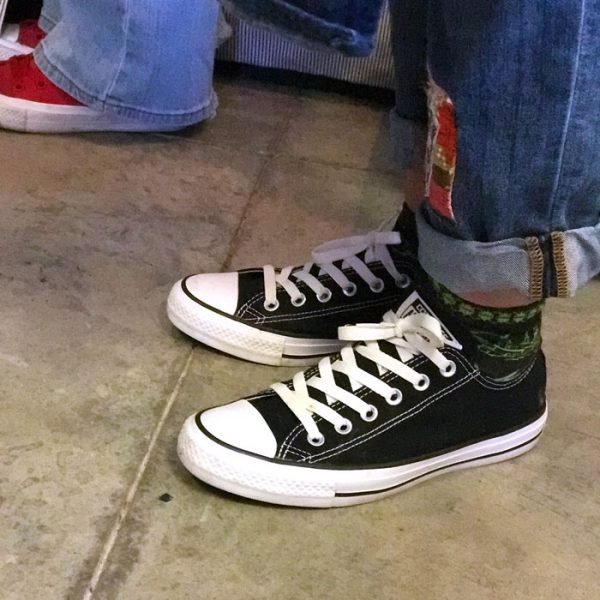 All the play, all the fun stencils and supplies, they were fabulous but the part that meant the absolute most to me was the people.  Thank you to everyone who made this weekend so joyful!