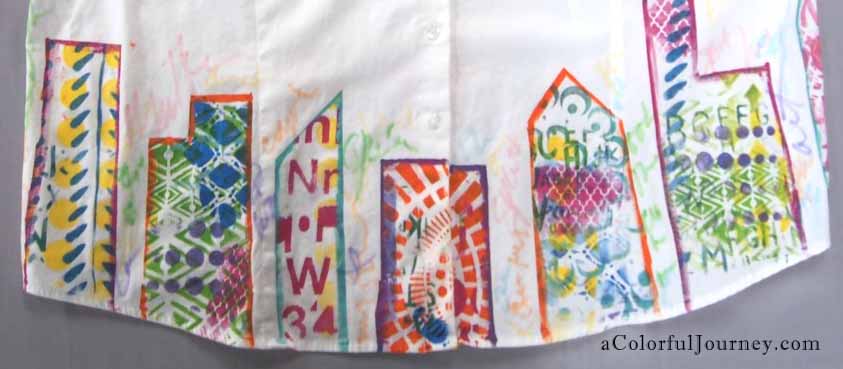 Happy April 1st!  I am so very very excited for so many reasons!
1.  It's party time with the Gelli Plate and we get to see what everyone has been creating!
2.  Now I have a fun shirt to wear to Art Is You in Nashville. Are you going?  Let me know, I'd love to say hi in person!  I'll have on my Gelli printed shoes and this shirt-so I should be pretty easy to find!
3.  Monday is the first day of class for A Colorful Workshop: Gelli Printing!  It is actually live a day early because I'm like a kid at Christmas!   Couldn't wait!   I have been so busy with so many different projects I have not had time to change the PayPal buttons on the class – so there is still time to grab the $10 discount.  No promises on how long it will be available after April 1st at that price, so grab it while you can!
4.  I get to have fun with my teenagers-they still haven't forgotten the scoop of mashed potatoes in an ice cream cone…
THE COMPUTER MISBEHAVED! THIS VIDEO DID NOT UPLOAD CORRECTLY- WILL HAVE THE FULL VIDEO UPLOADED AS SOON AS I CAN GET BACK TO MY COMPUTER TO REDO IT.  SORRY! Latest update: The video has some sort of error in it that I don't fully understand, just know that it was not salvageable…very sorry!
This shirt now has its first layers on it and several oops.  I did get bits of paint here and there where I didn't plan but that is just proof to me that it will need more touches of color added.   Just like a Gelli print, this will end up with lots of layers before I call it complete. The next layers will be put on this shirt at Art Is You in Nashville.   Who knows where the next layers will come from!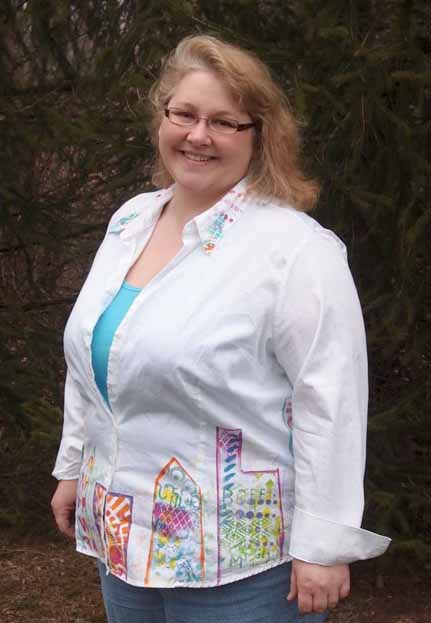 The Party – open all month!
Link up your Gelli Plate blog posts, flickr photos, YouTube videos – it is all welcome!  New posts or recent posts are welcome!
Link to a specific blog post or flickr page or YouTube video that way people can easily find your Gelli goodness.
Add a link back to the party so others can join us too!
Leave a comment on at least 2 other links from the party.  You know how  comments encourage us creative types!
Participate as many times as you want- just be sure it relates to the Gelli Plate.