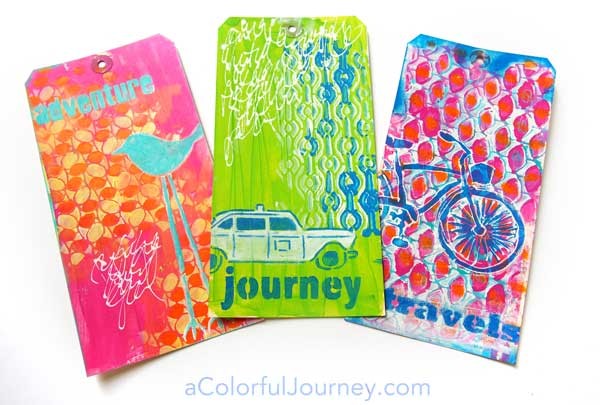 Sometimes I just play around without a plan.  I know, you're shocked.  That's how all 3 of these tags came about – just random play with Pebbles Layer Me, Iron Grate Layer Me, and Connected Eyes Layer Me stencils.
The muse gave me the imperfect vibe today so I went loose with the paints.  That means getting paint under the stencil in places as well as more here and less here. Total freedom to be messy and imperfect.
These stencils also look fabulous with a crisp, more "perfect" look and I share how to do that in a video in yesterday's blog post.  While you're there, you can get entered to win my 3 newest stencils! Check it out and how you have a total of 6 chances to win!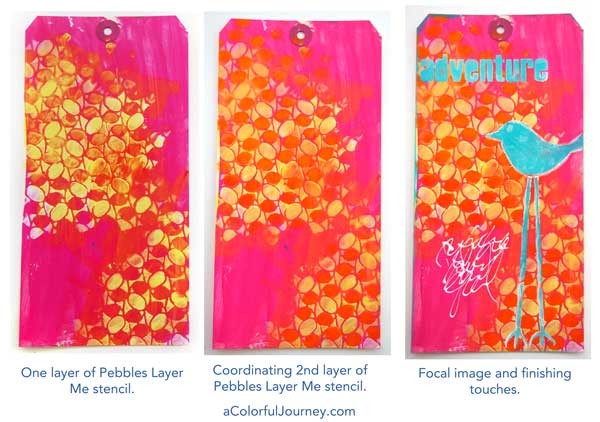 After stenciling the bike, I realized it didn't stand out the way I had planned.  Oops.  Opportunity to add some white lines loosely around the edges of the bike…which led to some blue around the edges of the tag.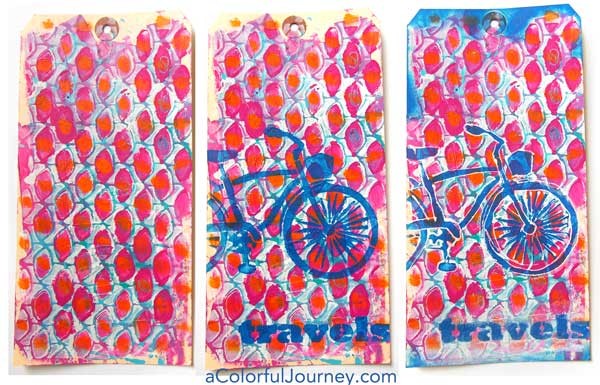 My Coming and Going stencil made it fast and easy to get the taxi cab colored in on the green background.  I stenciled it, then painted it white by going over all the inside lines.  This was quick, messy painting.  Then I lined the stencil back on top and put the blue on again so that the inside lines were added back in to the design.

Thanks for stopping by for a little play and thanks for being a part of this colorful journey!
Stencils Used: