When you use a stencil you have options. You can use the entire stencil or just part of it. In the video, you'll see how I take the Wrought Iron stencils I created for StencilGirl and build up layers using just pieces and parts of the designs. Having this option means you can get more out of all of your stencils!
How did today's page begin? Whenever I have excess paint at the end of a play session, I use it up on a nearby art journal page. Then, at some point I come along and add more layers to it, like in today's video.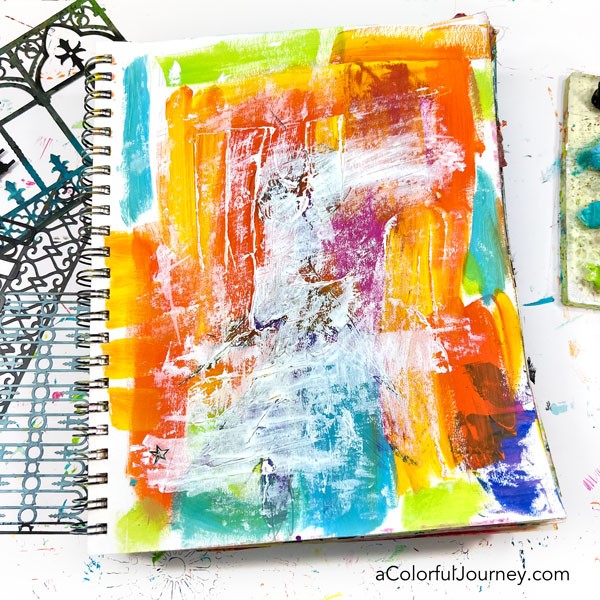 3 things to keep an eye on if you want crisp stenciling
The paint. Thicker, heavy body paints are less likely to run under the stencil.
The amount of paint. If there's a lot of paint, it's more likely to run under the stencil. Less paint on the sponge makes it easier to get crisp lines.
How you're pouncing. Going in an up and down motion or side to side? Doing it gently or pushing down with force? Gently pouncing in an up and down motion makes it easier to get crisp lines. Going side to side or pushing down with more force is more likely to give you the looser, more imperfect look.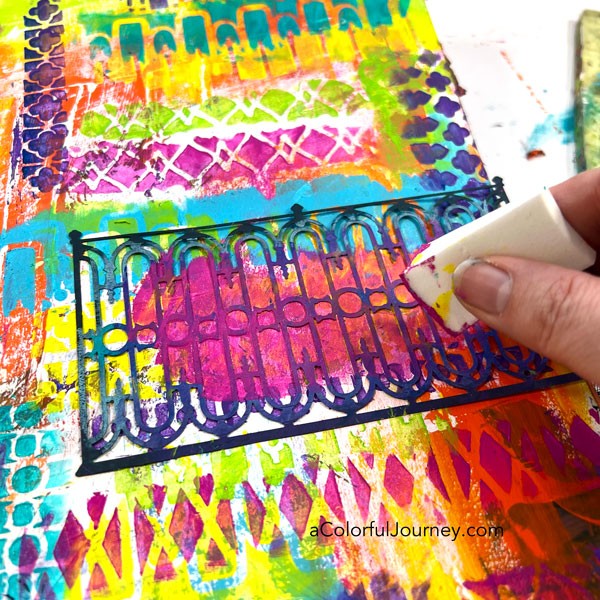 Art journal pages are not like milk. They don't have an expiration date and they won't go "bad". This page will wait patiently for me to come back to it. It might be in a week or a month, and I'll add another layer when it calls to me. By working in layers, I'm able to squeeze play in around my must do things, all that adulthood responsibility stuff.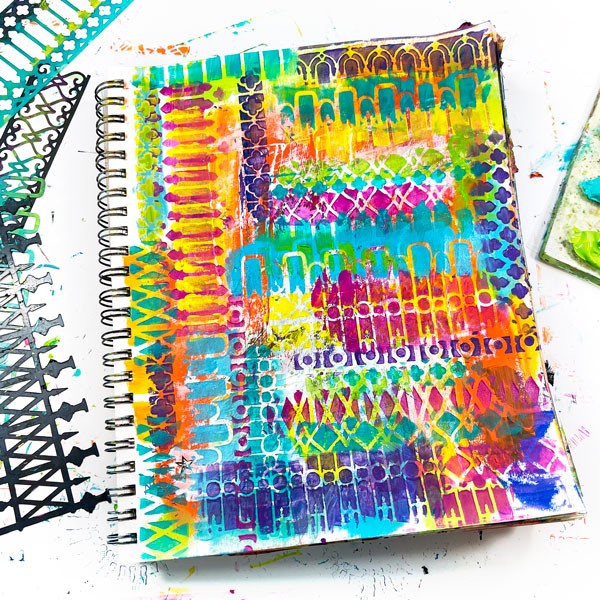 Do I love the whole image or the pieces and parts more? Hard to say because they are used so differently. I love the full image, it works as a wonderful focal image. I also love the touches of pattern, like the circles below. They're ideal when I want to add a little touch of pattern here and there. Or in a lot of places, like on this art journal page.
What I love the most is the versatility of having the option to use it all at once or just pick out specific elements to use. Stencils give you lots of options and if you're ready to understand stencils more fully and get the most out of them then check out my online workshop, The Joy of Stenciling.
Here are the supplies used. Some of these links may be affiliate links which means I may get a small percentage and it doesn't cost you anything extra! Plus you get a really good feeling knowing that you are helping keep the free tutorials coming!