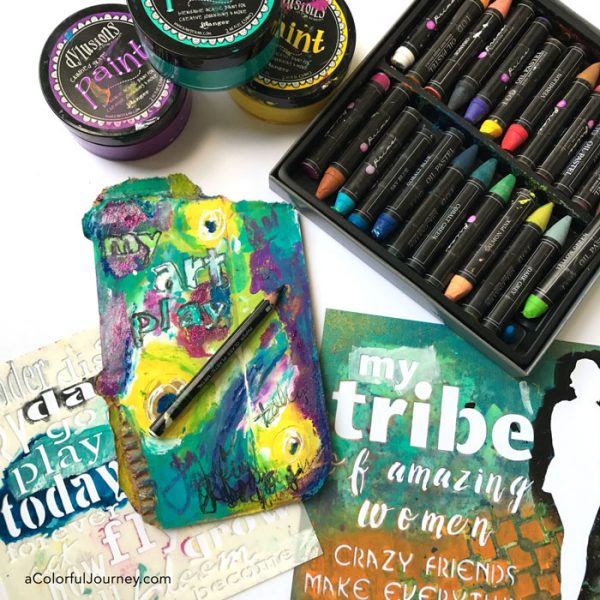 There were words of painting wisdom that I just wouldn't listen to as I played.  The muse kept whispering in my ear, "Let the paint dry."  But didn't want to stop playing to wait for anything to dry!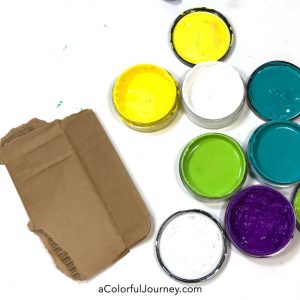 I started with a scrap of cardboard, a piece of trash.  Why trash today?  Because this Let's Play video is all about no expectations.  If am using a piece of trash I have no expectation of greatness which leaves me free to play.
What is Let's Play?  It's all about rediscovering the ability to play. Each month I share a specific strategy that helped me recapture the freedom and fun of play.  This month's theme is no expectations. You can see more of the Let's Play series here. Be sure to get entered in the $50 Dick Blick giveaway by leaving a comment.
Watch Art play on a scrap of cardboard on YouTube.
Here's the the fineliner video mentioned in today's video.
I finger painted with Dylusions paints and immediately added sparkle with some Viva Decor Glitter Paste.  Turns out it doesn't stick as easily to wet paint as it does to dry paint.  So I had some smearing.  OOPS. Did I wait for anything to dry?  Nope.
I added more color with Prima's Oil Pastels and guess what.  They don't write so well over very wet paint.  OOPS.  Did I want for anything to dry?  You guessed it. Nope.
The words were stenciled on damp with very juicy paint.  Did I wait for anything to dry?  Never!  In fact after I stenciled all the words using the Finding My Tribe and Now is the Time stencils, I actually got more water- I wanted it wetter!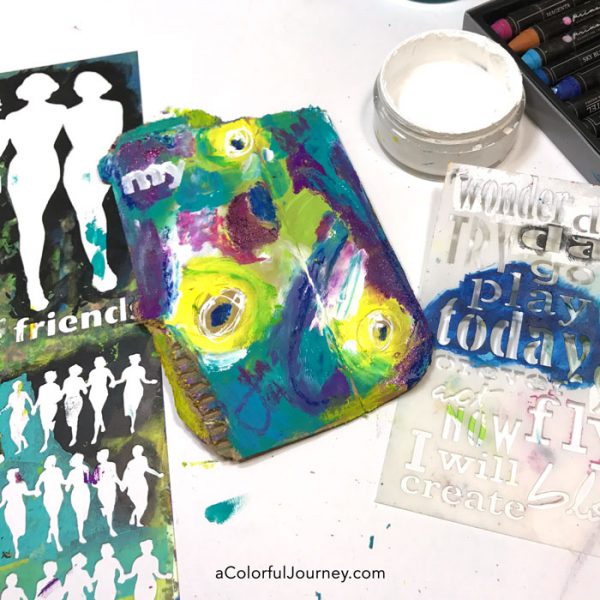 Not the paint wetter, but the Stabilo pencil I used to outline my messy words.  It wasn't dark enough, so I just dipped that pencil right into a cup of water and magically, the outlining was very dark.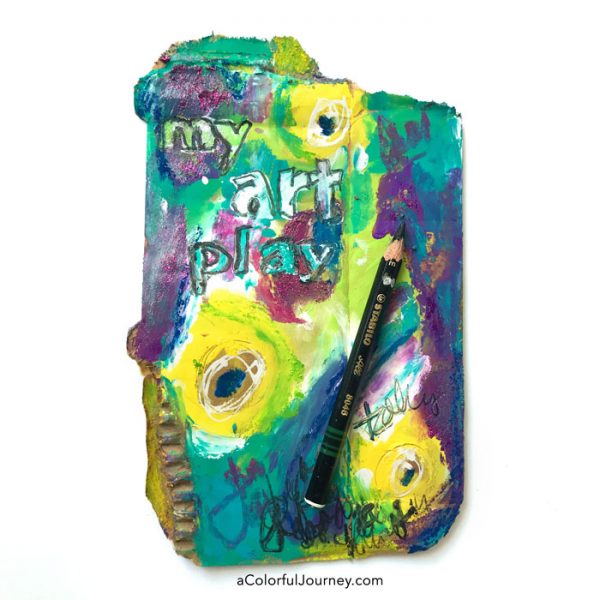 Now you've seen my play, let's see yours!  Share what you're creating with us all in the Facebook group and be inspired by what others are creating! And be sure to leave a comment here to get entered in the monthly $50 gift certificate giveaway!
Here are the supplies I used. Some of these links are affiliate links which means I get a small percentage. It doesn't cost you anything extra and you are helping me keep this blog and my videos ad free! Thank you- I don't like ads any more than you do!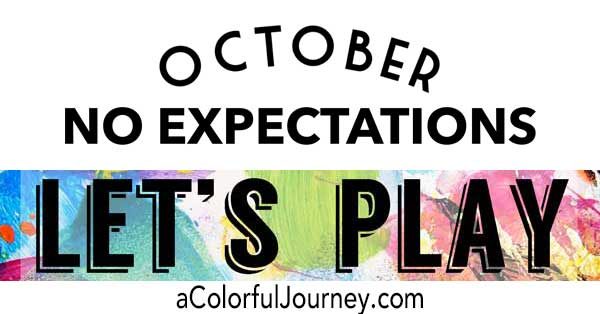 Want to see more Let's Play videos? You can find all the weekly posts here.
Sharing your play:   I, and a whole bunch of others, would love to see what you're creating!  We're sharing it in the Facebook group called A Colorful Place to Play. Why Facebook?  I've listened to your feedback about how and where you'd like to share your play instead of the link parties.
Monthly giveaways:  Leave comment on any (and all for more chances) of the weekly Let's Play blog posts to be entered and one winner each month will be chosen by random.org.  Want more chances to win a $50 gift certificate to DickBlick.com?  Pin any of the images from the page or share about it on Facebook- then come back and leave a comment telling me what you did and you can have more chances to win! Giveaway closes the Sunday, October 30th at 11 pm EST and the winner will announced on the blog the following Monday.
Congrats to Misty, last month's winner!